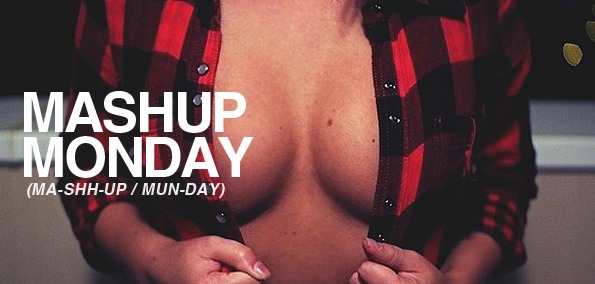 These are the mashes that are worth hearing, so stop your searching and instead settle down at your computer... turn up your speakers... and get ready for that sweet nectar that only EARMILK can give ya. Let's GO!
Don Diablo's "Doin' the Next MYB Order" is my mashup track of the week. Quickening the pace of dance music masterminds Daft Punk (maybe you've heard of them recently...) by employing Oliver's "MYB", Don Diablo does a splendid job of maintaining that quirky upbeat dance groove that has become symbolic of Daft Punk. Some cynics believe that Daft Punk should not be touched, but if you've kept up with Mashup Monday as of late, we're fans of putting your own spin on a Daft Punk track. Don Diablo does this successsfully, so kudos to him.
[soundcloud url="http://api.soundcloud.com/tracks/92471310" params="" width=" 100%" height="166" iframe="true" /]
I've really been enjoying non-EDM mashups as of late, and Mighty Mike's "If No One Stays" and Sjoersje's "Born to Mama" are certainly indicative of that. Both impart a wonderful emotional aspect to their respective instrumental, Alicia Keys' "No One" in the former and Lana Del Rey's "Born to Die" in the latter. While I had never heard of Terence Trent d'Arby, Mighty Mike stays true to the original R&B feel making it a must play for those rainy or gloomy days. Sjoersje, on the other hand, takes us back in time with Genesis. While I was skeptical at first, Phil Collins infuses passion on another level compared to LDR.  Personally, I'm a fan of LDR's elegant original but she comes across as slightly monotonous at times. There's no chance of that happening with the boisterous vocals of Collins, making Sjoersje's mashup attempt a success.

Mighty-Mike---If-No-One-Stays-(Alicia-Keys-x-Terence-Trent-dArby)--EM0513
Download:
Mighty Mike - If No One Stays (Alicia Keys x Terence Trent d'Arby)
Sjoersje---Born-to-Mama-(Genesis-x-Lana-Del-Rey)--EM0513
Download:
Sjoersje - Born To Mama
Final 2 mashups that I want to highlight are DJ 21azy's "Sexy Girls Round Here" and DJ BootOX's "Heaven on Fire". Can't say I'm much of a country fan, but I'm quite regularly surprised by what 21azy mixes and matches to create his final product. Seeing Blake Shelton in my email subject line, piqued my interest. Now while I can do without the man who hit it first, the vocal flow of Ray J and Yung Berg translated well with the guitar strumming of Shelton's "Boys 'Round Here". BootOx goes with Kings of Leon over Bruno Mars' "Locked Out of Heaven", and while there a few hiccups here and there I was enjoying the general vibe that was emanating from this combination. Hearing Ludacris jump on about 2/3 of the way through was a nice change of pace that kept the song from just drawling on. But take a listen below, and check out the many other mashups provided.

Sexy-Girls-Round-Here-(Dirty)-(Blake-Shelton-x-Ray-J-x-Hoodie-Allen)--EM0513
Download:
DJ 21azy - Sexy Girls Round Here (Dirty) (Blake Shelton x Ray J x Hoodie Allen)
DJ-BootOx---Heaven-on-Fire-(Kings-of-Leon-x-Bruno-Mars-x-Ludacris)--EM0513
Download:
DJ BootOX - Heaven On Fire (Kings of Leon x Bruno Mars x Ludacris)
Rino-Santaniello---If-I-Lose-Myself-on-Broadway-(Cesare-Cremonini-x-OneRepublic)--EM0513
Download:
Rino Santaniello - If I Lose Myself on Broadway (Cesare Cremonini x OneRepublic)
Fatwave---Breathing-The-Night-(Paris-Simo-x-Zedd-ft.-Matthew-Koma-x-Christina-Aguilera-x-Martin-Solveig-x-R3hab-Swanky-Tunes-x-Chuckie)--EM0513
Download:
FATWAVE - Breathing The Night (Paris & Simo x Zedd ft. Matthew Koma x Christina Aguilera x Martin Solveig x R3hab & Swanky Tunes x Chuckie)
Rudec---Grapevine-Equinox-(John-Coltrane-x-Marvin-Gaye)--EM0513
Download:
Rudec - Grapevine Equinox (John Coltrane x Marvin Gaye)
Robin-Skouteris---Get-Funky-(Daft-Punk-x-13-Other-Artists)--EM0513
Download:
Robin Skouteris - Get Funky (Daft Punk + 13 Artists Mashup)
The-Hood-Internet---Adornocene-(Bon-Iver-x-Miguel)--EM0513
Download:
The Hood Internet - Adornocene (Bon Iver vs Miguel)
DJ-BootOx---California-Skank-(2Pac-x-Fatboy-Slim)--EM0513
Download:
DJ BootOx - California Skank (2Pac x Fatboy Slim)
Rems79---The-Final-Look-(Madeon-x-Roxette)--EM0513
Download:
Rems79 - The Finale Look (Madeon x Roxette)
Fissunix---The-Laws-Must-Give-It-Away-(Red-Hot-Chili-Peppers-x-John-Mayall)--EM0513
Download:
Fissunix - The Laws Must Give It Away (Red Hot Chili Peppers x John Mayall)
Elocnep---Noisestorm-And-Doctor-P-Started-A-Fire-In-The-212-(Noisestorm-x-Doctor-P-x-Azealia-Banks-x-Prodigy)--EM0513
Download:
Elocnep - Noisestorm And Doctor P Started A Fire In The 212 (Noisestorm x Doctor P x Azealia Banks x Prodigy)
Third-Culture---Until-Im-Home-(Dirty-South-x-Yenson-x-Dirty-Money-x-OneRepublic)--EM0513
Download:
Third Culture - Until I'm Home (Dirty South x Yenson x Dirty Money x OneRepublic)
Frankie-J.-Grande---The-Way-Heart-Attack-Mashup-(Ariana-Grande-ft.-Mac-Miller-x-Demi-Lovato)--EM0513
Download:
Frankie J. Grande - The Way & Heart Attack Mashup (Ariana Grande ft. Mac Miller x Demi Lovato)
Knife-Party-x-Tiesto-x-Showtek-x-Noisecontrollers---LooseRAD-(Koyote-Bootleg)--EM0513
Download:
Koyote - LooseRAD (Knife Party x Tiesto x Showtek x Noisecontrollers)