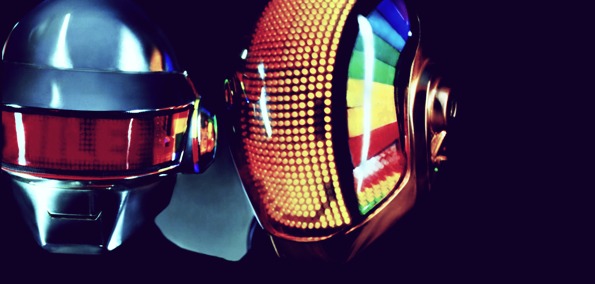 Say what you want about Daft Punk's Random Access Memories, the album manifests itself as one of the most anticipated in recent memory. The hype surrounding the album's release can be credited to two things: the men who have continually shaped the scope of dance music making a return from a long hiatus, and the marketing of their album being an art-form in itself. The ride was fun, and it'll surely shape how major labels will try to dress their buzz for future full lengths to come. Together we've compiled our favourite reviews, artist reactions, and surprises that led up to the release of Daft Punk's long-awaited fourth studio album.
Read our full review of Random Access Memories
The most recent viral video comes in the form of unboxing the album for the first time, introducing RAM's opener "Give Life Back to Music" .
When the public learned of their return, it was only natural that there was an expectancy of the duo to continue on their successful linear path of producing the most inspirational records electronic music has to offer. However, Guy-Manuel de Homem-Christo and Thomas Bangalter had different intentions in mind. Shifting focus away from the future, it is as if they rewound to different eras within the timeline of dance music and tried to recreate the most ambitious work of those times.
Regardless of their sound or direction, one thing will always reign true for Daft Punk—they take open-ended ideas and run with them. On their newest album they tasked themselves with creating music that has nothing to do with computers, programs that nearly every single artist in their genre thrive off of. In doing so they reflect not just the prevailing analog stance associated with electronic music, but also an acoustic and orchestral approach heard throughout. Nearly every instrument within their compositions can be singled out as something truly beautiful and unique. In combining this with pieces of their trademark sound, they have, once again, shed dance music in a new light.
By opting to use live instrumentation and sticking to a sound that is foreign to the ears of contemporary electronic enthusiasts, it was expected that RAM would draw a fair share of heavy criticism. After the public's initial hysteria when RAM leaked weeks before its release, resulting in a subsequent iTunes stream, the general consensus began to shift towards support for introducing a robotic sound to the music of the past. As artists and critics generally do, they took their voice to Twitter and expressed their love, or discontent for just about every aspect of Daft's new found sound.
Featured below are some of the trending tweets:
My dad had an incredible time dancing to this Daft Punk album at his law school prom.

— Otto Von Biz Markie (@Passionweiss) May 14, 2013
Obviously pretty late on commenting but the new Daft Punk record is absolutely stunning....Not feeling hearing it in low quality though

— Oliver Jones (@I_Skream) May 14, 2013
so far this daft punk album is like if you took all the best parts of music and decided they should be in the same song

— 「Anamanaguchi」 (@anamanaguchi) May 13, 2013
Diplo's remarks on RAM garnered some of the most attention, as he actively tweeted while running through the album. Stating things like "This daft punk album would probably be really good to take drugs and listen to on a rainy bridge across the gulf of mexico but I dnt know". "These guys are way smarter then me.I'm definitely missing something. Gonna listen to this panda bear song again 10 times brb.", and later comparing the album to this.
More tweets:
I feel so full and empty. This album is everything i wanted to hear. It's also so much of what i wanted to make.

— Madeon (@madeon) May 13, 2013
ya'll ready for 50 million daft punk remixes?

— GRiZ (@mynameisGRiZ) May 13, 2013
The new Daft Punk album is so grown folks music.

— 12th Planet (@12thplanet) May 13, 2013
Unlike the mixed artist reception, reviews for RAM have been overwhelmingly positive, holding an 88/100 on Metacritic. Even if publications like Rolling Stone point out that the album is full of "WTF moments" because of the artists' disassociation with EDM, they also state that throughout "brilliance is often irrefutable" in their four star review. Pitchfork's opinion sticks close to the same idea, going as far as to state "people will be listening to Random Access Memories a decade hence" in their Best New Music feature. Honestly, it's tough to come by a credible negative response to RAM, as it seems obvious that such reviews were written before the writers fully exposed themselves in the musical atmosphere.
A surprising feeling that surrounds the release of RAM is that the overall consensus was focused around the unexpected, even though the marketing campaign featured a number of collaboration videos that reiterate that their music would be a modern take on classic sounds. The videos were created through a partnership between Intel and VICE entitled The Collaborators, which featured eight episodes:
Funny, or Die also provided a humorous take on The Collaborators project, featuring Andrew the a pizza guy from Scottsdale, AZ.
One thing that remains a mystery is the intention in premiering Random Access Memories in the small, rural town of Wee Waa, Australia. Why premiere in a town of just over 2,000 people? Because RAM was hastily pushed to iTunes four days before the Wee Waa show, in order to provide a legal alternative to listen to an album that was flooding the internet in its leaked form, we will never truly know if the experiment of premiering in the unconventional place could have been successful. The day after the album leaked mass amounts of intended attendees cancelled their hotel reservations, which probably led to the cancellation of the French duo from making an expected appearance at the spectacle.
However, it was not the show, but marketing from the residents of Wee Waa that remains in our memory. Entitled Road To Wee Waa, a creative group set out on a journey to showcase the support that, what seems like the majority of the small city, have for hosting the album premiere. 
With the countless media that has surrounded Daft Punk's new release, it is nice to reminisce about the first few bits of previews of the album. The one minute video that premiered Pharrell's vocals in "Get Lucky" during Saturday Night Live in mid-April came as a surprise, and hit the fan's feelings of excitement deep. What was heard throughout the brief segment became an introduction for the direction and stylistic change of Daft Punk, not to mention being one of the highlighted moments in Random Access Memories.
Fun-Facts on Daft Punk:
Daft Punk have not allowed their faces to be photographed since May 1996.
A Melody Maker's review of Homem-Christo and Bangalter first band Darlin' gave them their name. It described their song 'Cindy, So Loud' as "a daft punky thrash."
In 1998, Thomas Bangalter's side project Stardust had a worldwide hit with 'Music Sounds Better With You'.
Guy-Man describes Primal Scream's 'Screamadelica' as being a key inspiration for Daft Punk. He told Melody Maker it was: "one of the first to set off an explosion in our heads."
Thomas and Guy-Man met at school when they were both 12 –years-old.
One surprising fact is that Daft Punk's new album acts as a mixing device, meshing modern elements with a time when music held close ties with culture and style; until the juggernaut that became of disco/funk began to lose sight of the feel-good vibe they were initially intended to support. Believe it or not, the rave culture that the French duo helped shape shares a number of similarities to these ancestral eras as they all are associated with the experimentation of drugs, the connectedness of lights and sound, and a whole sect of new fashion dedicated to characterizing the movement. In the same way disco, for instance, began to rule the musical space, many fear the current rave/EDM culture's over-saturation will also eventually lead to their demise. That being said, does this mean that Homem-Christo and Bangalter have once again previewed what is in store for the future of dance? Feel free to rant or rave in the comments below.