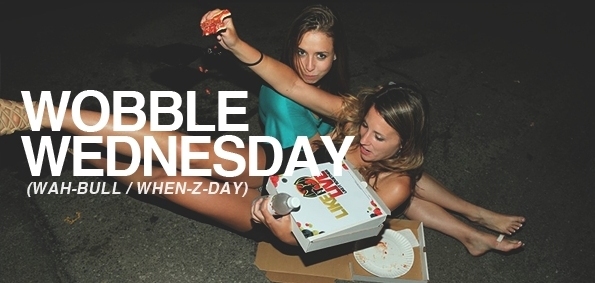 It is with great sadness and a heavy heart that I must inform you of the impending demise of Wobble Wednesday. In the midst of a change in the music scene, we have decided that Wobble Wednesday no longer fits the direction we would like to go. That is not to say, however, that the filth and darkness of both American dubstep and UK dubstep will stop. Rather, WW will merge with the Weekly Flavours column for a more genre-focused list each week. For the uninitiated, Weekly Flavours is a post dedicated to a certain style or type of music. Sometimes it's a list of very similar tunes, other times it hits different ends of a specific musical genre. There are more tunes than WW and fewer words. This merge will occur in the next couple of weeks, but let's focus on the week at hand.
This week's Future section is more-or-less an accumulation of the sounds you won't find in other genre-dedicated posts or columns. Think of it as a sampler of the next generation of music, or feel free to ignore it if you're not in the market for a change; everybody has their own tastes and that's perfectly okay. The mixes for this week are dark, chill, and well thought-out with great selections. As far as tunes go, make sure you check out the TEKNiCOLOR, Dan Farber, and Crystal Fighters tracks. They definitely won't disappoint.
FUTURE
If you remember Coyote Kisses' massive tune, "Acid Wolfpack", you're one of the lucky ones. These guys are masters at melodic composition and complex rhythms. Here is one of their slower tunes off their new EP, Thundercolor.
Bare Noize is a master of weird music. They typically produce super heavy dubstep, but I can't say I don't like this new direction.
Anybody here like chiptunes? Here's Busy P with an anything-but-average mathematical melody.
Disco is making a comeback and don't let anybody tell you otherwise. This tune is especially delightful because it features the sounds of Crystal Fighters wrapped in a groovy package by the hands of Gigamesh. Both are serious legends in this realm of music.
UK BASS
Classic dub tune with your typical chopped up Amen break from FLeCK & Blue Hill's new EP, Zippin' up my Roots.
Cubism is another one of those acts that chooses to weird people out rather than make them flange around with crazy drops and such. You'll most likely hear this type of tune at a future music showcase, or a satanic German wedding. It's just a clip, but here is the full LP if you're not too perturbed.
FILTH
Slower filth for the headier steppers. Grab the download here.
Spag Heddy always knows how to bring it down with layered wobs and super crunchy grit bass. The four-to-the-floor intro makes this a decent transition track to go from heavier electro to the filthiest of dubsteps.
TEKNiCOLOR's sound is a great combination of acid house and filthy dubstep. The signiture sporadic and staccato glitch beats make his tunes unique, providing a much needed break from the seemingly-repetitive tunes this genre tends to foster. Grab the download here.
It's great to see Cookie Monsta going back to his darker days. This one is a preview of his upcoming track, "Lucifer".
DRUM 'N' BASS
You may know the British duo, Wideboys, as Delta Heavy or Scintilator, but what they call themselves doesn't really matter. They have been in the music scene since 1996 and produce for a multitude of labels, including Ministry of Sound and Def Jam Recordings. Wideboys recently released a series of remixes for their 2012 dancefloor banger "Addicted 2 The Bass". Here is the dnb remix, courtesy of Tantrum Desire.
Light and jazzy drum 'n' bass from Goodlooking Records.
TRAP
New filth/trap tune from the DJ monster, Fei-Fei (read: fay-fay). This one is sure to destroy any crowd. Use it as a transition from trap to filth for maximum Feidedness.
Synthy trap that sounds a lot like a saturated/distorted air horn. Download it here.
Pennybirdrabbit has that alternative hottness that makes you say, "Damn, okay, yeah, I'm definitely down." Her voice is beautiful and the collaborations she does are massive. Take her new tune with Mayhem and 12th Planet, for example.
I'm surprised this Tel Aviv-based trap artist hasn't gotten more recognition at this point. He's been making bomb-ass tracks for a while now, and yet the dancefloor is devoid of his music! I think it's time to change that. Download it here and play it out!
Tunes so nice we had to feature them twice. Another Dan Farber for ya face.
More OG Status, this time a remix. Grab it here.
MIXES OF THE WEEK
This week's first mix comes from the Boston/NY/UK/Asia newcomer, J-Hilla. I had the fortune of going to school with this crazy fool. Spinning primarily vinyl and serato, J-Hilla uses both forward-thinking and nostalgic sounds to construct his live sets. This type of DJing is exactly how it used to be done before all these cockamamie sync buttons and newfangled waveform visualizations. As I imagine I'll be saying in a few decades from now, "Back in my day, sonny boy, you had to know the song before you played it, and you had to be thinking three songs ahead of what you had currently playing out." Being a DJ back then didn't just require beatmatching and phrase matching. You had to know what you had in your crate, and you had to read a crowd in a mostly dim-lit club.
All I'm gonna say is, thank heaven for BBC Radio 1 and taste makers of the like. I'm rarely disappointed by anything they put out; weirded out, yes, but never disappointed. The Diplo & Friends show, for example, has introduced me to loads of artists I probably wouldn't have found on my own. It is only fitting to feature one of the broadcasts for those of you that don't know about it. The second mix of this week comes from Cashmere Cat, uncensored and devoid of the typical BBCR1 vocal tags. It's on the chiller side of trap and future bass—one of those mixes that you put on for a smoke sesh.