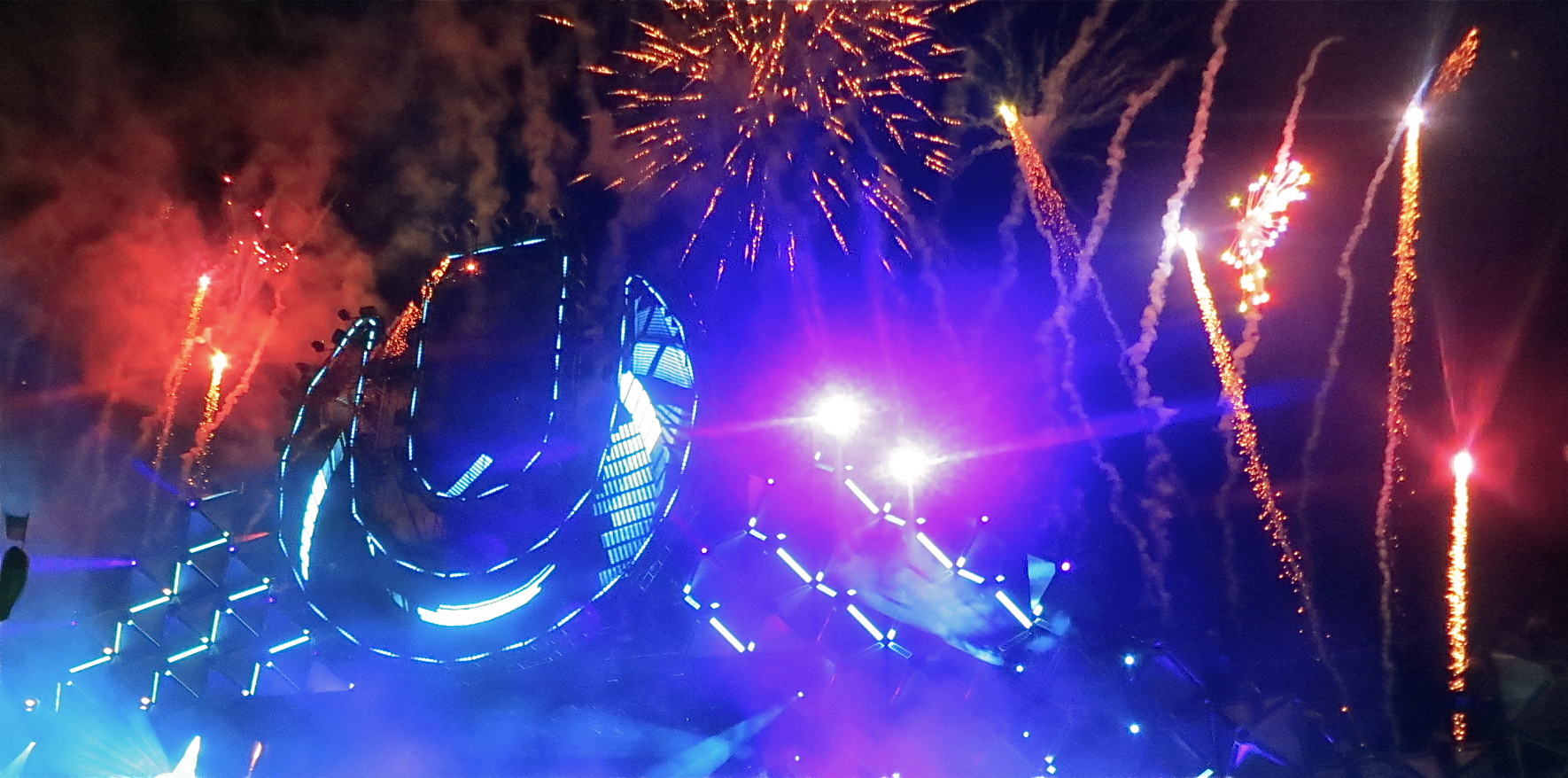 Day two of Ultra Music Festival started in similar fashion as the first. Fans poured into Bayfront Park on an even sunnier perfect Miami day, for a lineup of performances that continued to be stacked with quality. The second day meant more acts, just as big of names, and no sound system glitches like we heard the first day. And for me, what began as a day with no real expectations ended with me leaving the festival with a renewed appreciation for electro house: the standout performances of the day were some that those of us losing faith in the new trendy breed of electro were pleasantly surprised by.
American prodigy Porter Robinson's performance at the Main Stage is a great jumping off point to describe the mood of Day 2. The electro producer has really become an icon that Americans take pride in, and it's always impressive to see the 20 year old's presence on stage. Seamlessly moving between electro festival anthems like Chuckie's "Who is Ready to Jump?" melodic tracks by Dinka and even nu disco and trance, the set was absolutely unforgettable.
Dutch producer Hardwell returned to Ultra's main stage for the second time ever this year, with a well deserved primetime set time. The 25 year old has been one of the fastest rising artists in the popular dance music world, and this year his live performance lived up to any hype that might have generated. I knew immediately that we were in for a treat when he opened with an intro mix edit of "Spaceman" paired with W&W's award-deserving mashup of the tune with Above & Beyond, "Thing Called Spaceman." Introducing new tracks like the huge ID collaboration with MAKJ and a guest appearance by Dyro to premiere their new track "Never Say Goodbye," this set was without question in the top 3 of the weekend. 
Celebrating the recent release of his artist album Speed of Life, Dirty South entered the Ultra Europe stage on an absolute mission, and boy did he deliver. Any time an artist is able to deliver a set mostly comprised of his own music without boring a crowd, should help to reinforce his or her success level, and that's exactly what the Australian producer did. He proved to us why we love him and his music. Though his set was not recorded during Weekend 1, Dirty South released an impressive BBC Radio 1 Essential Mix to keep us happy.
Laidback Luke's performance at the Ultra Worldwide stage on Saturday also made it into the "best of the weekend" category. Opening with an unbelievable intro that mixed David Guetta and Avicii's "Sunshine" with his own classic and iconic "Till Tonight," the dance floor was absolutely crazy from start to finish. I was most excited to hear his latest track "Pogo," a song literally made for festival play, and it certainly did not disappoint. But LBL ventured out of the realm of his own electro style into almost disco house territory, as into hip hop by dropping tracks like Pharaohe Monch's "Simon Says." And, usually I find MC's to be annoying during dance music sets, but the MC that joined LBL on stage was one of the best I've seen, and helped rile the crowd up even more, which didn't seem possible. Now that we've seen him perform on the Main Stage during Weekend 2, it's obvious that he put in extra effort to please his fans.
Till-Tonight-vs.-Sunshine--EM0313
Download:
Laidback Luke ft. Jonathan Mendelson vs Guetta & Avicii - Till Tonight vs. Sunshine
Carl Cox is such an important figure in dance music that his Carl Cox & Friends Arena took over the Megastructure for two full days. Being in the first building that fans walked by as they entered the festival, there was no missing the authenticity of the deep bass coming from, and the dedicated family of fans heading toward the covered structure. The godfather of techno donned the decks multiple times, with his set on Day 2 being the most memorable. It was a set so good, that if you weren't already lured in by the honeycomb light structures, the groovy techno would have done the trick. 
Canadian producer Deadmau5 has become a symbol representing  dance music, nominated by those who appreciate both his electro tech style and outspokenness in promoting creativity in a scene moving toward the mainstream. Saturday was his first major performance anywhere in 2013, and his first appearance at Ultra since 2011. Donning his iconic mouse headpiece, Deadmau5 began his set darkly and quietly, slowly building energy and keeping the crowd engaged by playing tracks from his latest album, > album title goes here < along with favorites like "Raise Your Weapon" that made him who he is. His set and presence on stage almost felt like he was saying to the world "let's show them what we're about," in the form of a stunning breakout return to performing, taking his headpiece off for large portions of the show for everyone to see the real Joel Zimmerman behind the mask. As the performance went on, we watched the festival goers who must have only known the mouse hat icon and not the music or meaning behind it start to leave the Main Stage: better for everyone else to enjoy the master back at his work.