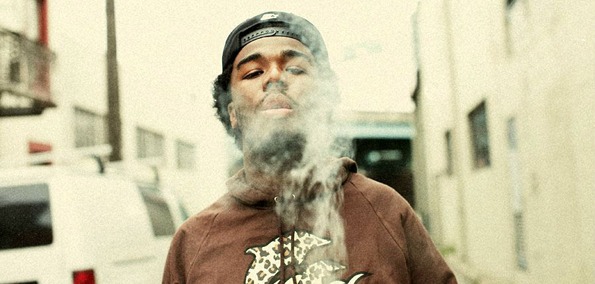 Five tracks into Iamsu!'s work on Soundcloud and I've found no points of contention with the young artist. Each one has me continually impressed with his even, almost athletic flow. And the surprisingly strong level of production on his mixtapes has me wondering if I've been underestimating 20-something rappers for too long. Probably so, considering Iamsu has been making beats since he was 15 -- and has already worked with Whiz, Snoop and E-40 by the time he was 23. The Bay Area born and bred (Richmond specifically) emcee has carved a name for himself as the New Bay movement's leader, a scene that has been grown considerably in recognition despite being unfairly overlooked by much of the industry.
While many of the tracks scale the booty clapping variety ("Stoopid" draws parallels to Big Sean's "Dance" and yes, starts rather flagrantly with the words "Suck my dick", but you can't deny that P-Lo's beat doesn't make you want to get down, just a little), somehow each maintains an invariably different sound, yet never comes off as overtly amateur.
The first off the 17-track EP Stoopid is "Broccoli With the Cheese" which camouflages more as a lounge jam than a club anthem. It also sounds distinctly Bay Area which will be refreshing to those of us who have been looking for emerging Golden State talent. Other times sample-heavy arrangements like the one found on "On My Mind" completely stray from anything remotely tainted by club-related and would be better suited for a mellow listening session at the crib.
It's clear despite their age, Iamsu! and fellow Bay comrades HBK Gang, who regularly co-produce with one another, don't need much schooling. Their work evidences both a knowledge and interest in hip hop and R&B that dates far beyond their birth year. Additionally members of the HBK Gang, like CJ and Mikey, are well-seasoned vocalists and instrumentalists, having grown up in the church singing and playing gospel music. It seems like hyphy has a changing new face and there is no doubt we've been ready for that.
Iamsu released his joint mixtape with Problem entitled Million Dollar Afro, today. Listen below.