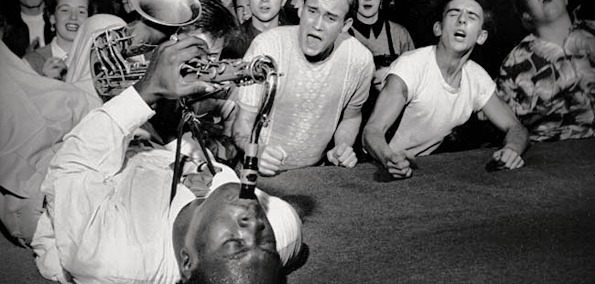 This is your Daily 2% - Chilled and Ready to Serve. We will try to bring you one "chill" track every day. This is for when you get home and you are trying to unwind. You reach for that glass of wine or that unlit Black & Mild or maybe you reach for something more herbal. This track is for those times. We are just your milkmen and I'm here to make a delivery. Chill...
Today's delivery is brought to you by an artist we've featured (twice) before in our Daily 2% -- Voodoo Farm. By now your ears may have become accustomed to Voodoo Farm's uncanny ability to mix Whiz with The Weeknd or conjure up a listenable electro house Whitney tribute when we were inundated with both good and horrible sounding tributes at the time of Houston's unfortunate passing. Today he released his newest 4-track EP, Hitsville U.S.A, sampling vocals from some of his favorite icons including Etta James, OV Wright, Marvin Gaye, Aaron Neville and Ann Peebles, layering each track with live instrumentation. The EP title is a reference to the sign hanging over Motown's first headquarters in Detroit and judging by the first released track, "I Don't Know Why", it seems Motown never goes out of style.
Download:
VOODOO FARM - I Don't Know Why
Download:
VOODOO FARM - Rain
Sampling OV Wright's heart-wrenching vocals over a heart-thumping beat, "I Don't Know Why" is outfitted with all the piano melodies and guitar riffs to make this mandatory cruising material. Voodoo refashions Ann Peebles' "Rain" into a highly danceable track alternating a jittery beat with Missy Elliot's mellow, meditative verses from the Supa Dupa Fly version. Whether you like electro-soul, funkstep or lots of bass, Hitsville U.S.A is worth more than one listen. Download the rest of the EP here.
Voodoo Farm
Hitsville U.S.A