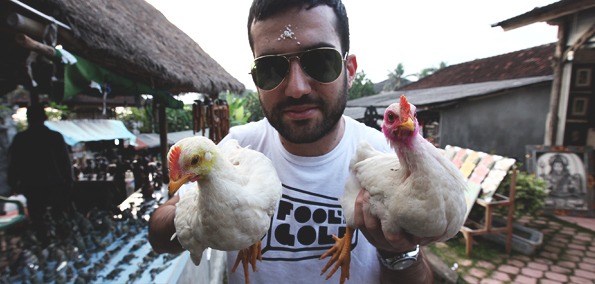 I've never seen an A-Trak show I didn't like, as the Canadian artist always seems to bring something extra special in his table-centric sets. He remains one of the few "purists," in the sense that his views on DJing truly harken back to the origins of the art, never failing to share his opinions on the matter. Tuna Melt gives us a look at A-Trak's diversity, boasting tracks that each have a distinct feel and sound. The talent on this release may explain such variety, ranging from the likes of Tommy Trash to Oliver and GTA and on to Galantis.
While I did enjoy the EP's title track, "Tuna Melt", which Tommy Trash's influence can clearly be heard in, I'd have to say my favorites were "Jumbo" with Galantis and "Disco Nap" with Oliver. (Departing from these for a second, "Landline" with GTA has received a lot of great reviews, however the trap/dub feel just isn't my thing.)
Alright. So "Disco Nap", a track that boasts great climbs and a heavy grinding noise that adds a definite electro house vibe. A-Trak's fondness for disco shines through in the breaks, which feature great chords, vocal samples, and an uplifting background chime. This contrasts heavily with "Jumbo", which really reminds me of The Subs' work – an underground type of electronica with house touches.
Swedish trio Galantis recently have produced some amazing work with their release "Raveheart", and continue with this massive track. I'd actually have to say this glitchy, industrial tune is my favorite from the release. Buy tickets to A-Trak's shows in Montreal and Las Vegas below, and make sure to check him out at Eye Heart SF's Streets of San Francisco New Years Eve.
[soundcloud url="http://api.soundcloud.com/tracks/69860521" params="?" width=" 100%" height="166" iframe="false" /]
[soundcloud url="http://api.soundcloud.com/tracks/69860522" params="?" width=" 100%" height="166" iframe="false" /]
[soundcloud url="http://api.soundcloud.com/tracks/69860519" params="?" width=" 100%" height="166" iframe="false" /]
[soundcloud url="http://api.soundcloud.com/tracks/69860520" params="?" width=" 100%" height="166" iframe="false" /]
Upcoming Shows
---
---