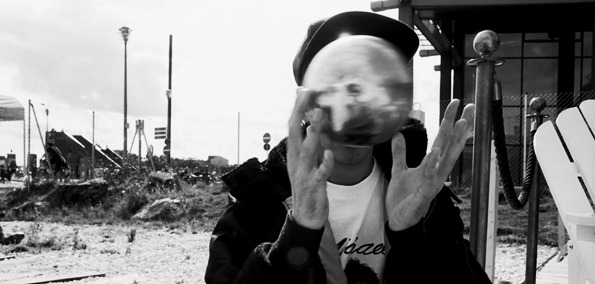 This Friday in Toronto, the one and only Alex Ridha, better known as Boys Noize, takes his LIVE show to Sound Academy in Toronto, and for anyone who's seen him before, you can be sure this will be nothing like it, or at least we've been told. Standing atop his skull stage setup, Boys Noize pledges to reinvent his regular DJ set, with live re-edits and remixes of his classics and of course material off the new album Out Of The Black. The first stop on the North American tour was this past weekend and anyone who was lucky enough to see him in NYC can attest to the quality of the show.
A---126---18-Yeah-(Original-Mix)--EM1212
Stream:Boys Noize
 - Yeah (Original Mix)
B---112---Boys-Noize---What-You-Want--EM1212
Stream:Boys Noize
 - What You Want
A---123---01-Down--EM1212
Stream:Boys Noize
 - & Down
With fellow Boys Noize Records members Djedjectronic and Rynecologist on the bill and for only $36.50, this is shaping up to be quite the Friday night out, and EARMILK wants you there. We're giving away a pair of tickets but if you don't win, be sure to email events@earmilk.com to arrange to pickup a hard ticket and save the online servicing fees.  
FRIDAY DECEMBER 7TH
FEAT. DJEDJOTRONIC & RYNECOLOGIST
EMAIL EVENTS@EARMILK.COM FOR HARD TICKETS 
Stream:Boys Noize
 - Oh!
B---124---Feist---My-Moon-My-Man-(Boys-Noize-Remix)--EM1212
Stream:Feist
 - My Moon My Man (Boys Noize Remix)
A---124---Boys-Noize---Reality--EM1212
Stream:Boys Noize
 - Reality
I-Am-Europe-(Djedjotronic-Remix)--EM1212
Stream:Gonzales
 - I Am Europe (Djedjotronic Remix)
B---125---Boys-Noize---Gax--EM1212
Stream:Boys Noize
 - Gax
A---130---03-Rapide-(Djedjotronic-Remix)--EM1212
Stream:Housemeister
 - Rapide (Djedjotronic Remix)