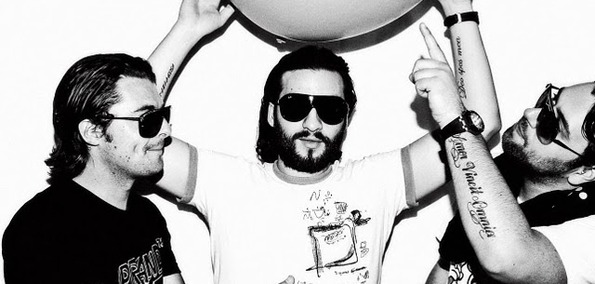 A great remix EP has a carefully curated selection of remixers and genres to choose from. Even greater remix EPs have reworks that reinvigorate the original mix as much as they do to remix it. In this case, Swedish House Mafia's "Don't You Worry Child" EP does the latter and more, to both flip and highlight the best qualities of the original farewell song from the Swedish superstar trio. Out on Virgin UK, the coincidental trio of remixes elevate the addicting and almost shockingly pop sounding track to edgier, grungier versions. For purists, it makes this anthem one that's easier to swallow (and just as acceptably emotional) as the final farewell production from Steve Angello, Sebastian Ingrosso and Axwell. With the stellar vocals of John Martin, the "Don't You Worry Child" EP ventures down a very exciting road to One Last Tour.
A personal favorite is the progressive house look taken by up and coming remix duo Tom Staar & Kryder. Although the duo might have seemed like an unexpected pair at first, they've pleasantly shocked many as their unique style has developed. Just like with their debut work on Afrojack & Shermanology's "Can't Stop Me," they've put together an impressively odd and addicting version of "Don't You Worry Child" that will surely be just as successful as their first release together. With punchy fast-paced drums painting the background for John Martin's vocals, it's no wonder why the preview of this was received so well to close Steve Angello's Size in the Park. 
Dont-You-Worry-Child-(Tom-Staar-Kryder-Remix)--EM1012
Stream:Swedish House Mafia
 - Don't You Worry Child (Tom Staar & Kryder Remix)
Showing unbelievable taste, Joris Voorn was also elected to take a stab at putting his own spin on the production. Here Voorn has successfully merged pop with his classic bass-heavy tech style, all while keeping the anthemic vocals in tact.  For those that know Swedish House Mafia in a top 40 capacity, this is something that could open up the door to exploration of other genres of house music. The Dutch master has crafted a rare and absolutely mind blowing kind of crossover: a blending of genres that is something we hope to see more of in the future. 
Dont-You-Worry-Child-(Joris-Voorn-Remix)--EM1012
Stream:Swedish House Mafia
- Don't You Worry Child (Joris Voorn Remix)
Lastly, up and coming Italian duo Promise Land took an electro heavy hand to the production. While stripping down the synth and vocal progression to the basics that make "Don't You Worry Child" what it is, they break the song down to pounding and dark electro beats after each drop. Promise Land undoubtedly added the last element of edge and touch of aggressiveness that this EP needed.
Dont-You-Worry-Child-(Promise-Land-Remix)--EM1012
Stream:Swedish House Mafia
- Don't You Worry Child (Promise Land Remix)
Although this doesn't seem like it could possibly be the absolute last we hear from Swedish House Mafia before their impending One Last Tour and split, it would be a laudable exit for the trio. Such a diverse remix EP as well as the emotional original mix and video (below) are certainly memorable and would be a finale to be proud of.