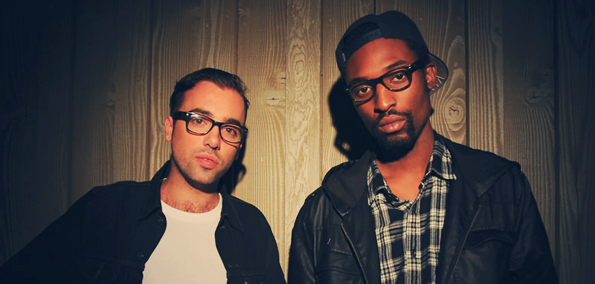 The New York City duo of Ben "B-Roc" Ruttner and James "JPatt" Patterson, better known as The Knocks, have been on quite a roll over the past year. In our last reference to the group back in May, we were praising their infectiously catchy single "Learn to Fly". Since then, The Knocks have continued their output with both originals and remixes alike, meeting the high standards we have come to expect from the talented duo. Included among these tracks are remixes of Santigold's "The Keepers", Of Monsters & Men's "Little Talks", along with a collaboration with Fred Falke on "Geronimo", and their latest single "The Feeling".
"The Feeling" solidifies the notion that The Knocks are kings of producing uplifting, feel good tunes. Released last month, the disco-infused track arrived just in time for those last summer hoorahs, radiating the positivity and get up and dance sensibilities needed before we all bid farewell to the last fleeting summer moments. Although The Knocks are usually the remixers themselves, their  buoyant ballads are often the perfect candidates to receive a similar rework treatment. Proof of this point is The Feeling Remix EP, set for release September 11 via A&M Octone, which will contain remixes of "The Feeling" by Lazerdisk Party Sex, Edwin van Cleef, and Seamus Haji in addition to a remix of "Learn to Fly" by Com Truise.
Today, EARMILK is excited to premiere "The Feeling" (Lazerdisk Party Sex Remix).
Lazerdisk Party Sex are, as their Facebook profile puts it, "a couple of jamokes in space masks sneaking whale songs into DJ sets." Along with a sense of humor and a kickass name, Lazerdisk Party Sex, made up of Chad Bechard & Zack Johnson, understand how to take a hit song, add their own flair, and transform it into something that sounds wholly new yet equally engrossing. On their "The Feeling" remix, gone is the nimble, disco ambiance of the original -- reborn is a slower, heavier incarnation. Lazerdisk Party Sex kept the sing-along chorus, but unlike the original which flowed fluidly, Lazerdisk Party Sex introduced a tidal wave through a definitive buildup and drop. Lazerdisk Party Sex have certainly altered "The Feeling" for their remix, but not too much as to lose the interest of those who loved the original. You can stream the track here on EARMILK, and if you are feeling Lazerdisk Party Sex's remix, you can pick up The Feeling Remix EP tomorrow.
The-Feeling-(TheFatRat-Remix)--EM0912
Stream:
The Knocks
- The Feeling (TheFatRat Remix)
If you are looking for another remix of "The Feeling", The Knocks have offered up a bonus track by The Fat Rat which will not be included on The Feeling Remix EP. Stream the song here, and if you enjoy it, head over to their Facebook and download the song for free. Can't get enough of The Knocks? They will be starting a North American tour with Dragonette this week -- dates listed below. 
September
11- Buffalo, NY- Town Ballroom *
12- New York, NY- Webster Hall *
13- Philadelphia, PA- Union Transfer *
14- Boston, MA- Paradise *
15- Washington, DC- Black Cat *
16- Cleveland, OH- Ingenuity Fest *
18- Chicago, IL- Metro *
19- Minneapolis, MN- Triple Rock *
20- Kansas City, MO- Beaumont Club *
21- Denver, CO- Larimer Lounge *
24- San Diego, CA- Belly Up *
25- Los Angeles, CA- El Rey Theatre *
26- San Francisco, CA- Mezzanine *
28- Seattle, WA- Neumos *
October
24- Baltimore, MD- 8x10 Club **
26- North Hampton, MA- Pearl Street **
27- San Diego, CA- Gaslamp Monster Bash
31- Burlington, VT- Higher Ground **
November
2- Syracuse, NY- Westcott Theater **
* with Dragonette
** Night Vision Tour with Paper Diamond (All DJ Sets)