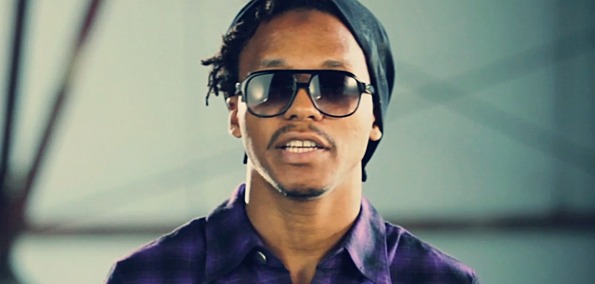 A known lightning rod for a combination of acclaim and equal controversy in and outside the realm and reach of the hip-hop world, Lupe Fiasco premiered the accompanying visuals for his controversial single "Bitch Bad", taken  from his much talked about forthcoming album, Food & Liquor 2: The Great American Rap Album PT.1, on MTV's RapFix Live.
 Dedicated to iconic, outspoken actor and activist Paul Robeson and "many black actors who endured the humiliating process of blackface in America", Lupe's Gil Green-directed video presents the critical juxtaposition of images of 19th century minstrel shows and what can best be described as Fiasco's take on the exploitative, minstrel-like entertainment industry. The correlations that can be drawn between the two distant yet eerily similar time periods are stark and shocking. Woven into the video is the narrative of an adolescent boy and girl who are both effected by the use of language as a "psychological weapon" of deception and confusion.
From the vaudeville Blackface minstrel shows of 19th century Antebellum America to 2012 in which record companies and artists work in conjunction to pander music to listeners that promotes senseless violence, misogyny, homophobia and morally reprehensible hedonistic lifestyles is not only wholly profitable but insanely popular. Written with the intent of sparking active dialogue on an overlapping range of topics, the depth of the lyric on "Bitch Bad" seem to resonate with a new-found sense  of profundity now that those words are reinforced with a respective visual representation.
In an interview with MTV News Fiasco stood firm behind his single's lyrical content stating, "Whether right or wrong, some things need to be said in order to start a conversation … that's all I try to do with my music." Regardless of which side of the fence you call home in the debate on whether the perplexing phrase "bad bitch evokes positive and/or negative connotations, Fiasco's single offers a knowledgeable and thought-provoking look into the power of words.
If Lupe's sole goal was to spark proactive discussion on laundry list of hip-hop related societal issues, I'd say the Chicago emcee has accomplished his goal. With several singles released this past summer, Fiasco looks to use his coveted platform to impart wisdom and insight on issues dear to his heart. 
"I"m saying it [bitch] to get  you to talk about it...I just want to bring it back to the surface and inject some potency back into it..." - Lupe Fiasco
Food & Liquor 2: The Great American Rap Album PT.1  is due out September 25 via Atlantic Records.