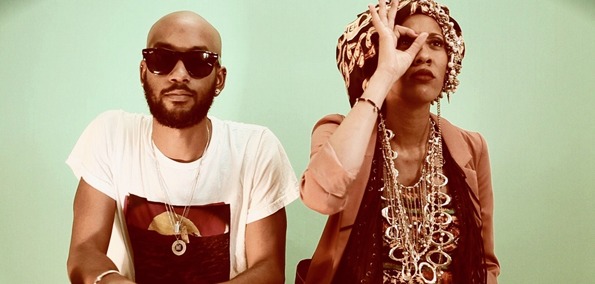 After taking a short yet much felt leave of absence following the release of their debut album, New Designer Drug on their self-managed label, iLLaV8r last November, Los-Angeles electro-funk duo J*DaVey have returned to serve up some visuals for their record "Little Tramp$".
Taken from their well-received 2011 LP,  the duo's latest visual is a humours video inspired by Iron Mike Tyson's Spike Lee directed one-man show Mike Tyson: Undisputed Truth. Directed by Spaghetto in collaboration with creative director Naivasha Thomas, the black-and-white music video shows Brooke D'Leau taking shots from cast of characters among which includes female welterweight boxer Holly Lawson and her punishing right hook and a cameo appearance from iLLaV8r affiliate Def Sound.
"I wanted to get intimate with the entertaining personalities that form J*DaVeY. There is a level of performance that seeps from their [J*DaVey] pores both on & off the stage, & it is truly powerful." - Naivasha Thomas
The unveiling of the new visuals for 'Little Tramp$" came a mere two weeks after the release of new solo material from Jack Davey. While Ms. DaVey has embarked on a solo career and is currently prepping her garage-rock-inspired EP entitled Lo-F! and there's no official word on an upcoming J*DaVey project., fans need not fret though. I'm pretty sure we haven't heard the last of J*DaVey.
Listen to Jack Davey channel a combination of her inner Howlin' Wolf and Betty Davis on her new bluesy rock-tinged record "Howl At The Moon" and watch the video for "Little Tramp$" below. Also, don't hesitate to revisit J*DaVey's LP New Designer Drug, the duo's full-length follow-up to their successive trio of impressive EPs, which is available now for the low price of $2.99 on the J*DaVey's official website.
[soundcloud url="http://api.soundcloud.com/tracks/54223790" iframe="true" /]