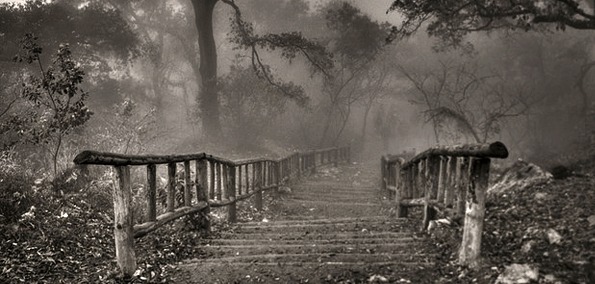 Trap music: it's a relatively new term for electronic music, though it has plenty of history in the hip-hop world. Yet the growing term is already receiving flack from some of the same producers who have garnered the title. Kings himself recently tweeted, "I don't even make trap music," although the Swindon beatsmith liberally applies the tag on his Soundcloud. But all the genre hullabaloo falls by the wayside when you listen to the Endless Fog EP and immerse yourself in a sea of purple. Fans of Joker and good rhythms in general will love this - the label's writeup nailed it with "Silkie matched with S-X." That's a tall order, but this is a hearty five-course serving of beat soup for the soul. Peep the tasting flight below.
The simply titled "Trap Muzik 1" belies the whole release's regal assortment of G-funk synths, purped out keys, and signature trap percussion. Float on a chilled jetstream of space funk and radar bleeps with "Galaxy Wave" before "Endless Fog" rolls in with a cascade of trilling chords and "ey!" shouts, a personal favorite vocal sample. It's only topped by the squeaky sample in "Let Go of the Pain", a closer which should put a smile on the face of any phonk lover. Finally, check "Lotus Flower in the Lake" for a beautiful bonus freebie Kings dropped after the release:
Kings---Lotus-Flower-In-The-Lake--EM0512
Download:
Kings - Lotus Flower In The Lake
There's something about these tracks that evokes such a cleansing and refreshed emotion; it's releases like this that remind me how powerful seemingly simple instrumentals can be. The fact that this EP doesn't get old after repeated rinsing speaks volumes as well. Cop this for whatever price you desire (even free, though it's certainly worth your money) on the LA-based Soulection label, and check their infinitely varied back catalog while you're at it because it's more than worth your time.