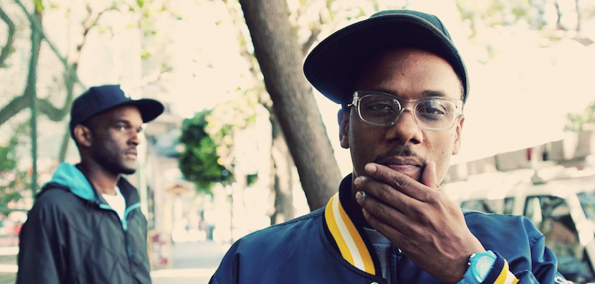 After celebrating his birthday last year by gifting his DPPLGNGR mixtape to fans, New School veteran and 1/2 of hip hop duo Tanya Morgan Donwill let loose his collaborative EP with Kay of The Foundation Fly Guys to commemorate turning a another year older yesterday. According to Donwill the project had been in lying around for an unspecified period of time. Donwill prefaced the release of the EP via his blog with the following statement:
It's my birthday and as usual I come bearing gifts. This one is pretty special in my opinion because I never thought that it would see the light of day. Well thanks to D. Randle, FWMJ and of course Kay it finally is ready for your ears. While I won't say when it was recorded I will say it stood the test of time very well and it sounds even better today than it did all of those times I played it on my iPod and wished you guys could hear it along with me.
Regardless of the when the project was originally recorded, as Donwill stated the music sounds fresh and not the least bit dated. Joining Donwill and Kay on the EP is production from The Are and 8 Months and guest appearances from TM member Von Pea, frequent collaborator Che Grand, and Jawaad among others. Preview two tracks off the 9-track EP and follow the link to grab a free digital copy of Kay & Donwill's Fly Guys EP.
FWMJs-Rappers-I-Know---Fly-Guys---03-Dudes-Due--EM0612
Download:
Kay of The Foundation & Donwill of Tanya Morgan – Dudes Due
FWMJs-Rappers-I-Know---Fly-Guys---09-Winter-In-America-featuring-Jawaad--EM0612
Download:
Kay of The Foundation & Donwill of Tanya Morgan – Winter In America featuring Jawaad
Download: Kay & Donwill – Fly Guys [EP]