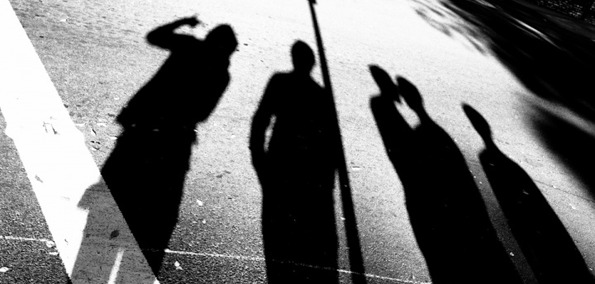 The Neighbourhood, in case you haven't gotten the memo, are one of the hottest tickets in music; the heir(s) apparent to the indie-rock throne. Their singles have floated around the net like a celebrity's hacked cell-phone pictures: everyone was talking about them, no one was sure where they came from, and their quality indicated that they were;t the product of some  amateur operation. The Neighbourhood's sound is, well... New. Not "new" in a redundant way, though. "New" in a way that makes sense; rich in its influences and structure, while remaining remarkably fresh in its form and elements.
This isn't the kind of music that 19-year-olds write in their first band.
So, when I asked Zakk (one of the guitarists) if he and his bandmates attended high school together, the response I received was one I didn't necessarily anticipate.
EARMILK: So, seeing as you guys have been friends for so long, did you all go to high-school together?
Zakk: Yeah, well... One of our members is still in high-school...
EM: Wait, what? How old are you guys?
Zakk: Well, two of us are 18, Jesse is 20, Brian our drummer is 21, and I'm 19.
Having listened to The Neighbourhood's music for weeks and seen pictures of their bearded faces and lead singer Jesse's tattoos, I was prepared to talk to a group made up of LA scene veterans. I wanted to know what other bands each had played with prior. I was ready to hear about how they met while rehearsing with different acts backstage at the Roxy Theatre in West Hollywood. Maybe this shouldn't have surprised me, but it did. Enough that I had to throw out the page and half of questions I had ready before our phone call.
EM: You guys are assholes.
Zakk: (laughs) Yeah. We know. We're fuckin' young.
It all started with a trip to New York. Jesse was being flown out by a manager who had found him online (he was rapping at the time, using the moniker "Jesse A") to give him a chance to work with a variety of industry types and producers. But a week before Jesse left, Zakk and a handful of the guys wanted to try to put some songs together, eager to take advantage of the audience Jesse was about to have.
EM: How did you guys first go about getting your music noticed?
Zakk: Well, once we heard about Jesse going to New York, we decided we wanted to try and make music as a group. So in a week we wrote 10 songs, and Jesse took them to New York with him, showed them to his manager, and he really dug them.
EM: Are any of those songs on the new EP?
Zakk: Yeah, "Wires" and "Sweater Weather." "Sweater Weather" is actually the first song we ever wrote.
Download:
The Neighbourhood - Sweater Weather
Download:
The Neighbourhood - Wires
From there, they got the attention of noted UK DJ Zane Lowe, who demanded first dibs on everything the group produced. Their first release, the song "Female Robbery," charted in the UK and turned heads everywhere from Liverpool to Silverlake.
Jesse: Zane said that he wanted to debut everything that we produced, and he's lived up to everything. We got a lot of love for Zane Lowe. He's been awesome.
But despite the shocking success of "Female Robbery," and later "Sweater Weather," the group kept their heads down. The only thing anyone knew about this new band The Neighbourhood was that they were from LA, and their lead singer used to be a rapper. The only photo of the group to surface online was that of their shadow, cast on Southern California asphalt. That, compounded with the film noir imagery in their videos and website, raised eyebrows collectively across the internet. Who were these LA mystery men?
Download:
The Neighbourhood - Female Robbery
EM: When you guys came onto the scene, everything was pretty much anonymous mysterious, even. Was that a conscious decision?
Zakk: It was, because we wanted the music to stand on its own.
Jesse: I mean, I have fuckin' tattoos and shit, we're not bad lookin' guys. But we didn't want the sound the be attached to that or to how we look. Because that doesn't fuckin' matter.
For The Neighbourhood, the only thing that "fuckin' matters" is their music. Jesse and I went on to talk about the lyrics in their songs (which he writes) and whether he writes anything hypothetically.
EM: Is pretty much everything you write autobiographical, or do you get more creative or intangible with your lyrical content? 
Jesse: I don't have time to sit around and bullshit lyrics. I could spend all day writing about a shit I took this morning, but if it sounds a certain way people are going to hear that and be like "Damn! I bet that shit felt good!" 
We talk about the group's hip hop influence, something that a lot has been made of thus far in terms of sound (and, according to them, in the volume of content they've created). But no matter where our conversation takes us, we always arrive back at the same place: it's about the music.
EM: What is it that you want people to notice, before anything else, about the music?
Jesse: At the end of the day, the melody is what's going to make you feel something. As a band, we don't want to just say something. We want to sing something. We want to speak melodically.
Yet, for all of their youthful bravado (someone older than me might even call it naïveté), The Neighbourhood seem hell-bent on not changing the formula that's worked for them thus far. They believe that what got them- the people, their environment, their dynamic will carry them through to the next step (and it's a pretty big step. Trust me.) They've got a team that they know they can rely on. They like writing in their houses and with their friends around.
EM: What are your ideas about the band moving forward?
Jesse: We want to be a fucking band, you know? We don't want to be some little indie band forever. Shit. Don't make us sound too Kanye, okay?
This made me laugh. Not the Kanye line, necessarily. Just the sentiment behind it. These guys, for all their maturity artistically, entirely acted their age when we talked. They're confident, but know that it's not entirely earned (yet). Their appetites are humongous. But that makes sense; they are preparing for a collective growth spurt.