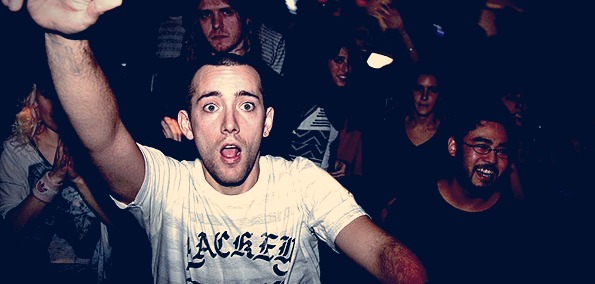 There isn't really a better term than "badass" for producer/DJ Salva. As head of the Frite Nite label and a friend of Friends of Friends, he's been DJing for over ten years, and he also has an impressive catalogue of remixes and productions, ranging from 2009's Jars to 2011's Complex Housing. Originally from Chicago, previously in San Francisco, and currently living in Los Angeles, he's worked to cultivate the avant garde dance music scene in the U.S., a lofty but admirable task. His personal style could perhaps be described as heavy but playful bass music, but don't try to put Paul Salva in a box: he's got diverse taste and plenty of influences to show for it. I chatted with him about the state of the American electronic music scene, his DJing and production techniques, his label, and his tastes and influences outside Boston's Wonderbar last night before dancing the night away to the sounds of the man himself and Nguzunguzu. 
EARMILK: You mentioned you've been doing a bit of exploring in Boston today, what were some of your favorite parts of that? 
Paul Salva: I guess the typical tourist attractions. My homies stay in Brighton - that's a neighborhood, right? - over here, so we did a lot of walking in that hood too, just looking at houses and stuff, so that was really cool. A lot of character here. 
EM: And you just got back from SXSW right? Still in recovery mode? 
PS: Yeah. We - me and Nguzunguzu - were touring leading up to that as well, so yeah. But I've had a couple days off, so I've been able to recoup. But it was, I think, particularly crazy this year, because as opposed to last year, which was my first year, there was even more electronic music. I didn't even catch that many indie bands that I would have expected, I mean it used to be a rock concert basically. So yeah, it was great, seeing a lot of homies from everywhere too; everybody was in from all parts of the world. It was really good, tons of good shows. 
EM: What were your highlights?
PS: I was mostly trying to go and support my friends and stuff, but I played back-to-back with Machinedrum at the Hype Machine party and that was really fun. And I played with Sepalcure as well, that was my official showcase, and that was super great. That was the first time I saw him live, I've seen him DJ before but that was sick. Saw The-Dream for a little bit. The SureFire party, and the Friends of Friends party, just all the stuff I'm affiliated with, I supported a lot of that. It was really good.
EM: You also run a label, Frite Nite. How did that get started? 
PS: We're almost four years old. When I moved to San Francisco, I'm in LA now, but at the time, I met a lot of talented kids that really weren't putting any of their music out. I've been a part of labels in the past, and I thought it was a good opportunity to do that. So it was really a humble, small thing, I just ran it out of my bedroom and tried to do my best. So we just did it, and kept growing. The last thing we did was a compilation, Surreal Estate, it had Sepalcure and XI and Starkey and some bigger names. Just tried to put it on the map a little more. And this year we have a lot of cool stuff coming.
[soundcloud url="http://api.soundcloud.com/tracks/26295124" params="show_comments=true&auto_play=false&color=000000" width="100%" height="81" iframe="false" /]
EM: Any of that that you're willing to disclose?
PS: Yeah, of course! Me and DJ G, who was kind of like a big dubstep figurehead in the early years when it was deeper, the Joe Nice and Mala type, and he's kind of changed his sound too, and he goes by Grenier now. He and I are doing a collab that will come out next, and then a project called Dark Ages, which is Star Eyes from Trouble and Bass and Charlie from Skin and Bones, it's a collab they have, it sounds like crazy old school jungle meets trap music. So it's really cool. And then another B. Bravo record, which is I think his best work yet, with his band, The Starship Connection. Yeah, so that stuff, and more of my music. Comma, who helps me run the label. Just a bunch more stuff. Clicks & Whistles. I'm really just trying to promote, which is what it was with the compilation, too, music that's happening in North America, because we all follow, as far as alternative dance music, everybody looks to the U.K. and to Europe for a lot of that stuff, and there are just so many people doing it here. I'm hoping to keep it over here, you know, at least to give us more of a platform here, in all the cities like Boston, everywhere we've been, Philly and Portland and the cities outside of L.A. and New York, the typical tastemaker scenes. Everything's really starting to grow, so just trying to help propagate that more. 
[soundcloud url="http://api.soundcloud.com/tracks/14187899" params="show_comments=true&auto_play=false&color=000000" width="100%" height="81" iframe="false" /]
EM: This is kind of along the same lines, what do you think are the most vibrant cities in the U.S. right now, since you're probably uniquely informed on that? 
PS: Definitely, you know, I just left San Francisco last year, and that scene's always cracking. Portland definitely has an amazing scene, and every time I go up to Canada is great too, we're going up to Montreal tomorrow, which I'm stoked about, Montreal and Vancouver are sick, and New York has really made a huge comeback as well. I think it was, from an outsider's perspective anyways, I think it was kind of at a lull for a little bit, and the last couple years, the techno scene exploded there again and obviously all the kind of bass stuff and everything is really cracking there now. Yeah, we'll see with Boston. [laughs] It's Wednesday though, so I don't judge on weeknight shows.
EM: When you're performing live, what's your setup like?
PS: I usually really love playing off turntables, but I've been having an increasingly tough time getting clubs to have turntables these days, which is kind of sad in a way for me. I've been DJing like 10 years, and that kind of sucks. I have an Ableton set-up as well as a backup, and usually my live set, when I play a lot of my original material, I like to have a couple keyboards with me and stuff like that. But tonight I'm just going to be doing Ableton and a controller. So it'll be more like a DJ set, but I'll play some original stuff too, and I have different routines and a-cappellas over tracks, and I kind of at least try to mix it up a little bit more than a straight DJ set.
EM: And what's your setup for production like?
PS: I use Logic and Ableton, as far as my DAWs, and I've got a bunch of keyboards and stuff at home, and pedals and whatever, and I try to integrate that stuff as much as possible, but sometimes I'm lazy and I'm hungover from tour and I just go and bang beats on the computer too, you know. I try to sample a lot lately, too, just to get out of the regular routine of how I make music. I'm trying to change that up and change the styles that I've been working on too, just to keep moving, progressing.
EM: Where do you like to source samples from?
PS: For a really long time, a big part of my production process was just digging weird shit. Going to dollar bins at Goodwill whatever and finding stupid records that look like there are synths on it, or old funk stuff, but lately I've been jacking a lot of boogie breaks and stuff and trying to build my stuff around that as opposed to 808 drums and stuff which I've always frequented. But yeah, really anything, especially anything vocal, vocals and that frequency range, just so you can still keep the heavy bass and beats underneath. But yeah, I'm trying to expand and do things I haven't done yet now, so we'll see.
EM: What's your take on the sort of mainstream infiltration that electronic music's been making lately?
PS: I think overall I'm glad to see it, regardless of a lot of - obviously a lot of people complain about "the state of American dubstep" and this and that, but I just kind of let it run its course, and I think that the bigger that gets, the more listeners we can pull into the avant-garde stuff. But the underground scene is really exciting now too, because underground rap has really hit hard again, like this last year too, and so I've been really into doing edits of a lot of that stuff recently. So I don't know, it's hard, I'm into everything from gay house to dirty rap to techno to good dubstep, like whatever. I just think that as long as it keeps building, the underground music's always going to stay underground. There's always going to be an alternative. I think that's growing because of everything else, so that's a good thing, you know?
EM: What are some of your favorite albums that have come out in the past couple months? 
PS: Definitely there's this singer Zoo Kid in the U.K., his stuff is pretty cool. I toured with Shlohmo a couple months ago and he put me on to a lot of stuff, kind of the stuff that he's into. Like I said I've been really into rap and stuff, like 2 Chainz and A$AP Rocky, that kind of stuff, Kendrick Lamar, and all that. As well as, I'm a super huge fan of a lot of the people in my network too. Like I really love the Sepalcure record, it's one of my favorite records, and it's sort of escaping me what I'm listening to lately, but let's see. Anything like, I love The Weeknd, I guess all that stuff's kind of cliche, as far as a listener, but you know. I'm a big fan of 40, who produces Drake. Once again, my crew, like Shlohmo's stuff, I'm really influenced by him a lot, and really I've just got my ears open.
[soundcloud url="http://api.soundcloud.com/tracks/35016151" params="show_comments=true&auto_play=false&color=000000" width="100%" height="81" iframe="false" /]
I'm not doing as much album listening as I'd like to because I literally dig for DJ tunes every single day now because so much comes out, especially going to these cities, and so many times the opening DJ has tracks that I haven't heard, and it's kind of humbling, too. Because you go to all of these random pockets and it's like - we were in New Orleans and they were all talking about bounce and sissy bounce and ghetto bounce and all this stuff, and it's cool to see regionally what cracks off. And in Philly, the Mad Decent guys put me on to a lot of DJ Slink stuff that I hadn't heard yet. My buddies LOL Boys have a label, Body High, with Samo Sound Boy out of L.A. and they just released a Todd Edwards record that I'm like, in love with. So yeah, but again, it's all DJ shit, I've just been digging all that stuff and trying to keep up with the enormous amount of dance and beat DJ-related music. 
EM: When you're touring do you manage to attend any other shows? 
PS: Usually not, because we're usually in one night, but I always make it a point, if I'm not too worn out, I always like catching the openers for that reason. Because these guys always surprise me. You might think a local DJ might not know what's up, but more times than not they're up on shit, they're trying to stay ahead and be about their craft, and I like always supporting the openers. 
EM: As far as non-musical pursuits, is there anything else you're working on or passionate about?
PS: I don't want to divulge too much, but we're working on an app right now, an iPhone app, an iPad app. That stuff. And just being in L.A., I've been there for a year, so just experiencing L.A., because it's super vast and the first year moving from San Francisco was a big culture shock. It's very different. Anyway, just exploring L.A. and watching movies and chilling. I spend all my time engulfed in music really, so I don't have too many extracurriculars unfortunately, which probably needs to change. But I do a lot of work on my blog and my label, too, so it's kind of like if I'm not producing and DJing and touring, I'm doing that. I do enjoy writing and A&Ring and trying to get music together and expose. Like, my favorite part of running Frite Nite is our podcast. I always try to get them from people I've met on the road and stuff.
EM: If you were to give someone who hadn't really listened to your music before any of your records as as introduction, what would you pick?
PS: I'd probably have to make a mix, you know, a little bit of all the different stuff I've done. But definitely some of the stuff from my album last year, Complex Housing, and Yellobone which was a follow-up, and some of my remixes, like the remix I did for Om Unit at the beginning of last year was pretty popular. And some other stuff that went under the radar, I remixed Rainbow Arabia from L.A. and yeah, some weird stuff, I guess I'd just give them a mix because my sound's all over the place, so just try to give them some different jams. 
[soundcloud url="http://api.soundcloud.com/tracks/10516556" params="show_comments=true&auto_play=false&color=000000" width="100%" height="81" iframe="false" /]
EM: Is there anything else you'd like to share to the world?
PS: Nah, just shout-out to Friends of Friends for sure, you know, I run my own imprint, and Friends of Friends has been super pivotal with my music career, and Leeor who runs the label has got a super good ear, and they're putting out a lot of super dope shit in the future. This year's going to be really dope, so just that stuff, and you know, Shlohmo and WeDidIt and all those guys. I'm a big fan of all that stuff, because my sound is more club-based, especially now I've been getting drawn more and more into that now that I DJ, my music's kind of taken that direction. That whole lo-fi sound, and screw music, and weird shit. And Shlohmo even got me into witch house, which I hated at first, and now I'm trying to follow that shit. And young producers too, just trying to follow people on Soundcloud and see what's up with the youth, you know, because they always have better ideas than us old men I guess.
EM: Yeah, just one more quick thing you just reminded me of - since it seems like you're really up on both tech and music, are there any tools that are really helpful to you that you'd recommend for other people?
PS: I think using different digital audio workstations was a big thing for me. Because I was always locked into Logic, and I used Ableton for live, but once I started using it in my production more, it changed a lot. And I did a little workshop at Dubspot when I was in New York at the end of last year, and that was a big thing that we pointed out. Because Shlohmo uses Ableton exclusively, and I was at the time just using Logic, and the other instructors over there were kind of telling the class how important it is to use multiple, and how some of the guys that teach, in their music they'll use Reason, Logic, and Ableton. And these days, like I said, integrate as much hardware as you can, because all those things can give it such a unique - like, if you're just making synth-based music, I think it's really important to get out of the computer. But at the same time supplementing it using different software in the computer is just as good I think. Definitely break the mold and try to switch your formula. Just like, don't bite anybody, try to do your own sound.