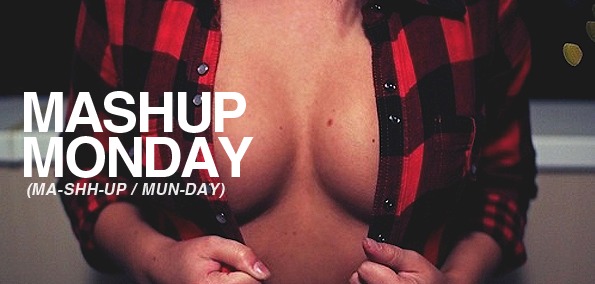 Mashup Monday - We're back again with some of the freshest mashes to start your week off right. These are the mashes that are worth hearing, so stop your searching and instead settle down at your computer... turn up your speakers... and get ready for that sweet nectar that only EARMILK can give ya. Let's GO.
Lots of great new music for this week, including mashes from Kap Slap, D.veloped, and some new artists. Kap takes 7 different samples and creates something that rattled my car doors when I hit play. After a couple of tracks that left me wanting a bit more, Kap reasserted himself firmly in the upper echelon of mashers that I truly enjoy listening to. Of course, accompanying Kap in this upper echelon is D.veloped. Hearing Morpheus from The Matrix as the song starts had me wondering where D.veloped was going to go with this, but as the title of the track denotes - he recreates a track that DGAFOS. I loved Dillon Francis's original track, but having Versions 1 and 2 mashed within the same track takes it over the top, and for that I thank D.veloped.
Another track that I was definitely enjoying was Bruneaux's "Something Sexual" and Scott Melker's "Dirt Off Your Shoulder vs Born To Die". Bruneaux's track was originally created as a joke mash, but after giving it a listen...I knew that he had something. Can one go wrong with George Michael and that sexy sax? Nope, but adding on the lyrics of DJ Unk's "Divide That" with a small sampling of T.I. left my ears smoldering with them good vibes. Add this track with the image above, and you have a winner. Melker's track, on the other hand, was just a wonderful combination of Jay-Z's raw vocals from "Dirt Off Your Shoulder" with Lana Del Rey's sensual sounding "Born To Die". For a first track that I have heard from this UPenn graduate left me impressed, and with a mission to scour all the tracks available on his Soundcloud.
Other tracks that I was digging was OneLove's mash of Florence + The Machine with Katy Perry, Blendrix's bootleg of AWOLNATION with Infected Mushroom, and DJ Storms "Comfortably Time." All of them are a different from each other, but with a unique sound that makes them all stand out respectively. Oh, and I'm pretty sure the final track isn't a mashup but it sounded too good to not include within this collection, so make sure to take a listen to it as well.
Kap Slap - Breakin The Doors
Download:
Kap Slap - Breakin' The Doors
D.VELOPED (Extended Edit) - IDGAFOS
Download:
Dillon Francis - IDGAFOS (D.veloped Extended Edit)
Bruneaux - Something Sexual
Download:
Bruneaux - Something Sexual
Scott Melker - Dirt Off Your Shoulder Vs. Born To Die (Jay-Z x Lana Del Rey)
Download:
Scott Melker - Dirt Off Your Shoulder Vs. Born To Die (Jay-Z x Lana Del Rey)
PeaceTreaty MMC - Kick Out the Epic French (Dada Life x Muzzaik)
Download:
PeaceTreaty MMC - Kick Out the Epic French (Dada Life x Muzzaik)
Blendrix (Bootleg) - You Are Sail F___ed (AWOLNATION x Infected Mushroom)
Download:
Blendrix - You Are Sail F___ed (AWOLNATION x Infected Mushroom)
DJ Storms - Comfortably Time (Pink Floyd x Pretty Lights x Stylust Beats)
Download:
dj STORMS - Comfortably Time
Onelove - Shake Out Part of Me (Florence and The Machine x Katy Perry)
Download:
Onelove - Shake Out Part of me (Florence and The Machine vs Katy Perry)
Frail Limb Purity - The_Game v The Glitch Mob
Download:
Frail Limb Purity - The Game v. The Glitch Mob
Download:
KA5UM - Keep It Lit
Boltcutter - My Name Is Nezzie
Download:
Boltcutter - My Name Is Nezzie
Foreigner - Cold as Ice (A.Skillz and Nick Thayer Bootleg)
Download:
Foreigner - Cold as ice (A.Skillz and Nick Thayer Bootleg)