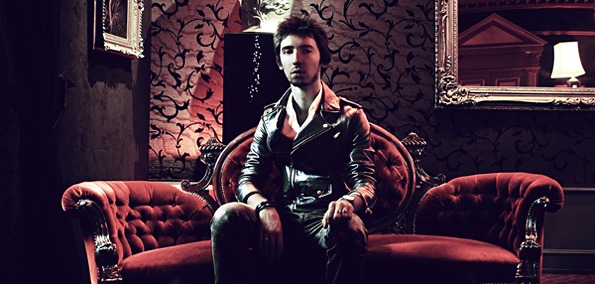 The French Parisian electro/pop-rock scene known for its very famous artists as Justice, Sebastian, and Gesaffelstein often hides very talented producers who really deserved to be known. The guy I'm gonna introduce you certainly earns his status of "French seductor".
His dress code and his angel face can remind us sometimes the famous French musician Serge Ginsbourg  of the eighties. Lorris Piasco, alias "Allure", based in Paris, from the age of 23, has created his own music world through a kind of atmospheric music tainted of groovy basses and beats, enhanced by French Touch style. As usual, an interview was an interesting way to know more about him. Let's start, Earmilk friends!
EARMILK: Could you introduce yourself for the Earmilk readers?
Allure: Hey, I'm Lorris Piasco (at night, people call me "Allure"). I'm a young Parisian producer of electronic music. I love music, clothes, food, and skinny girls.
EM: What are your influences into your music production?
A: My influences are really varied. On the one hand, my heroes are some figures of pop music, like Michael Jackson, the Beatles, David Bowie, Prince, Queen, the Stones, or Pharrell Williams. And on the other hand, I have been influenced by some producers of the French scene, especially Justice, Sebastian and Daft Punk. I made 10 years of classical music and jazz music too.
EM: Do you feel more confortable as DJ or as a music producer? What is your working method?
A: I have pleasure in every field. I love the process of creation, the spontaneity, and the technical approach in studio. But playing in front of people can also be ecstatic, I love it too. My working method is always the same: I hear some chords and harmony in my head, I play it on the piano, and when it sounds good, I start producing the track, following the chords I played.
EM: Do you have any upcoming project for the next days, any new collaboration?
A: My new EP, I Will Change, is out since a few days agos. The first track is a funky pop track featuring a Parisian singer and friend Jordan Lee. The second track is in the continuity of my debut LP French Kiss, released last summer. The third track is a lovely remix, made with love, for the girls. In fact, I'm already working on new tracks, and I think and I won't wait too long to release it. Expect other releases in 2012, and a big change concerning my image in the next few months... Stay tuned!
EM: Any tour /date?
A: It's been two years that I play in most of the places in Paris. In 2012, I'm gonna play in other cities like Lyon, Toulouse, Bordeau, Lille. And I have some propositions to play in Europe and America. So I think I'm gonna travel a lot this year. Stay tuned on my Facebook page, more information is about to come.
EM: What do you think of the actual electronic scene?
A: Nowadays, too many people think they can be "the next Justice," buy a laptop, download the standard softwares, and think they will be a "killer." In fact, too many people want to do music now, because of the MySpace era, and because of the society which wants to make people believe that "everybody can be a star." The music market is over saturated, and quality productions are drowned into the mass of the people. In addition, I think we also enter in a new exciting era, were artists have the power over labels... "wait and see."
EM: A word to your fans and future fans?

We have to keep in mind that an artist without his fans, doesn't exist anymore. He's NOTHING! Too often, artists forget this elementary thing... That's why I love you all. Take care, and stay tuned, there are more things to come in 2012. A massive thanks to Earmilk.
LOVE.
After a first classy and charming album release, called French Kiss, the little Prince of the French Touch electro returns with an up-and-coming new EP, I Will Change, available for now here on iTunes:
And especially for you dear Earmilk readers, an exclusive hot track for free download from his album French Kiss: "Side by Side" featuring Axel Le Baron (Darling Records boss):
02 - Side by Side (feat Axel Le Baron)
Download:
Allure - Side by Side (feat Axel Le Baron)
Here are bonus "Allure" remixes for free download too! All are top quality electro pop music:
The Beatles - And I Love Her (Allure Remix)
Download:
The Beatles - And I Love Her (Allure Remix)
Jamiroquai - Cosmic Girl (Allure Remix)
Download:
Jamiroquai - Cosmic Girl (Allure Remix)
Sebastien Tellier - LAmour et la Violence (Allure Remix)
Download:
Sebastien Tellier - L'Amour et la Violence (Allure Remix)
Michael Jackson - Remember The Time (Allure Remix)
Download:
Michael Jackson - Remember The Time (Allure Remix)
Allure will play in Paris on March 10, with Alan Braxe and Uffie. Join the event here.
Official Facebook here.
Official Soundcloud here.
We thank Lorris for his work and his kindness.