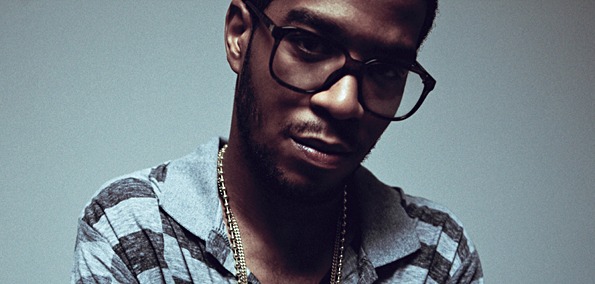 When it comes to rock/hip-hop albums, everything has to do with skateboarding. See, Lil Wayne announced that he would follow up his very large and successful Tha Carter III with a rock album - what is Rebirth? - and then he announced that he had taken up skateboarding, which supposedly put the stamp of approval on his creative departure. Kid Cudi, on the other hand, did no such thing. Yes, he announced that he would be working on a rock album, WZRD, alongside producer and long-time collaborator Dot da Genius, but he did not start skateboarding. And if you consider all of his past work, WZRD is not really a departure at all. It's the album Scott has been meaning to create from the very inception of his art.
Look at the records from Scott's debut mixtape, A Kid Named Cudi, as well as his demo. You'll see that a bunch of the beats are reworkings of older records, records that Scott was probably influenced by coming up in New York City in the mid to late 2000's. "Heaven At Nite" is a Ratatat song; "The Prayer" is Band of Horses; "Down and Out" OutKast; "I Be" Bob Dylan; "50 Way To Build A Record" DJ Quik. The list goes on and on, but by no means is it surprising, considering the range of artists Cudi has enlisted for his first two studio albums, Man on the Moon I & II. They include: Ratatat, MGMT, Cage, St. Vincent, Cee-Lo Green, among others. Now consider WZRD. Really, the album is an accumulation of all Cudi's influences thrown into a big pot, and boiled to perfection by the Grammy-nominated beatsmith, Dot.
The first big moment of the album (those astute bits of wisdom Cudi is known for) comes on track 4, entitled "Love Hard", a medley of sweet violin and sour guitar riffs that breaks into an airy synth-driven instrumental halfway through the song. "What you gonna say to me, you wanna tell me somethin, but let it please be true, now what you want from me, never mind, don't say a thing to me, I want to see what's in your eyes," groans Cudi, addressing a potential lover, trying to gauge whether they're in the game to 'love soft' or to 'love hard'. Another big moment comes on "Dr. Pill", near the end of the album, when Scott laments, "My head is always busy, stuck in a-, stuck in a-, stuck in a place I've been way far too long, it's not paranoia, I'm stuck in this hell, in this shell I'm secure." The record is a spastic exercise in losing control, with noisy guitar and a topsy-turvy melody from Scott that recalls recurrent bouts with Percocet. "Where Did You Sleep Last Night?", the Nirvana/Leadbelly cover, is yet another highlight, especially the way in which Scott emphasizes the word "pines." It brings a new meaning to the lyrics. Just don't jam to the record after listening to Kurt Cobain perform it unplugged in New York City. It's bound to ruin the experience. The last triumphant moment on WZRD comes via the very last record, "Upper Room", which is far more hip-hop and of Dot's groove than anything else on the album. Scott spits, "I don't believe your words, and most people are pussies, scared to be what God made them to be," over skittering hi-hats, buoyant synths, and heavenly hand claps, expressing triumph over what everyone else probably would have wanted for Kid Cudi.
You see, Scott always intended to follow his own lane in the hip-hop game, but before he could fully imagine that vision, he had to appease the masses. High school kids wanted more of that bull about the lonely stoner who 'wake and bakes' each morning, rages, and abides by the ever-changing vocab of the in-crowd. This audience, the core 12-23 age group, has always been the one selling out Cudi's shows, building his reputation, and facilitating the record sales of his two commercially-successful studio albums. Needless to say, Scott owes a considerable amount of debt to this audience. Because now that he has "put on," as they word it in the hip-hop biz, Scott can do whatever the hell he wants with his music. WZRD is a prime example of that freedom, and an excellent one at that. All it took was a couple years of hip-hop martyrdom, smoking dope and abusing his body, for Scott to reach this all-exclusive stratosphere of artistic whimsy. Now he can make a rock album and sell it - what he always wanted to do - and not have to worry about scaling back into the shadowy depths of musical obscurity. In a way that plan sounds cowardly... or perhaps noble? Either way, that's America for you.
Stream:
Kid Cudi - The Upper Room (WZRD)
Stream:
WZRD - Brake