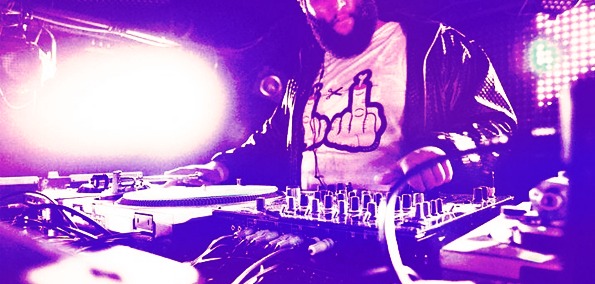 The weekend has landed and all that matters now is clubs, drugs, pubs and parties. You've got 48 hours off the 9-5, it's time to unbutton your hustle and breathe vigor back into life. Whether it be through losing your soul on the dance floor or grooving to it, we have your soundtrack covered. The EARMILK Weekend Selector, an exclusive guest mix series where we invite the latest budding talent from behind the booth to usher you through all the boozie and jam. From your morning bedside to tonight's evening social, your weekend selector is here to fill a void in good taste and allow fresh connections to flow vicariously.
(WKND08) EARMILK Presents: Weekend Selector - Big Dope P

 
[soundcloud url="http://api.soundcloud.com/tracks/34742863?secret_token=s-gyXjx" params="show_comments=false&auto_play=false&color=000000" width="100%" height="81" iframe="false" /]
Call it a juke assault, the Moveltraxx posse jacked your stereo this weekend with ghetto house don Big Dope P stepping up to the plate to bat out hits after hits, bitches et al. Known to do the nasty, this French producer gets his hands dirty in the house and hip hop clash that first sprung out overseas in 90s New York, Detroit and Chicago. Bringing buried styles like hip house, ghetto funk, and tropical bass back up to the surface, Big Dope P testifies that these genres can still pump a crowd while pushing the limits in their own right.
Clocking in at just over 20 minutes, this tape is our shortest one yet but the energy is explosive. 16 tracks drive this juiced list where no BPM conservative dares to go and with cheeky shifts that charge head first into obscene waters, there's no question whether respect and courtesy is left behind. Throwing in bouts of vulgar kuduro with foot stomping electro, Big Dope P proves that filth has no colour and no language. It's force, fried in chicken batter and wrapped in cheap salsa packaging this mix not only churns sounds but also puffed up attitudes and club rocking culture. 
EARMILK: First I want to say this is a short mixtape, but it's rammed with energy. Is this how you usually play out your tracks in a club atmosphere? Do you fill your time slot to the brim and carry a sort of attacking demeanor when you're playing live?
Big Dope P: Well I think I do more crazy tricks and stuff when I'm in a club. Some tracks are played longer of course and my set is usually 1h/1h30 long but yes, I try to blend what I prefer in House Music DJing and Hip Hop DJing as I do in my productions. The communication with the audience is also very important when you are live in the club.
EM: Talk to me about the artists from past decades that inspire you the most. I'm sure you can name off countless vinyl pressings from the 90s that very few of our readers have heard of.
BDP: Wow, there is a lot but if I should name one I would say Armand Van Helden, this dude created real bridges between all the music I love House, Punk, Funk, Hip Hop, whatever. It really convinced me to do my own thing with no boundaries. Otherwise artists such as Fast Eddie, Dj Deeon, Paul Johnson, Basement Jaxx, Rod Lee, Splack Pack, Daft Punk, 2 Live Crew and labels such as Crydamoure, Dancemania to name a few.
If I had to name vinyls that changed a lot of things for me I would say the "Old Tracky Bastard" 12" by Junior Sanchez, a very rare Chicago 12" called "Workstation No. 5" by Dj Slick Rick Da Master, almost every release from Detroit's label Electrofunk with Mr. De on the production and DJ Assault on vocals, and probably my favourite house music record ever "Psychic Bounty Killaz Part 2" by Dj Sneak & Armand Van Helden which I think is the track I've played out the most.
EM: What is the state of juke and ghetto house at the moment? Can you name me some recent artists and releases that you're always excited to dig and spin?
BDP: The juke/footwork movement is getting more and more exposure worldwide which is a good thing since we worked a lot for this so it's cool to see things are moving. With no limits to genres my favourite producers right now are DJ Tameil and the whole Jersey Club Movement, Bert On Beats, DJ Earl, Al Ripken Jr, Dodge & Fuski, Kill Frenzy, Funkystepz, Canblaster, Todd Edwards, Nightriders, Boylan, Fare Soldi, Aniki, Munchi, Flosstradamus, His Majesty Andre, DJ Rashad, J Paul Getto, DJ Clent, and TiTan. I probably forgot some but they are the firsts who came to my mind. Also almost everything that comes from record labels Man Recordings, Moveltraxx, No Brainer, La Valigetta, OMG!, Nightshifters, Unruly, Meanbucket, Fogbank.
EM: Seeing that juke originated and has its roots in Chicago is there much of a liking for the particular genre in France? When it comes to French production most people think of a cleaner more mature french touch, do the crowds react differently when you play something more wild and silly like juke?
BDP: Well we started from nothing here because not only people didn't gave a fuck about it but French clubbers are not very found of blending electronic and hip hop culture in nightclubs. You mentioned the french touch era, that was amazing but nowadays thats not a trend in the clubs in France, there really is no "French Touch" sound anymore but little mirco scenes here and there who are, unfortunately, just people following the next trend abroad.
There is a lack of personality in french club music right now in my opinion but there is always some wicked stuff. I play more abroad than in my own country so it's not a problem for me and as you can hear in the mix I'm not the kind of DJ who sticks to the same genre all night long. But when I start playing juke tracks in my sets, people enjoy it no matter where I am. The key is bringing it in smoothly, you shouldn't play a 120 BPM house tune push stop and start a 160 BPM juke track, haha.
EM: When it comes to DJing do you feel that part of the DJs job is to please the crowd with recognized tracks, or is it more of a way to express where you're head is at musically? Is it a balance? Where do you think is the right balance?
BDP: Well it depends of the context, but in my case, when I'm booked somewhere it's always because of the tracks or remixes I produced so I'm there to represent my sound live. That's the reason I'm also working on a live show with MPC at the moment. What I mean is I never force myself to play a record I don't want to play just to please someone. I try to share the music I love from all around the world, showcasing a fun way to mix them and simply having fun with the crowd.
EM: I just want to say thanks for stepping up to be our Weekend Selector, with all the energy packed inside I'm sure there's something for everyone to be amped about in this tape.
BDP: It was a pleasure much love to EARMILK!
TRACKLIST
01. DJ Joker, DJ Jayhood & DJ Tameil - BBMG Anthem (Edit): Moveltraxx
02. Wretch 32 feat. Etta Bond - Forgiveness (Todd Edwards Dub): Ministry Of Sound
03. Hush Hush Pony - Stevie Wonders (Original Mix): Moveltraxx 
04.  Aaron Lacrate - Drinks Up (Original Mix): Milkcrate
05. Vatican Swag - Manolo Pimp (Original Mix): Moveltraxx
06. Say Wut & Rye Rye - Back It Up (Original Mix): CD-R
07. Crookers - Bust Em Up (French Fries Remix): Southern Fried Records
08. Funkystepz - Tokyo Drift (Original Mix): Audiodoughnuts
09. Puto Prata & Bruno M - Cara Podre (Orginal Mix): CD-R
10. Wiz Khalifa - Black & Yellow (DJ Funkstar Remix): CD-R
11. Big Dope P - Let Me Flush Dat (Bert On Beats Remix): Moveltraxx
12. Noite E Dia - Sele Mama (Original Mix): CD-R
13. DJ Spinn - Fall Back (Original Mix): Planet Mu
14. De Jeugd Van Tegenwoordig - Buma in Mijn Zak (Original Mix): Universal
15. DJ Earl - Take It Down (Original Mix): Moveltraxx
16. Kola VI, 2-Face and Thunderbird Juicebox - Hood In A Frenzy (Josh Money Remix): Moveltraxx