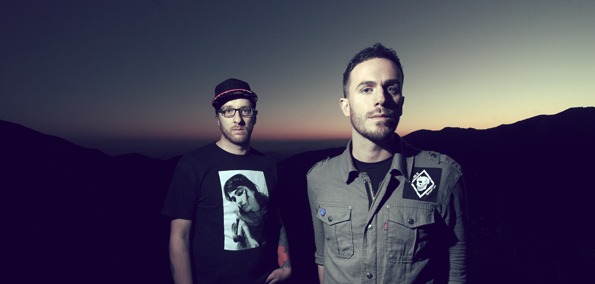 Watching the evolution of Canadian techno purveyors Jokers Of The Scene over the years has been akin to watching a young adult grow up and find themselves through their twenties.  Perhaps reflective of points JOTS members DJ Booth and Chameleonic were in their lives at the time, they've progressed from the Pharoahe Monch sampled party anthem "Y'all Know The Name", recorded while at the helm of Ottawa's legendary Disorganised parties, to the moody gothic undertones of "Revolting Joks", recorded while perhaps growing tired of a stale blog house scene to their current state with their fifth EP, J0T5, where they seem to have found sonic self-actualization.  While not to say that JOTS have cohered to dance music formulae in any way over their past EP's, J0T5 takes a more esoteric approach as the dance floor becomes less and less of a priority in their songwriting.
While the ethereal tone for the album is set by the planetarium soundtrack pads of "Killing Jokes I", JOTS hits their stride in the second track, "Black Mountie", a vintage sawtooth opus which sets a frames a warm mid tonal arpeggiation that serves as the driving force behind the groove.
Jokers Of The Scene - Black Mountie (Clip)

 
"In Order To Trance" manages to unify the sounds of JOTS's back catalogue.  The preview opens with a breakdown of voice-like keys that shadow the feel of the breakdown on "Joking Victim" crescendoing into a drop reminiscent of a lower octave version of "Revolting Joks" crunchy bassline, incorporating the vocal hit from Lyn Collins "Think (About It)" which was omnipresent in the Bmore scene which was at its height at the time of Y'all Know The Name's release.
Jokers Of The Scene - In Order To Trance (Clip)

 
Jokers have always been disciples of forward thinking artists, as demonstrated through their Psychic TV inspired artwork helmed by Fool's Gold Art Director Dust La Rock.  The album's most promising track, featuring a sample from a Stockhausen lecture, is "Organized Zounds."  It seems fitting, therefore, in naming "Zounds" they would mirror the sentiment of one of the forefathers of electronic music and composer behind "Poeme Electronique", Edgard Varese.  Varese often used the term "organized sound" when dealing with the monotony of being questioned if what he made is music.  To draw parallels, casual fans of electronic music with a less sophisticated ear may dismiss JOTS musical direction as well.  We have a feeling they're ok with that.
Jokers Of The Scene - Organized Zounds (Clip)

 
As a bonus download here's a more DJ friendly rearrangement I've been playing out for a while of "Revolting Joks".
Revolting Joks (Gold N Grams Edit)
Download:
Jokers of the Scene - Revolting Joks (Gold N' Grams Edit)
JOT5 will be released on Fool's Gold January 17th and will be accompanied by the much buzzed about J0T5 RMXD EP featuring remixes by Shadow Dancer, Gingy & Bordello, Daniel Avery, Cosmic Kids and more on January 24th.  You can catch the J0T5 release party January 20th if you're in Toronto as part of the Faktorywork series alongside Gingy & Bordello.  Facebook info HERE.