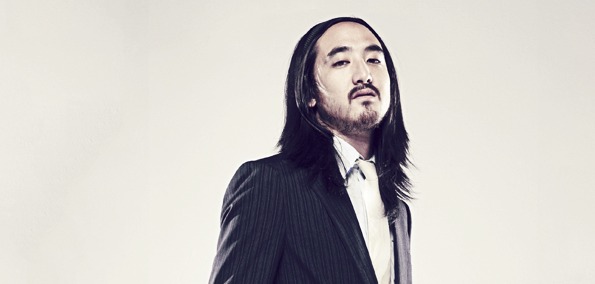 If you've taken any basic history or politics classes in your life, you're probably familiar with the basic types of authority: rational-legal, traditional, and charismatic. Being a massively famous party DJ is 50% musical selection and production, but it's also 50% a test of character. If you can take over the club as a charismatic authority -- and evoke the kind of response that leads thousands of minions to wear your face on their chests day after day, wondering whether you drew part of your charm from some unknown EDM god -- then you're halfway there on the road to massive success. Say what you want about Steve Aoki, but there's no denying he's iconic, and his tracks are pervasive in even the most unexpected of sets ("Warp" turns up at every corner at any big-name electronic festival, and I was kind of surprised to hear "No Beef" dropped in an Essential Mix from Scuba and Redlight).
08 Steve Jobs (feat. Angger Dimas)
Stream: Steve Aoki
 - Steve Jobs (feat. Angger Dimas)
It definitely takes some sort of talent to be able to craft tracks that become familiar dance floor necessities, the sort that you're a little bit guilty to be enjoying so much but nonetheless find yourself tapping out every beat. Steve Aoki's album, Wonderland, out today on Dim Mak Records and Ultra Music, definitely features some tracks of this nature: "No Beef", a collaboration with Afrojack, and "Turbulence", a collaboration with Laidback Luke, will be familiar if you've been hitting the clubs. Lots of familiar names make it onto the album, from a strange effort from Rivers Cuomo to features from Lil Jon, Chiddy Bang, Blaqstarr, Wynter Gordon, LMFAO, Nervo, and more (have I dropped enough names yet?).
As far as the beats and production on Wonderland, they're just what you would expect from Aoki -- warped electro sounds that are probably a little much for me on an average day, but when placed properly in a DJ set can be just what's needed to pick up the pace. I'll admit that the aforementioned iTunes bonus track "No Beef" has gotten me dancing more than once, and I could totally have gotten down to the beats on some of the other tracks, too. However, I found the vocals on the album mostly unbearable, ranging from straight up awful (even coming from artists I've tolerated on other tracks) to just a bit too abrasive (sorry, Lil Jon).
I've seen Aoki live, and he's a completely adept DJ, from picking the rights tracks to keep a high-energy party going non-stop to putting the right gimmicks (from kiddie pools to blow-up dolls) into action. I'm just not really sure what to make of his first artist album -- perhaps this music is just more well-suited to periodic singles than a full-on stream of Aoki-level pop energy. I for one would rather see Aoki's tracks blended with other music to set them off than see them set in a nonstop row.
03 Dangerous (feat. zuper blahq
Stream: Steve Aoki
 - Dangerous (feat. [[[zuper blahq]]
It's also more difficult to digest Aoki to this degree when the music is separated from the cult of personality that Aoki has built -- on their own, without someone pumping fists and popping bottles and directing the act of musical ingestion, these tracks are kind of just cheesy. I'll be interested to see how DJs manage to incorporate these songs into their sets -- there's still hope, I just don't know if it comes in the form of a 1.1 hour long full LP. Still, Aoki superfans should give this a look, and the rest of us can wait for these tracks to inevitably pervade a certain portion of pop culture until we're accidentally addicted.
[email protected] / @notalyce / tumblr
Purchase: Steve Aoki - Wonderland