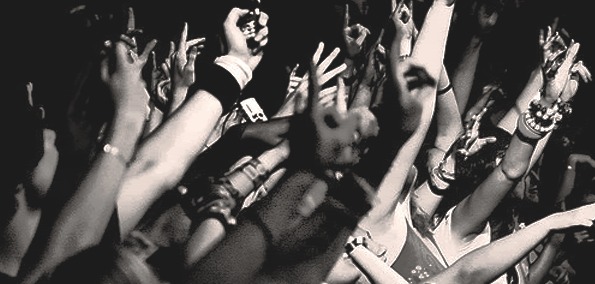 Amidst the cluster of New Year's Eve plans that came forth throughout the past month, when I heard that Big Gigantic was going to be heading to Chicago for the night, my plans were set in stone. For the third time I was graced with the Colorado-based electro-hop duo's musical presence in 2011. And for the third time, I found myself blown away. The duo that is Big Gigantic is composed of saxophonist Dominic Lalli and drummer Jeremy Salkin. The duo has found a way to create a type of music that generously lends to a "new" form of electronic music -- one that incorporates live instruments alongside digital equipment.
Download:
Big Gigantic - Nocturnal
The show started off with two opening acts, Lo Bounce followed by The Polish Ambassador. The crowd was overwhelmingly dressed up (and I don't mean formal-wear. Let's just say I was greeted by a man dressed as an astronaut, a man in a onesie, a man in a lobster costume, and at one point I'm fairly certain a grizzly bear waved hello). The 18+ venue was bursting with light shows within the crowd, a fabulous light show to accompany the performance, and sweaty, sweaty people dancing their asses off. In the beginning of the show, there were two guys in front of me (guys that I refer to as "bros") and they were hardly moving. Five minutes into Big Gigantic's set, they were dancing harder than anyone around me. This music is uplifting, catchy, and downright impossible to stand still to. The entire venue was alive with adrenaline, and there is no other way I would have chosen to bring in the New Year.
The Chicago show was one of several to start out the upcoming busy year of 2012 for Big Gigantic. They plan to release their upcoming album Nocturnal on January 11th. The album is composed of 11 electrifyingly catchy tracks, flowing effortlessly throughout the entirity of the album. Big Gigantic's unique sound derives from experimentation, and we are confident that the album is going to be a hit. Because their sound is a mixture of electronic and jazz, it is popular amidst a diverse amount of music listeners. The variety of sounds appeals to more than just one genre, a characteristic of music that different in itself. The duo were planning on releasing Nocturnal in October or November, but because of their busy schedule, they've announced they have no choice but to release it later than anticipated. That said, they've dropped a few tracks for fans to get a taste of what to expect.
Big Gigantic - Rise And Shine
Download:
Big Gigantic - Rise And Shine
Alongside the album release, the duo will be kicking off their "Nocturnal Tour 2012" on January 18th in sunny, mountainous Aspen, Colorado. Try to catch a show, they are phenomenal!