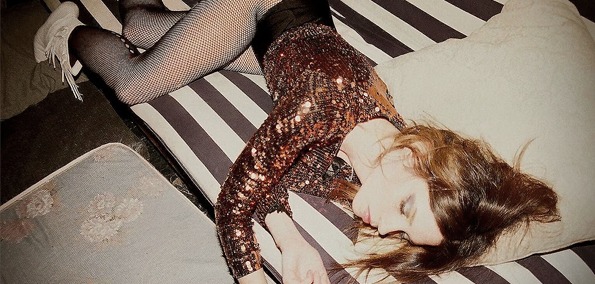 The discussion in regards to the judging criteria for this chart was a bigger process than putting together the chart itself. How do you weigh commercial success against production value? We tended to shy away from this year's trends and focus on quality behind the mixing desk. This list isn't to be viewed so much as our take on which songs were the most impactful in 2011 but more so as a countdown of the tracks that will continue to influence the soundscape and look forward to shape the sounds of 2012 and beyond. We look forward to your insight in the comments section.
#70. Justin Martin & Ardalan - Lezgo (Original Mix) [dirtybird]
Claude Von Stroke's bass and hookey label dirtybird made a heavy impression this year with yet another quality showing by collaborative duo Justin Martin and Ardalan. Taking off from the aura of "Mr. Spock", the two have kept their booty shaking work ethic consistent in "Lezgo". A cheeky house tune leaning on its percussion with witty toms and vocals to jester your feet for years to come.
#69. XXXY - You Always (Original Mix) [Ten Thousand Yen]
The A-side that pulled Manchester's XXXY out from under the radar and into the spotlight. An 8 bit spectacle that cocktails garage with UK Funky into a sparkling delicacy. Take note of the arpeggiators being put to work and soaked pads that ingest your ear into  a comforting bliss.
Download: XXXY - You Always Start It (Original Mix)
#68. Waifs & Strays - Yeah Yeah (Original Mix) [Leftroom Records]
Undoubtedly a blow out year for Bristol, Waifs & Strays pitch in Leftroom's Extended Family EP backs the city's hype with raw talent. "Yeah Yeah" has made a huge impact on house music today with fresh four on the floor grooves and chopped vocal rhythms that confirm the genre is in a healthy state.
#67. Murphy Jax - Time to Bump (Matt Walsh & Zhao Remix) [Turbo Recordings]
Held high on the Turbo pedestal Matt Walsh and French producer Zhao team up to create the most underrated remix of the year. Pushing disco into the after hours blue light with a squalling bassline and acid to accompany. The rolling cowbell is the cherry on top.
#66. Marcel Dettmann - Deluge [50 Weapons]
Purest techno - Marcel Dettmann's productions are trimmed and simple but in no way are they grounded. "Deluge" released on Modeselektor mini label 50 Weapons is a journey through the beauty of expert sequencing and arpeggiated insanity. What may seem like a cluttered soundscape, "Deluge" is a polished vehicle that ventures into depths only discovered by the very few.
#65. Prince Club - Utopia (Coni Remix) [Demento Mori]
http://www.youtube.com/watch?v=2xLU5Kjiqw8
One of many shining releases by Montreal house duo Prince Club. Coni's remix of Utopia is a precursor to the Parisians bubbling success in 2012. Calm and reserved, this track relies on the warmth of cozy oohs and aahs with a creamy swirl of dissonant pads.
#64. Zeds Dead - Rumble in the Jungle (Original Mix) [Mad Decent]
A turning point for dubstep in North America and a defining release for the Toronto duo. "Rumble in the Jungle" proves that Zeds Dead is boundless to the wobbly basslines attached to their name that have since been milked by mainstream culture. The fate of dubstep looms in the future but this track proves the genre can still carry massive appeal without its stereotypical LFO association.
#63. Huxley & Sam Russo - Don't Undastand (Original Mix) [Leftroom Records]
http://www.youtube.com/watch?v=QEFXhRAEn10
A classic house delicatessen. This Huxley and Sam Russo collaboration opens on a cushion of wurlitzers and lays in a hush low end. Although it may sound low-key, serene vocal samples and strings bring out feelings of tranquility that have become the signature of the modern genre.
#62. French Fries - Hugz (Original Mix) [ClekClekBoom]
Easily one of the top 10 bass tracks of the year. French Fries earned tenure with his latest release on ClekClekBoom and it was fully deserved. When the B-side "Hugz" first premiered on the waves of DJ mixtapes it quickly became the most sought after track amongst future enthusiasts and bass heads a-like. Bootlegs being ripped and played out before it even hit the shelves, a clear indicator of high class and ingenuity. Check out our recent review here.
#61. Deadboy - Here 4 U (Original Mix) [Numbers]
A breakthrough moment for London future house romeo Deadboy. "Here 4 U" became a bongo driven aphrodisiac for many taste making connoisseurs with its sappy vocals dressed in sultry undertones. A delicate piece that revels in a pairing of jungle and R&B influences to reach deep into the souls of dance floor mongers.
Download: Deadboy - Here 4 U (Original Mix)
___
Stay tuned as we count down ten more tracks each day leading up to our top 10.
EARMILK Crates 100 Must Have Dance Tracks from 2011 [80-71]
EARMILK Crates 100 Must Have Dance Tracks from 2011 [90-81]
EARMILK Crates 100 Must Have Dance Tracks from 2011 [100-91]