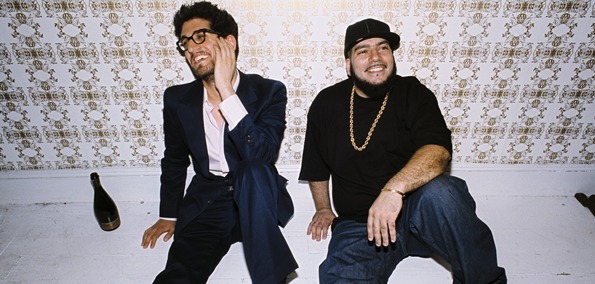 "Whoa-Oh Chrome-oh! Whoa-Oh Chrome-Oh!", this is the welcome electrofunkers Chromeo have been receiving every night on their "Night Falls" tour. On November 6th, that same chant began at 10:30pm in the spacious NYC venue, Terminal 5. Of course, when there is a taunting call, there is a complimentary response. Chromeo took the stage seconds after and rejuvenated the spirits of their loyal fans.
Located blocks from Times Square, Terminal 5 is an all-ages venue stationed right in the center of New York City. It is quite famous for booking various hit artists like Matt and Kim and Mary J. Blige. Similar to the venue, the audience for Chromeo ranged from nerdy indie kids to members of Dirty Dancing. I like to think I was placed somewhere in between, although I lack the skills of a professional dancer.
With three levels in Terminal 5, the sound quality was overwhelmingly successful. As soon as the bass of "Night By Night" came, everyone expressed some type of physical approval. The powers from Chromeo even made the nerdy indie kids whip out their dirty dance moves. During "Mama's Boy", David (lead singer) commanded all the ladies to sit on shoulders and everyone swayed gently to the bullish keys of the song.  Towards the end, David thanked everyone for being a lively crowd and called us "gangsta" as Patrick extremely synthed that word repeatedly for 5 times. This was later followed by  the performance of "You're So Gangsta", my new favorite from Chromeo. From now on, I am determined to use "Bonafied" and "Gangsta" as daily adjectives.
Download:
Chromeo - Night By Night
Download:
Chromeo - You're So Gangsta
Unfortunately, my memory cannot take me back to the encore songs but they played for a good hour. Everyone left dragging their feet with the most satisfied smile. Chromeo are still on their "Night Falls" tour and if you didn't know, Earmilk is offering ticket giveaways. For more information, click here. Also, they have been included in Bushmills' (Irish Whiskey) "Since Way Back" program along with Bon Iver and Elijah Wood.
@Banacrisp