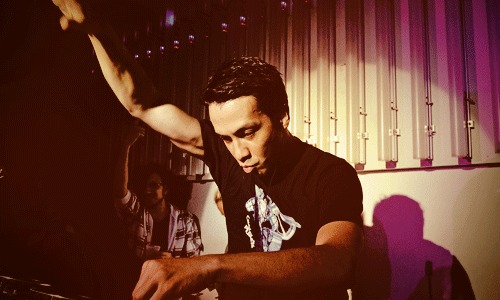 Laidback Luke knows how to craft a banger, and his recent single "Natural Disaster," a killer song on its own, has also lent itself to massive remixes from big artists like Skream, Benny Benassi, and now, making its blog premiere on Earmilk, a new remix by drum-and-bass DJ Andy C. You can pre-order the single now, including all of the remixes, from iTunes! The actual release date is October 16.
Natural Disaster (Andy C Remix)
Stream Only: Laidback Luke vs Example
 - Natural Disaster (Andy C Remix)
And to top that off, we've got an interview with the man himself! In my interview with Laidback Luke below, he talks about big collaborations, live shows, communicating with fans and helping out up-and-coming DJs, cooking, and martial arts. 
Earmilk: We just posted the blog premiere of Skream's remix of "Natural Disaster." There are some other big remixes of this track in the works. What's it like working with other big names?
Laidback Luke: I'm so happy with the remixes! I'm happy Example is well connected and has legendary friends like Skream and Andy C. Both guys did an amazing job! I'm a Skream/Magnetic Man groupie/fanboy and Andy C is obviously a legend that nailed the remix to the fullest. Benny Benassi came from my side and for my sets his remix is my favorite. Benny and I are in touch very often and he's one of the nicest people in the industry.
EM: If you had to pick, what has been your favorite collaboration with another artist?
LBL: I really couldn't pick one as all the collaborations have been a great experience. Fact is all these artists are such hard working people and so passionate of what they do. We share the love for music and making music that will give the audience a memory to live by. Often, this common interest results in that spark in the studio you need to get everyone's head bobbing and coming up with a good end result.
EM: What's your favorite thing about doing live shows?
LBL: A lot of times it's testing out new productions and tweaking them to perfection after. My new tracks and remixes are often trialed and tested a lot this way. I'm a producer by heart, making music is the most important thing for me. Having said that, I love interacting with the crowd and having a party with them while I'm behind the decks.
EM: You're super active about replying to people on Twitter, which I think is pretty cool. Not many other artists make time to be so responsive. What made you want to be that way?
LBL: I have two reasons why I'm that active, one is I lost an old friend responding the wrong way to him on Twitter. I didn't respond enough to him and when he got my wrong response I got a big 'fuck you' email from him saying I was an asshole and we were no longer friends. Which hurt a lot. So I promised myself to respond to everyone and as well as I can after. Also, I've tweeted at some people I look up to as well. Like DJ Q-bert and Jamie Oliver. As a hobby chef I'm in awe of Jamie Oliver and cook his recipes on a daily basis. I tweeted at him twice, awaited his response for a few weeks like a faithful little puppy but didn't get any. I realised then if he would have only said 'thanks!' or 'thank you' it would have made my day. Or wet my pants. But it was then I realised my followers will appreciate that as much from me.
EM: What kind of music are you listening to lately?
LBL: To be honest, I'm not a big fan of listening to music nowadays. Most of the time I'm on an overload anyway because it's music 24/7. Either making it, mixing it or mastering it. Not to mention listening through promos (12GB a week) or giving constructive feedback on demos. The most music I get in touch with off my girlfriend, DJ Gina Turner, who's my walking jukebox for both old and new music!
EM: What developments in the music world are exciting to you right now?
LBL: I'm already looking at the next generation of ravers coming up now, who seem to be open for a lot of different styles of music. Worldwide, I see teenagers being all over Dubstep and Moombahton for instance. These will be the clubbers in the next years. For the clubbers now, I feel I need to play and keep it big room a lot. Whenever I play a younger crowd, I can do a much more multi-genre type set. Since I get bored quickly, and mixing is so damn easy for me, I'm very excited when I can mix multiple styles in my sets. It sometimes feels like eating Spaghetti every day, it's nice and all, but some variation makes Spaghetti taste even better when you go back to it!
Laidback Luke - BBC Radio 1 Essential Mix (02/19/2011)
[soundcloud url="http://api.soundcloud.com/tracks/10932962" params="show_comments=false&auto_play=false&color=000000" width="100%" height="81" ]
EM: What music are you into (or draw influences from) that others might not expect?
LBL: I do draw my influences from any kind of music. What you might not expect is I secretly love Maroon 5 for instance ha ha. And that I'm classically trained on piano and can play the guitar as well. But I really see music as all the same nowadays. It's just a structure of beats and sounds, so I'll be into any music that touches me. I have big roots in Daft Punk, eighties music and techno. Mix that up with not trying to be underground and having loads of fun and you'll get my sound.
EM: What's been your favorite recent live experience?
LBL: I just came from performing in Baltimore in the States last night. The crowd was explosive, sweaty and mega responsive. People were going off like the best crowd a DJ can imagine. Every now and then when I play I realise how amazing it is what I'm able to give the crowd and what they give back to me. And how far I've come. It's moments like these I feel true happiness, it's very special to me. The last time I got that was at Creamfields UK closing my Super You&Me area. I'm very grateful to feel and share these kind of moments.
EM: A lot of people are just starting to get into electronic/house music. What recommendations would you give to someone who's just starting?
LBL: Go and have a look on my forum on www.laidbackluke.com it's a breeding ground for new talent. The kids that I sign to my Mixmash Records label come from there, and a lot of professionals you know nowadays as well from the likes of Afrojack, Avicii, Bingo Players and Max Vangeli, to name a few, came from there. They all learnt from my tips and hanging out on my forum influencing eachother. Also, I'm always on Twitter. And as a natural teacher I'm always up for answering geeky questions: @LaidbackLuke
EM: What would you choose as an introduction for someone new looking to get into your music?
LBL: Obviously I would redirect them to "Natural Disaster" first which is a great springboard for people that don't know my music. In terms of words I'd say House Music, chunky beats, epic feeling and a lot of fun.
Laidback Luke - Natural Disaster (Instrumental Extended Mix)
Stream Only:
Laidback Luke
 - Natural Disaster (Instrumental Extended Mix)
EM: What are you working on right now?
LBL: Finishing off new tracks now, a couple of new underground things sounding a bit like "My Guns On Demo" next level. And trying to hook up a few new collaborations with singers. Some big, some just starting out. Excited for the release of "Natural Disaster" which has so much support and buzz. Giving everyone involved and enjoying it a massive thanks!
EM: What are you up to lately outside of music? Any exciting life developments you'd like to share?
LBL: I'm very much into cooking now, it's my new mixing outside of mixing so to say. I used to be a microwave dinner man but the quality of food is so much better now that I'm able to cook properly! Also, I recently upped my Kung Fu and Tai Chi. I have been practicing Kung Fu for ten years now and only now got to a level where I'm able to tap into the body's deepest energy. Sounds quite spacey but feels amazing!
Laidback Luke vs Example - Natural Disaster (Official Video)