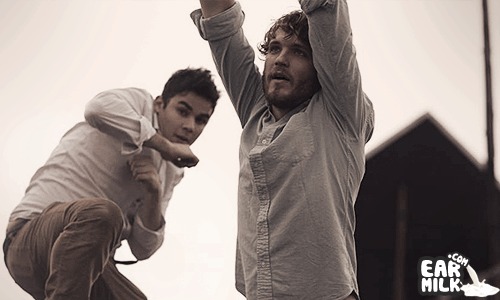 Today earmilk says hello to Discovery, an electro pop and R&B duo. Discovery is the brainchild of Vampire Weekend's Rostam Batmanglij and Ra Ra Riot's Wes Miles. XL records released a debut LP entitled LP back in July (sorry for the lateness). The album also features Ezra Koenig of Vampire Weekend, and Angel Deradoorian of the Dirty Projectors.
The songs are really fun to listen to and make dope summer jams (once again, sorry). Rostam and Wes find a way to mesh their inner 90's R&B artist with their already touched electro stylings, but really the album is somewhat all over the place, appealing to different taste. Songs such as "Orange Shirt" hint at influences from artist like The Dream, while the spaced out, industrial elemented "Osaka Loop Line", doesn't hint at anything at all. On the insane track "So Insane", Rostam and Wes go schizophrenic on the time signature, probably giving the track its name. I expect to hear more from this duo. Be on the lookout and listen to the tracks I was talking about after the jump.
http://www.youtube.com/watch?v=CPcpc1ee-p0&feature=relatedDiscovery - Orange Shirt
http://www.youtube.com/watch?v=BF1qmCdXeAk&feature=relatedDiscovery - Osaka Loop Line
Discovery - So Insane
Keep Listening.