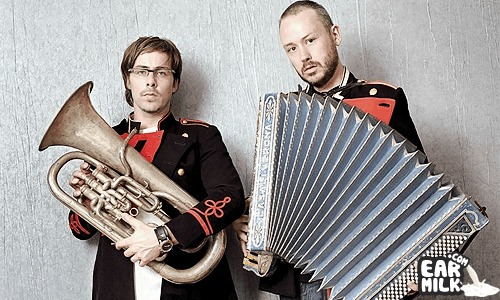 Warning, there are pasties in store for you (if your into that).
Thats right - The infamous English duo Felix Buxton and Simon Ratcliffe are back, with just as much cross-over appeal as ever. You all remember that video for "Wheres Your Head At" right? Well to start this off I'm going to post a remix they did for Daft Punk.
04%20Technologic%20%28Basement%20Jaxx%20Kontrol%20Mixx%29
Download: Daft Punk - Technologic (Basement Jaxx Kontrol Mixx)
Now onto the video. For all you women out there, you should be happy. A group of cabernet ladies around a large and dare I say regal table proving that "more then a handful is a waste" (which has always been my moto) is a +1 for womans rights and cultural image standards. So kudos.
But I digress, checkout Basement Jaxx's new video for their new single "Raindrops" which is nothing short of dazzling. Its Sally from The Nightmare Before Christmas vs. Maya from that Lady Marmalade/Moulin Rouge video.

Download: Basement Jaxx - Raindrops
Thats not it! There's more. There have been a few remixes surfacing, but it really seems as if the current young gun  "I just learned what a Korg MS20 is" producers can't handle the craft of real musicians. But on to the mixes..
The best by far haasn't fully been released, but we found a teaster for you! Its a collaboration between AN21 and Philip Jensen. They do a great job of maintaining quality and vibe of original but also succeed in creating new sound. Good Job Guys :) (Remember - support good artists people.)
Raindrops%20%28AN21%20%26%20Philip%20Jensen%20Remix%29
Download: Basement Jaxx - Raindrops (AN21 & Philip Jensen)
Now we can quickly move through the other remixes, which I am not knocking, but feel that they should be here for posterity.
Raindrops%20%28Louis%20La%20Roche%20Rework%29

Download: Basement Jaxx - Raindrops (Louis La Roche Rework)
03%20Raindrops%20%28Joker%20%26%20Ginz%20Remix%29
Download: Basement Jaxx - Raindrops (Joker & Ginz Remix)
02%20Raindrops%20%28Funkagenda%20%26%20Paul%20Thomas%20Re-Dux%29
Download: Basement Jaxx - Raindrops (Funkagenda & Paul Thomas Re-Dux)
Support & Discover: