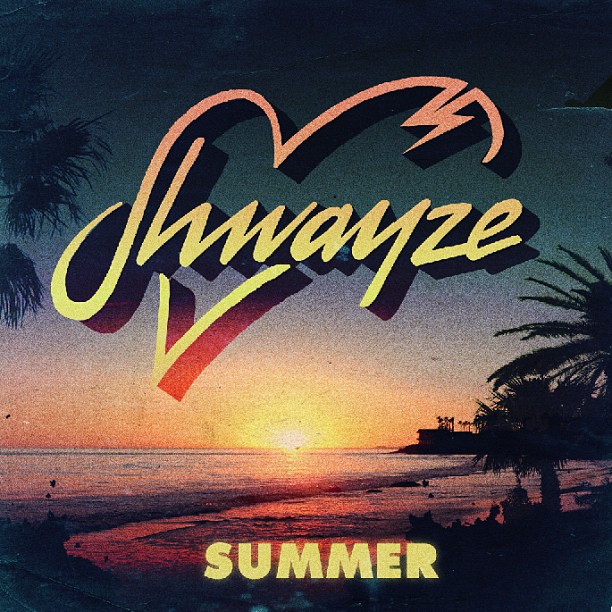 Album Review: Shwayze - Summer
Artist Name:

Shwayze

Album Name:

Summer

Release Type:

Album

Release Date:

Record Label:
Label Location:
Review Author:
Review Date:

EM Review Rating:
It's come to my attention (via loving friends and family) that I'm one of those arrogant hipsters when it comes to music, and between being called "pretentious" last week by an old friend and a "hater" a few hours back by the head-man-in-charge of Earmilk himself, it might be safe to say that it has become evident to some of the people around me as well. However, that didn't stop me from checking out the former MTV star Shwayze's newest album, Summer. 
As mostly everyone in their twenties will know, Shwayze was the up-and-coming artist that managed to get a show on MTV right around the time that it was still sort of okay to be on the network. It was when the Jackass guys and Steve-O were losing their niche- pre using sixteen year old girls' mishaps for financial gain, post Laguna Beach beauties graduating high school and (gasp!) moving onto another reality show. Shwayze and his friend, the one that dated Mischa Barton or some other celebrity of the time, did random weird stuff and then played their music. It was a fun time with fun summertime music, and I'm sure there were a few good laughs along the way. I actually wouldn't really know, I don't think I watched the show often (I do remember a reference to a Malibu trailer park however). 
Since then, Shwayze has fallen off the radar, or at least my radar. I'm not trying to be mean, and honestly, I have no intention of being the "pretentious" person my friend earlier in this review paints me to look, but between going through a strictly Chromeo-only phase in high school, and then switching over to underground rap for a while (with a very strange Belle and Sebastian year at some point), Shwayze just fell between too happy and too much sunshine for me to constantly keep an eye out for. 
As Shwayze's Summer comes on, the first track, "Love Is Overrated," is immediately reminiscent of "Buzzin," the theme song to the rappers show. He tells the world that he's not looking for love, and that he's "just trying to fuck tonight." A simple message, a catchy hook, a fresh summer feel. This seems to be the overall theme to his entire rap career, and strangely, while normally change and growth in an artist is good (except with the Black Eyed Peas, seriously, guys, what happened), his formula seems to work for him... or it felt like that until the next track, "My New Girlfriend," came on. A song about his (surprise, surprise) new girlfriend this time (wait, wasn't he just trying to get laid earlier?)- again the formula is the same- simple message, catchy hook, fresh summer feel. Rinse, repeat. 
Three songs in and I'm dying for the album to end. Every single song felt similar and a repeat variation of the track before. It wasn't that each song was bad, that's not true at all. It was good. Each song was delightful. It was just all the same circa 2009, 3oh!3-esque pop music that the hipster era has cultivated twenty-something year olds, like myself, to hate. I believe it was Diplo who wrote (and I'm paraphrasing here) something about hating music that's too happy, and that's not what was needed (at least for his personal music collection) right now, and I agree. Each song was about a girl, a party, a good time. Do I really need more music about a fun time? Not really. On top of all this, what makes the whole album a little depressing is his attempt at an electronic based track at the end titled "Ghosts," although it was refreshing to know that after the same 11 songs, I finally got a little variation (the mundane cheat day for my otherwise 11 song diet). I'd usually mention other tracks throughout the review, but toward the end it was all a muddled mess of each song blending straight into the next. 
However, I also know that I cannot judge this the way I often judge a lot of the music coming through my emails and Facebook each day. Film critic Roger Ebert made it clear that no one should judge Men In Black the same way they would judge Eternal Sunshine from the Spotless Mind. It's apples and oranges. Similarly, I shouldn't judge this in the same critical way I'd look at Gesaffelstein's "Pursuit" music video, or listen to Nas. His music clearly is not swayed to me- he's got a different target audience, probably girls in high school, who's father's just gave them a new car to drive in the suburbs. That's not me anymore, and if anything this album serves as a reminder that those days of my life are over (cue feeling old here). The whole album is fun, catchy, perfectly made for the hot summers by the pool and the many bonfires late at night. I believe wholeheartedly that the album will do well. Based purely on catchiness, Summer is a solid 10/10, based on meaningful depth however... let's be nice and give it a 5. It will do well on the radio, and I'm sure I will hear it throughout the summer.
For those of you like me, the album is best served in small doses, like the sweet friend who talks too much about nothing. A little serotonin pick-me-up whenever friends are around and just looking for a good time. The title of the album couldn't be more true- there are many that will love the summer vibes and enjoy it throughout the coming days of heat and sunshine ahead, but MF Doom's Operation Doomsday it is not. 
Summary
Written By
Review Date
Release
Rating