Sheff and Sleepy have been at the forefront of the highly divided, clique-based Brooklyn drill scene since its inception, but have made themselves more than just auxiliary components with their fresh takes on the sound, unrelenting singular work ethic, and natural ability to craft hit and after hit. Now, their Brooklyn-based label Winner's Circle Entertainment has announced an official partnership with RCA Records. To celebrate, the Winner's Circle co-owners dropped a new single and accompanying music video called "Tip Toe." 
Great John, the go-to beatmaker for Winner's Circle, again shows his unique take on the drill sound, this time crafting a head-turning instrumental with a prominent sample that may be familiar to horror movie fans. The loop from Tiny Tim's "Tip Toe Through the Tulips," a reappropriated nightmare made famous in Insidious sets the track's tone over a traditional trap drum pattern. Lyrically though, "Tip Toe" is a celebration as both parties trade punchlines. There are some victory lap bars like, "Came from the bottom now we at the top," but the track is really a series of zingers like "I know that you mustard Sleepy never let up / I'm too hot dog better ketchup." 
Co-directed by Drewfilmedit and Joshua Valle, the video is a chiller, continuing the sample's horror movie lineage. Sleepy and Sheff lurk in a haunted house filled with ghost girls, zombies, and masked assailants. The camera switches from home footage to night vision filters, tracking room after room of supernatural frights. Everything from the lyrics, the big, playful sample, and music video give a sense that this was fun to put together and that positivity is reflected in the viewing experience.
In considering the implications of the big label move, Sheff G commented, "We're happy to be here. We worked hard and led the streets for a minute. Now it's time to take this whole thing over.  We did that, and there's more coming." Expect big things to come from Winner's Circle in the not too distant future. 
"Tip Toes" is available to stream here.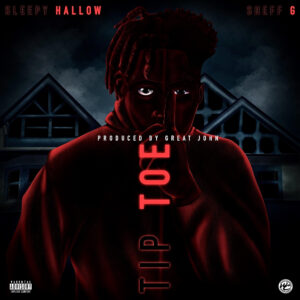 Connect with Sheff G: Instagram | Twitter | Spotify | Facebook
Connect with Sleepy Hallow: Instagram | Twitter | Spotify | Facebook
Connect with DREWFILMEDIT: Instagram | YouTube | Twitter | Facebook