Independent rapper and producer,  JPEGMAFIA has self-released a new single and accompanying music video titled, "The Bends." The track marks his fifth release in 2020, continuing the momentum perpetuated by his sophomore, All My Heroes Are Cornballs. After military service in Japan, Kuwait, and Iraq, Barrington Hendricks moved to Baltimore and created the JPEGMAFIA moniker as well as his 2015 mixtape, Darkskin Manson inspired by the Freddie Gray protests. Three years later, Hendricks moved to Los Angeles where his second studio album, Veteran, whose caffeinated, glitch-hop productions and blunt lyrical themes earned him his initial break into commercial and critical success. 
"The Bends" exchanges his usual forward-leaning, anxious pace for spacey, explorative synth warbles. The track spends it short run time focusing on his lyrical message more so than the production as Peggy raps, "my leader treats me like an enemy," among reflections on Trump's failed impeachment, voting inequality, and "Mountain Dew sippers."  The music video features an excerpt from a Donald Trump speech given this year in Atlanta where he remarks, "But the support we're getting from the African-American community has been overwhelming, and I want to thank each and every one of you." The recording process for this snippet and Hendricks thoughts on this quote in particular are seen in the first installation of his new YouTube series, HTBAR, or How To Build A Relationship. 
The series, featuring Danny Brown and Kenny Beats, among others, has served as a companion for the series of singles he has dropped this year. They feel like a natural extension of his artistic persona: candid, deeply interested in the internet, and politically minded. There is no official news as to whether the singles will precipitate into a new album, but his busy production of new music looks likely to continue one way or another.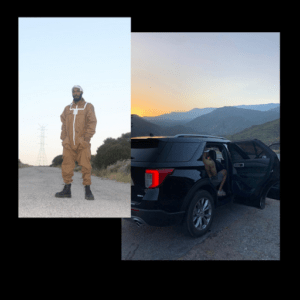 Connect with JPEGMAFIA: Instagram | Twitter | YouTube | Website