Manchester-based Larkins are currently self-isolating in the studio, where they are writing new music and devising livestream plans. Frontman Josh Noble has his laptop, mic, and headphones by his side at all times, just in case an idea strikes. Over the phone, Noble shares with EARMILK that he and the band have also been indulging in some Playstation. Battlefront, to be specific. "How sad is that?" Noble jokes. "I'm getting pretty good with Yoda right now." As we chat, guitarist Dom Want plays a very old, broken piano in the background. 
Many fans may recognize Larkins' latest single, "Are We Having Fun Yet?" from their 2019 live album, recorded at the Albert Hall in Manchester. Now, the echoing vocal and pacing synths have been taken to the studio to once again unfold a double-edged tale of the monotony and exhaustion of everyday life and the chaos that can rise from it. The track was written in collaboration with LA-based Dan Nigro (who has also worked with Caroline Polachek and Conan Gray). Traces of LA's synthy soundscape pepper Larkins' signature Manchester arena pop. The result is a perfect contradiction of brooding and lively, lonely, and lifted-up.
The drop for the new single was accompanied by a strategic social media initiative, dominating each of the band's Instagram accounts. They have each deleted all of their old posts, turned their profile picture red, and posted the same cryptic photograph of the doors to a theatre with a marquee that reads, "So you tell your friends that you'll be alright." The band Instagram also features a video of various fans singing along to the chorus of the song, smiling and dancing yet begging the question, "Are We Having Any Fun Yet?"
The album art for the single comes from the song's jarring music video, which opens with Noble getting hit by a car. He gets back up, bloody and battered, and begins his walk through the night, where he encounters a vast array of different characters from different walks of life. At one point, he finds himself followed by a full marching band. When the sun rises, the dreamlike quality of the night fades away, and we're left wondering what is real and what being "real" even means.
The band have also been pouring energy into their new clothing line Animals in Costume, which is named for lyrics from their biggest hit yet, "TV Dream." About six months ago, the band had an epiphany regarding their merch. "We were selling this merch that was like black t-shirts that had been sourced from Asia on the really cheap. They were being printed really poorly and they were bad quality and I was like 'we're really doing one on people and they're buying crap from us.' I wouldn't wear this so why should I sell it," recalls Noble. "We looked into ethically sourcing stuff, 100% organic, had a morality to it's backbone and that we would wear it and design it ourselves."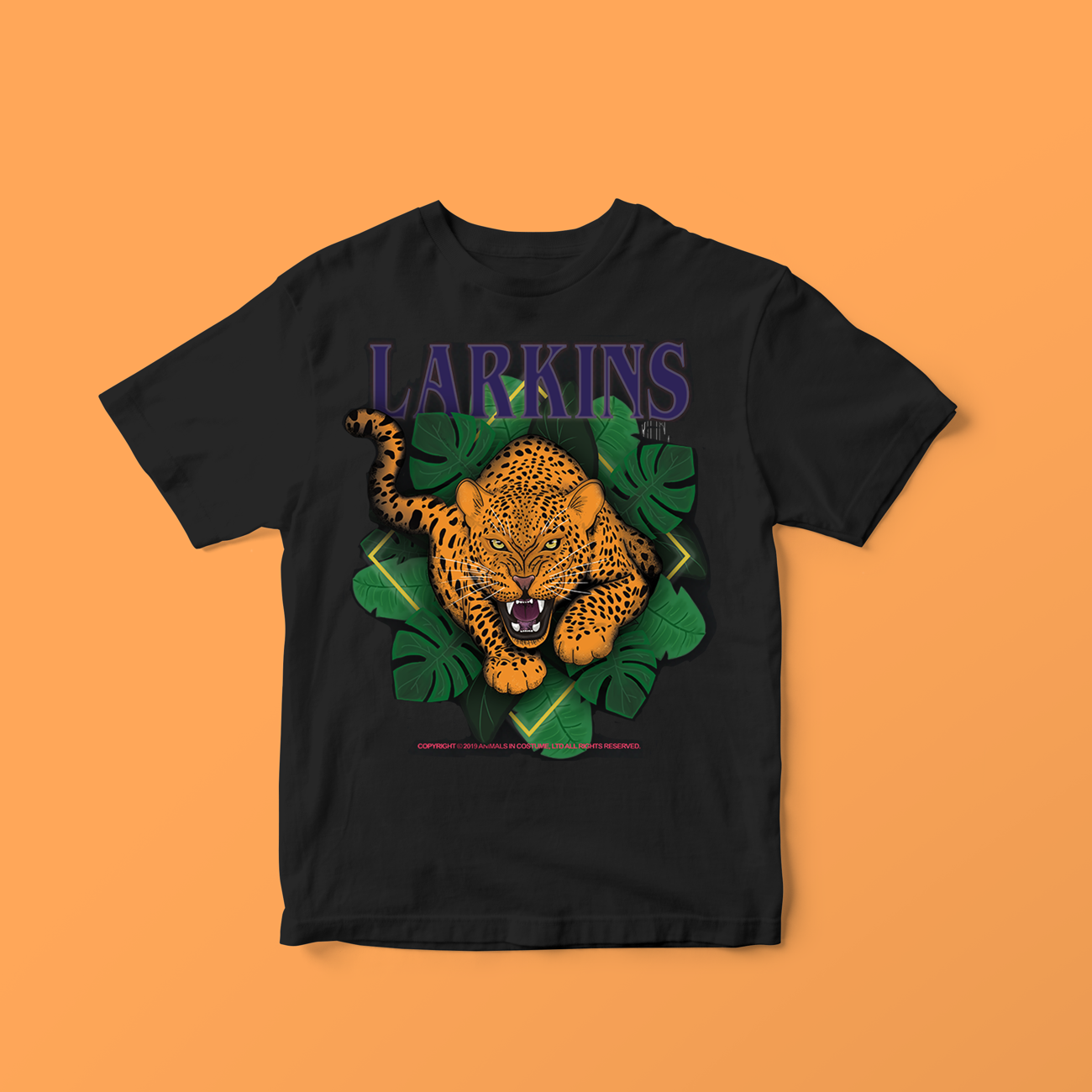 Larkins were supposed to currently be on their biggest UK tour yet (and they recently had to return prematurely from a run of North American shows). Though the current pandemic had canceled those plans, they are still rehearsing for the tour, with hopes to move it online in some capacity, preferably fully plugged in just like a real show.