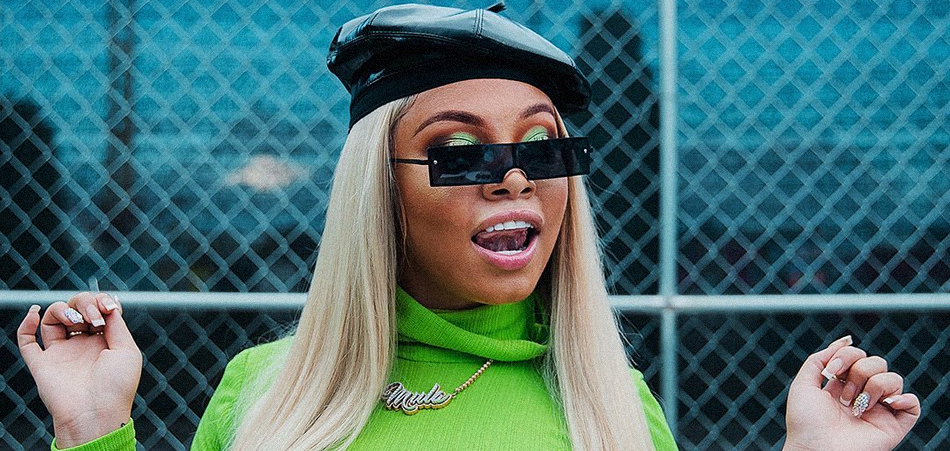 "I would come home from school [at ten years old], do my homework, and then go to the studio. Sometimes, I would finish my homework at the studio. [That's how] I grew up."
Mulatto, aka Big Latto, is a rap artist that has unapologetically demanded her respect in this new decade. Her ability to create records that ignite confidence, sensuality, and resilience in listeners grabbed our attention immediately. We weren't alone in recognizing her talent because the thousands of fans and millions of streams she has racked up have recently propelled her to even higher heights. Her hit record "B*tch From Da Souf" has been streamed nearly 20 million times and even secured her a Trina and Saweetie collaboration for the remix. Most importantly, what many misinterpret as cockiness, is Mulatto's self-assurance, a commendable characteristic of artists contributing to the messages surrounding female empowerment.
I've been following Mulatto's career as a young artist since she became a contestant on Jermaine Dupri and Queen Latifah's The Rap Game at 16 years old. Shortly after the recent release of the "Bitch From Da Souf" Remix music video, I spoke with her about collaborating with Saweetie and Trina, rapping at ten years old, and what goals are most important to her as a woman in music. 
We jumped on the phone one gloomy Wednesday afternoon, which began with expressing our conflicting feelings about the current pandemic and everyone taking what seems to be like a 6-week vacation. "I don't even know what rest is. I'm writing and dropping videos. It's crazy!" Mulatto laughs. Shortly after, we transitioned to a more uplifting topic - music. With multiple projects under her belt at the young age of 21 years old, Big Latto is confident in her creative process which has been in the making for over a decade. "I started off doing poetry before it turned into rap. [At ten years old] I was doing writing competitions at school. I was getting recognized by the superintendent and all of the teachers [at my school]. My dad also [had a background] in the music industry." she shares. "My poetry combined with my environment at the time turned into [music]. I was just in my room writing and I was like "Daddy, I wanna rap." and he supported me. He swears the rap was fire, but it was probably trash." she laughs. "I commend him for seeing my potential."
Despite the thorough planning that goes into creating even one hit track, making music has come naturally to her ever since, especially when she's talking her shit. Mulatto's ability to execute her vision on records exceptionally with wordplay that flows effortlessly is a strong attribute aiding her career. However, this has also been a long time in the making. "I would come home from school [at ten years old], do my homework and then go to the studio. Sometimes, I would finish my homework at the studio. [That's how] I grew up."
From one of her first popular singles "No More Talking" released back in 2016 to her most recent project Hit The Latto, Mulatto's polished production has undoubtedly made her a prominent figure in the niche of female rap artists. Looking beyond the Gucci bags, platinum blonde lace fronts, and her $400+ Baccarat Rouge perfume, she exudes this aura that her art is at the core of her purpose. "I [wanted] to be as big as I could be. I started out when I was ten years old. I wanted to walk the red carpets. My parents supported me 100%. My dad was booking studio sessions and putting me in talent shows, open mics, [and] cyphers." Mulatto shares. "I [eventually] started building a social media following and [the] YouTube views were going up.
And they still are. To date, the visual for Mulatto's "B*tch From Da Souf" remix has secured over a million views in the first week and is still on the rise. When choosing who to collaborate with for the remix, it came down to manifestation and pure confidence. "B*tch From Da Souf was already creating a buzz of its own so we had thrown out the idea of having a remix," she shares. "My team asked who I would want on it. I threw Trina's name out there. I [eventually] reached out to [Trina] in a DM. Same thing for Saweetie. It's [all about] just putting yourself out there. I'm hungry for real. I really want this. I just kicked it to them in the DM and it really worked out in my favor." 
However, with what seems like an influx of women in hip hop gaining more popularity in the past 2-3 years, many female rappers find it difficult to continuously distinguish themselves amongst other talents. Yet, Mulatto doesn't believe it's always necessary to stand alone."I think [female rap artists] are way stronger together. They always [try] to pit us against each other. If you really pay attention, us coming together and collaborating and [even just] posting Instagram stories together, they eat it up! They love when we come together. The impact is way stronger when you collab."
In spite of her barely being allowed to consume alcohol three months ago, she already seems lightyears ahead of her peers. Curious about what spearheaded her maturity at such a young age, I continued to dive deeper into her mentality. "Starting so young [led to my maturity]." the 21-year-old artist shares. "I had to grow up fast. I came from a tv show where [you receive] the most criticism so I feel like that prepared me to be so ahead of my time at still a young age."
It wouldn't be right to talk about all of Mulatto's achievements without acknowledging what she attributes her success to. In a recent interview with GQ, she expressed how spirituality plays a significant role in not only her music but her overall lifestyle "The more flaws and fake I see in the industry makes me lean more towards God. I pray before I go on stage, do an interview, [or even] go on a road trip. [God] is responsible for my success. I work hard, but I pray harder."
Overall, Mulatto's superstar status is evident. She is an admirable example of young women entering the music industry, expressing their creativity, maintaining poise, and perfecting their craft. Her rising success in rap has earned her co-signs from Russ, Timberland, and Rihanna. "[As of today] I've accomplished so much for the little ten year old me that wanted to be a rapper. Between RCA, my team, my parents, and GOD, it's nowhere but up from here."
Connect with Mulatto: Spotify | Instagram | Twitter | YouTube