There is a palpable hum coursing through the air as the crowd inches closer to the stage, heartened whoops escaping their lips. It's a Sunday night, edging toward the time when the anxiety of tomorrow's workday reaches its full peak, but Toronto's Mod Club is tightly packed for Glass Animals' highly anticipated return. It has been almost four years since the city has last seen them—or anyone has for that matter—due to drummer Joe Seaward's devastating cycling accident in the summer of 2018. There is no opening act, no drawn-out teaser. Just the stage, a pineapple perched proudly in front of the microphone, and a throng of dedicated fans ready to pledge their allegiance. 
The lights are cut, and the English quartet walks out onto the stage, heralded in by the same beat that has brought their name back to the spotlight recently—their fiery collaboration with Denzel Curry, "Tokyo Drifting". Fat drum kicks shake the intimate venue into an irresistible frenzy as frontman Dave Bayley takes the mic and transforms into an indescribably infectious commander, leading us into dance, chant, and one hell of a Sunday night.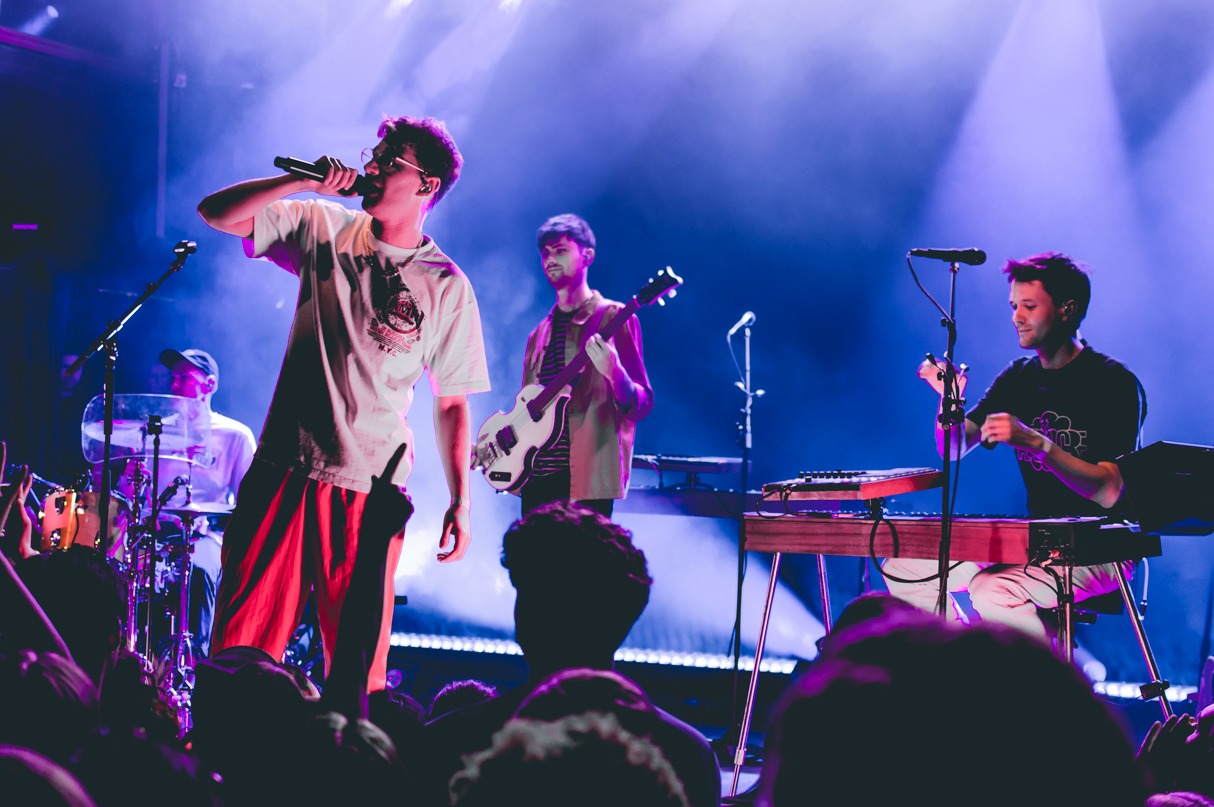 Not five hours before he was jumping all over the stage, I sat across from Bayley in a deserted upstairs lounge at the venue. Quick to smile and offer a handshake, he's soft-spoken, deliberate with his words and careful not to deliver them until he's thought them through. A stark reversal from the raw animalistic persona he adopts when he comes onstage. "I grew up with weather like this..I love it" he muses on his affinity for the city, one of the select few that the band will be visiting on their Déjà Vu tour.
Though the weather did not bear its Canadian signature of blowing snow and cutting winds, it offered enough familiarity to his early Massachusetts upbringing to make him feel right at home. Some of the obvious inquiries are made—"what does it feel like to be back on tour", "is there any adjustment with Joe's condition?"—but the most honest comment reveals the band's greatest talent: "I'm not here to play music for myself." It's an easy answer for him to give to a question on creating a live show that tailors their needs versus the ones of their fans. "I just want people to be happy." It seems like a fairly obvious statement, and likely one that most other artists share, but it's not until you watch him confidently weave through the crowd during a rousing performance of "Gooey", or lean in for a shared hug with a lucky few at the front row that you start to realize the magnitude of the truth in those words.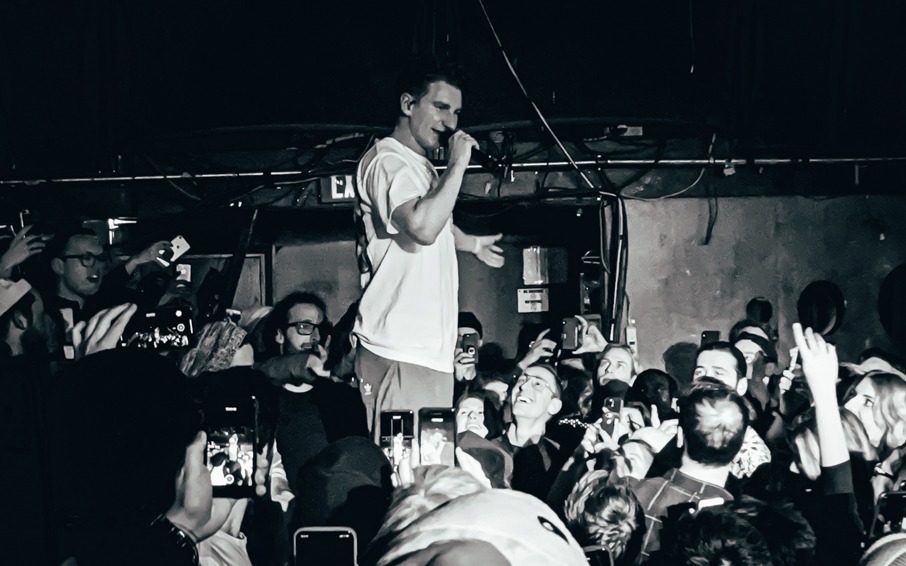 "People are making like 35-track albums and throwing all this shit at the wall", he sympathizes with me as I ramble on about the throes of dwindling attention spans, and how the accessibility of streaming has led to a downturn in artistic quality. There is a clear distaste for the state of things as they are now—"the fucking algorithm" he almost mumbles under his breath, but it leads to a more optimistic confession of what an album means to him. "For me, an album, [there's] like a universe around it. It's the artwork, it's the story around it, within it. And part of that story is how the tracks will change live. And the live show is a huge part of an album. [It's] a bigger thing for me than just the twelve or thirteen tracks."
Not to beat a dead horse here, but a Glass Animals live show is anything but a simple recital of album favourites. Bayley's controlled falsetto gives way to a raucous beast, bringing every rehearsed line and written emotion to life. Soon, even Ed prowls over to the front of the stage, seductively plucking his bass strings, face contorted in the sort of grateful contentment not many of us will ever get to experience.
During their Sunday show, they unveiled two new songs, untitled and free of any further explanations, satiating their roaring fans' hunger for any new material. It started to answer the nagging question many of us had in mind—is there a third album on the way? "I had an idea [for it] before Joe's accident and then it sort of changed a bit afterward," he opens up during our candid chat. "I ended up spending a lot of time at the hospital, which changes the way you think. You get quite reflective, you start to think about how lucky you are to have certain things and what you could've done better, doubting yourself, thinking about every facet of your life. I started digging deeper into my own head. As Joe was recovering I was doing a lot more writing and producing for all sorts of projects. I went to L.A, did some theme songs, cartoons, some pop songs, R&B, some hip hop. One thing you realize doing some of the pop stuff— I was lucky to work with some of my favourite songwriters—one of the things that hit me was how personal they can write. So since they were singing and I was writing with them, I found that I could become quite personal as well. So when it came to doing GA stuff I kept being a bit more personal." He adds, "I always much preferred looking at other people, learning about the world. I started doing that but pointing the camera at myself and posing the questions at myself." 
It's a compelling undertaking, further exploring the purpose of their last released album How To Be A Human Being, as it's so aptly named. A concept that quickly piqued his interest when I brought it up over a discussion on the art of documentary-making, one of his favourite forms of entertainment. "The things about documentaries I liked is other people, trying to see the world through their eyes." As a neuroscience major with experience working in psychiatry wards, he was constantly fascinated by the people he met.
"[The last album], it was almost like talking to more of those people, those extremes with the personality. I'm kind of doing it at the moment, looking at the extremes of my own personality, just pushing it as far as it can go." But you don't have to wait until the release of their third album to experience those nuances. Whether knowingly or unknowingly, he already puts them out on full display at every live show. Frantically pulling at his shirt, lovingly plucking at his guitar strings, and infecting everyone around with his carefree desire to simply enjoy this moment.
"I forgot how good these Canadian crowds were man, this is fantastic" he smiles into the microphone as a deafening wave of cheers stop the show for a resounding whole minute. One look around at the exalted faces is all you need to realize that no matter how much time passes, this city will never forget its love for the English band. This is home. And Glass Animals are finally back in it.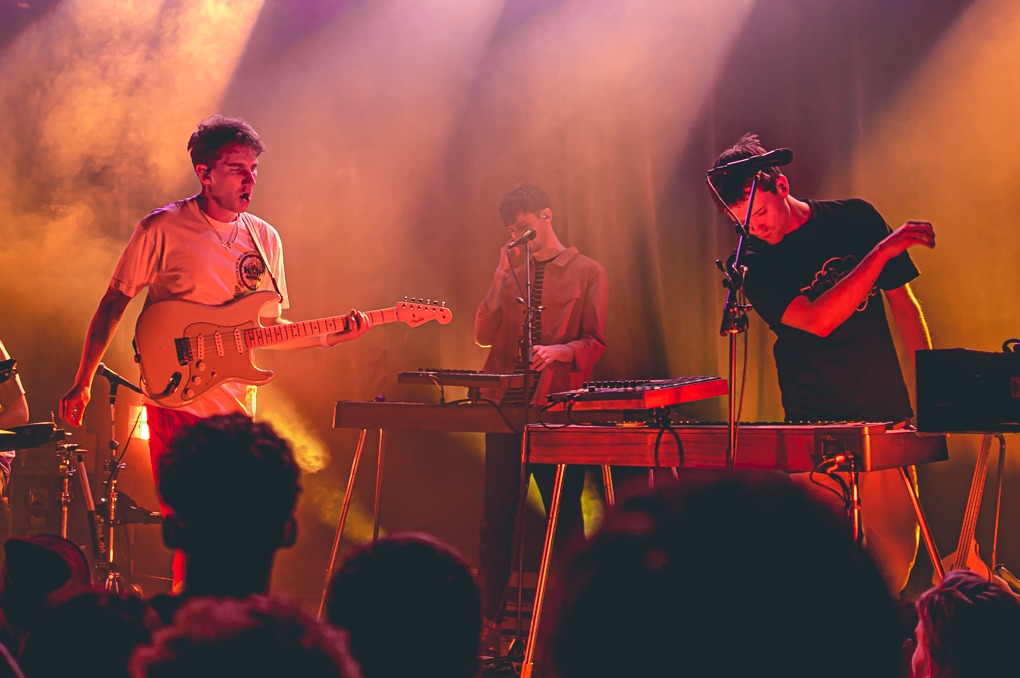 You can still grab tickets to Glass Animals' upcoming shows at select cities here.
Connect with Glass Animals: Spotify | Instagram | Twitter | Facebook