J.I.D is sitting in his dressing room preparing to go head-to-head against Florida Rapper Denzel Curry in the ring for Red Bull Zeltron World Wide Miami. Despite the intensity of the highly anticipated rap battle, the Dreamville rapper is kicked back on the couch smoking a blunt alongside Johnny Venus from EarthGang and a few others in his circle. With T-2 hours before he takes the stage, we got a chance to catch up with the ATL superstar. Amongst entering the room, we immediately felt J.I.D's welcoming energy. He encompasses the aura of that one laid-back cousin you haven't seen since last Thanksgiving, but, it's all good vibes once y'all link again. Shockingly, he asked us a question once we entered the room. Holding up an action figure with an excited expression, he asked: "Does this look like Cardi B?!" After chopping it up about whether the animated action figure resembled the New York Rapper widely loved for her hilarious personality, we decided to have an intimate conversation with J.I.D about everything unrelated to music, and getting a deeper understanding of him as a person. Here's what we found out. 
J.I.D Plans to Pursue His Football Career When He's Done with Music
J.I.D has been touring for the last six years. Music has essentially taken over his life. However, when asked what he would be doing if he wasn't on the road performing and constantly recording, he immediately answered with something in the realm of sports. "Imma [play football] when I'm done with all this." J.I.D shares. Before seriously pursuing his rap career, J.I.D played football in college in Virginia where he met EarthGang. Unfortunately, J.I.D got kicked out of college, but, now we know this is not the end of his sports career.  
J.I.D Has an Interest in Producing Motion-picture films 
In addition to playing football, the Dreamville rap icon shared his interest in producing movies.  "I [hate] acting, but, [I] like writing and directing movies of all types." he shares. "You know how Adam Sandler always keeps certain people who have been in movies with him before. I would do that. I would have little easter eggs [in my films]."
J.I.D Prefers Cartoon Network over both Disney Channel and Nickelodeon
On his debut studio album, The Never Story, J.I.D has a track titled "EdEddnEddy". Inspired by this track, we decided to see if the Atlanta rapper only liked the specific show or had a deeper love for Cartoon Network as a whole. When asked which television network was his favorite out of the three, he answered: "Cartoon Network – easy!" Some of his standout favorite television shows include American Dad, Family Guy, and Rick & Morty.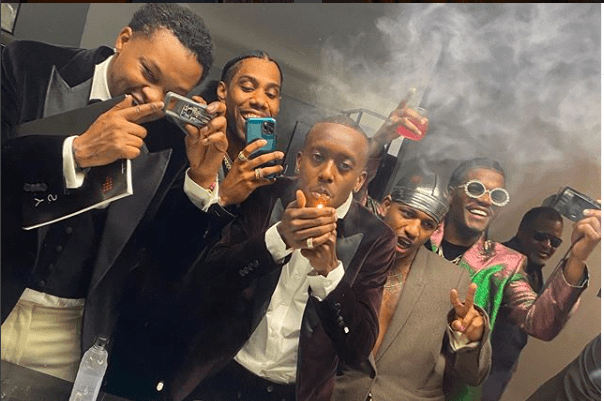 J.I.D Surrounds Himself with Drama-Free Friends
J.I.D is a member of the hip-hop group Zoink Gang, comprised of Smino, Buddy,and Guapdad 4000. The four showcase their friendship for each continuously, being featured on each other's tracks and roasting each other on social media. Nevertheless, we all butt heads with our friends sometimes. When asked who would win if Smino and Guapdaad 4000 went head-to-head and himself and Buddy were there to witness, he was shocked at the situation even being a possibility. "You know what's crazy. N*ggas is calm. You're not getting that energy. [Especially with Buddy], he brings a different energy around him, bro. He's going to be the one to stop the fight! There's not going to be a fight [with us four]. Buddy gonna be like "Man, smoke some weed hahaha". "
J.I.D Believes Self-Knowledge is Crucial
J.I.D believes the best thing he's learned in life thus far is the importance of self-knowledge and actively educating himself in all aspects. "The knowledge is out there so if you're ignorant to something [you should actively go out and figure it out]." he expresses. "Gain knowledge about yourself,  your history, who you are as a person, the people around you, and everything that matters and plays an important part in your life."