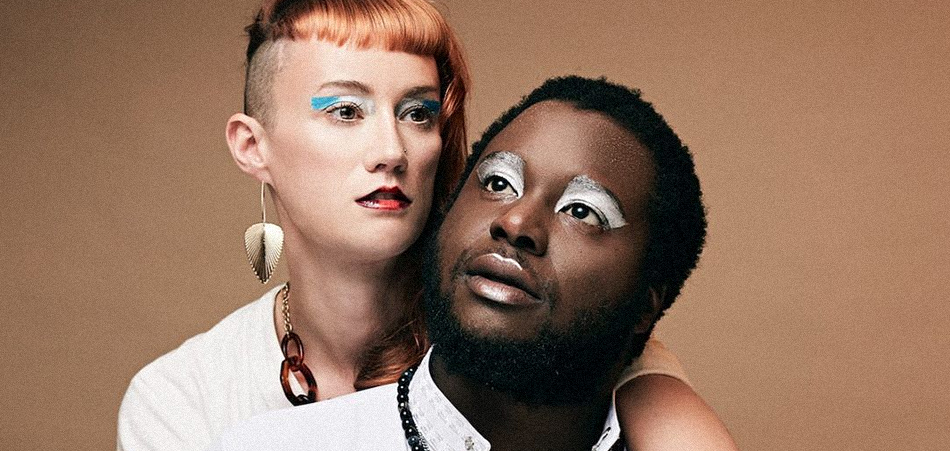 In the current musical climate where music is released at a staggering rate, it's hard to stand out. Ephemerals, led by Wolfgang Valbrun and Hillman Mondegreen, create original and exciting tunes fueled by a bewildering love for music and experimentation. The international band brings a breath of fresh air on their latest and finest 4th album The Third Eye continuing their ever-evolving musical journey as they fuse funk, soul, and psychedelia with a unique sonic palette entirely their own. As Valbrun explains in an exclusive interview for EARMILK, "I think with The Third Eye we've gone somewhere really different just because I think there's a question of transformation also."
Born in the United States, Valbrun moved to France as a teenager and through his lyrical prowess, he revived his own cultural experiences as an African American where he struggled to find his place in the world. Together with Hillman Mondegreen, the band's lead songwriter, The Third Eye intensified their previous work such as the critically acclaimed  Nothin Is Easy which revolved around life. The new album centers around rebirth and reflects Mondegreen's personal experiences around the time of the writing sessions  
Recorded at the Fish Studios in Manchester, this latest project brought a new group of musicians to the table on a quest to find noteworthy musicality and unique sound textures. Valbrun shares, "We have a really concise way of doing things so the actual instruments, like keys, drums, guitar, were all recorded at the same time so we really want to consolidate that so we did that in three, four days." This is made evident in tracks like "Float" —which contains a well-orchestrated string arrangement accompanied by jazzy piano melodies and smooth operatic lines. "We really wanted to find the best musicians for the strings and for the harp, so we changed again the people that we used to work with before and really opened it up to new musicians and also to bring a new point of view so that can be something fresh." This open approach in the studio led to the creation of other gems such as "Avatar", "Instagram", and "Coral''—which consolidates the strong musical bond between them, polished over five years together and a tireless touring schedule.
Through her own experiences as a transgender woman, Mondegreen expressed her emotions with polychords and an ambiguous tonality in her songs. She escapes from traditional moods found in major and minor keys as heard in tunes such as "Origin" and "Blur". The latter features a mellow piano chord progression on top of refined horn stabs panned left and right and lyrical prose from Valbrun that question the emotions blurred between the lines of gender identity. "Hillman transitioning and really getting to be herself and I think to acquire this new freedom in this new space of expression really influenced the album." 
The only constant on Ephemerals's musical discography is change; as most members live in different cities, come from different backgrounds and have varied musical influences but music acts as the glue that holds them together as Valbrun reflects on their cultural perspectives. "I think it's more of this thing where even if we are very different in our upbringings in our cultures and whatnot, there's something that links us intimately and I think it's more emotional than it would be in the question of like identity."
Valbrun believes that hope is the medicine for moving forward when creating art can sometimes feel more like a challenging endeavor, especially when life throws curveballs at you in the process. "There's nothing more beautiful than hope. it's a scary sensation because it puts you in danger and there is also love because a lot of the reason that we make the music we make is that we love what we do."
The power in shaping people's perceptions of the world through lyrical prose and sound frequencies molded younger generations' awareness of society and its cultural values, even without noticing it. It's an ethos that rings loudly through much of Ephemerals music and their songwriting process. Valbrun shares, "I think in music, there's a privilege of being able to touch people intimately without them necessarily even knowing." This intimacy reflected how they mixed 'The Third Eye' to resemble as if the band were in the same room as the audience.
"Taking this new identity and, and in this new space that we're in and really going with it, it kind of goes with this whole thing of like the third eye. It's that thing where you see yourself,  It's the thing that shows us the truth," comments Valbrun.
Connect with Ephemerals: Spotify | Instagram | Facebook | Bandcamp