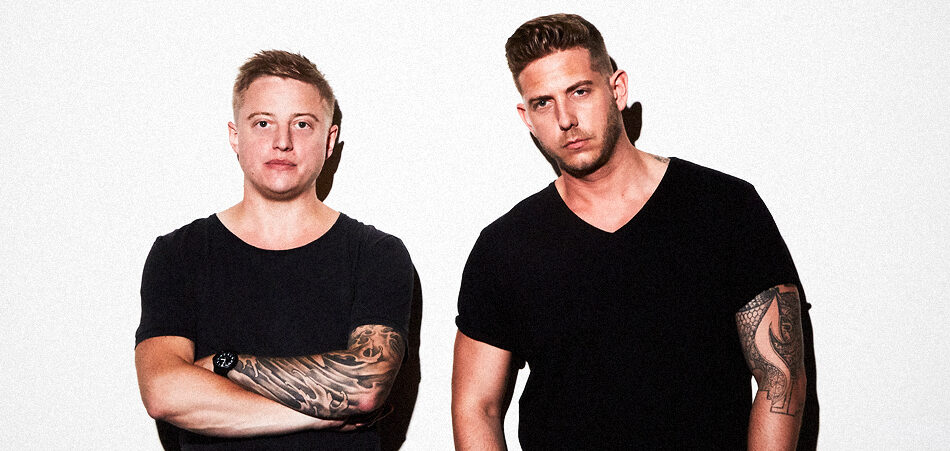 UK techno duo Spektre have recently dropped their first full length studio album in almost 7 years via Kraftek, Against A Dark Background—a masterpiece that speaks to techno on every level.
Following their critically-acclaimed debut album Casting Shadows Without Light in 2010 and their sophomore outing Cyclic Operations in 2013, Against a Dark Background is the third studio long-player from partners Paul Maddox and Rich Wakley, who have been producing together under the Spektre moniker since 2006. Undoubtedly, Spektre is a household name for fans of techno; with their innovative productions and high-intensity live performances, the duo find themselves at the forefront of dance music all across the world, delivering resonance and raw talent in each and every track. Against A Dark Background further proves their worth as sonic leaders. 
"It had been over 5 years since the release of Cyclic Operations when we first started work on the new album in earnest, so we wanted it to be a representation of how our music has evolved in that intervening period," Spektre shares of the album. "The writing process itself was a lot more reductive than the previous two albums. We holed ourselves up for a few months and hammered out loads and loads of ideas, then filtered and refined the pool through playing them out and getting feedback from a few trusted pairs of ears, until Against a Dark Background began to crystallize into its final form."
With such a process, it's no wonder the duo had looked to other works for inspiration. To help us understand the album in a deeper, more contextual level, Spektre has exclusively shared 10 seminal tracks that served as grounding motivations in its creation.
Ejeca - "Unloving (Special Request Remix)"
We've been fans of Paul Woolford's Special Request project since it's inception, but a lot of it is a bit too jungly for us to fit into our sets, we've absolutely caned this one!
Man With No Name - "Sugar Rush (Refined Mix)"
We both cut our clubbing teeth at the trance superclubs of the early 00s, and this is a favourite of us bothfrom the earlier part of that era. We first came across it on the Perfecto Fluoro album - one of the really pioneering dance compilations.
Bicep - "Glue"
Bicep's debut album is one of the best electronic long players of the past few years, and this epitomises all that's good about it. Masterful blending of those old 90s references into something fresh and contemporary.
The Prodigy - "Their Law"
The Prodigy were another big influence of us both, with "Music For a Jilted Generation" being a sweet spot between their more raw and ravey debut, as they started to incorporate more dark and rocky elements. This and "Voodoo People" were definitely in our heads when we were writing the lead for "Smokescreen Sky" on our new album.
Alan Fitzpatrick - "For an Endless Night"
Another UK producer from a similar background to our own, Alan has always forged his own path muscially, and this track is a great example of the point a few years ago where melodies started making their presence felt in the techno scene again. The acceptance of these kind of tracks was a green flag for us, as our roots had always been in melodic music, and it encouraged us to bring that side of our personalities back out of hibernation.
AMbassador - "The Fade (Fade Mix)"
Another from the trance days, but on a deeper tip. We've always be in awe of how this melody is simultaneously meandering and hooky. Championed by Paul Oakenfold, it was originally released on Platipus, who always avoided the obvious with their output; A commendable quality in our book!
Pleasurekraft - "Primordial"
As the bosses of Kraftek, we've had a lot of dialogue with Pleasurekraft over the production process of "Against a Dark Background" to create something that both sums up where we're at as Spektre in 2020, but also fits in with the carefully crafted ethos and aesthetic of the label. Primordial sums this feel up perfectly.
Johann Johansson - "Arrival"
Movies (Sci-fi in particular), and their associated soundtracks and foley have played a big part in shaping our sound, and there are few better at blending electronics and atmospheres in their work for the big screen than (the now sadly no longer with us), Johan Johannson.
Hardfloor - "Acperience 1"
The resurgence of acid in techno recently has been a welcome one, but this is a masterclass in how to do it from the undisputed masters of the silver box!
Dax J - "The Invisible Man"
When we fist heard this a few years back, it really reignited our interest in the tougher side of techno, which is definitely getting a lot more interesting. This one has never left our crate since it first dropped.
Zero B - "Lock Up"
There are a couple of ravey moments on the new record, and we could've picked any one of about a million tunes that influenced us in that regard, but there are few better than this.
Buy or listen to
Against A Dark Background
in full
here
.
Connect with Spektre: SoundCloud | Twitter | Facebook | Instagram