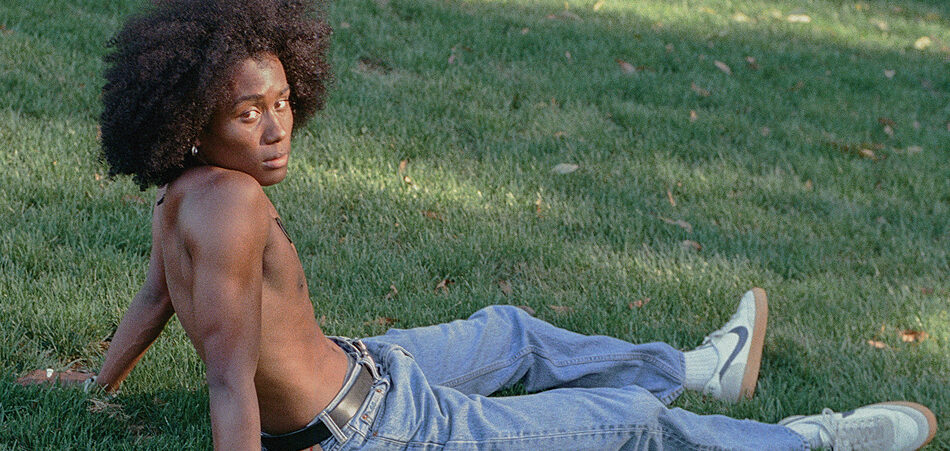 Jelani Aryeh only started making music seriously in 2017, and it was to YouTube beats and beats that he found on the internet. The 19-year-old San Diego native has a distinct sound that oozes maturity and a unique sense of artistry. Aryeh acknowledges the influence that San Diego has had on his music, he says: "I feel like the weather is always changing here. It's never the same. I feel like my music is kind of like that too." Aryeh is part of the Generation Z creatives, who developed an artistic identity or found a path, through the resources and worlds that the internet abundantly provides. Back in September, he was one of 4 artists on the Pigeons & Planes 'No Ceilings' lineup - solidifying himself as an artist to watch.
While interviewing Aryeh over the phone; I got to firsthand hear his passion for his art and what he does. He was soft in his speech but strong in his stances about what he does. He embodied such a rawness and realness when discussing his work. Much like his music, Aryeh doesn't shy away from telling it like it is, as he recounts stories and discusses his journey. He started getting recognition for his music while he was still in high school - when he released his EP 'Suburban Destinesia' - an EP that his since cultivated over millions of plays across streaming services. 
Moreover, when listening to Aryeh, he doesn't seem to fit into one genre. He tends to have fusions of alternative R&B, hip hop, electronic and pop. The meshing of those different sounds, gives us the singular sound of Jelani Aryeh. Aryeh himself says that he used to describe his sound as "suburban pop". He continues to say: "That's just the word that I found for it because I still live in the suburbs and it plays a big part in my mindset… I feel like my mindset being all over the place is kind of how my music has that genre-less feel."
Aryeh definitely comes across as an artist whose creativity extends through visuals and other mediums. It doesn't just stop at music with him. When it came to the artwork for 'Helvetica', he collaborated with FISK Projects. Aryeh says "I don't even remember taking that image, but once they sent it in, I was like 'that's the image for the project' - I just felt like it said so much without having to do anything." 
When it comes to music videos, Aryeh says that he sees himself directing his own visuals in the future. He recently dropped the visuals to "Jetfuel" a deeply personal and poignant track, in which he highlights his relationship with his dad and being pressured to play football, but Aryeh deciding to follow his own path and his truth. When it came to making Jetfuel, he says: "Jetfuel was just the hardest to make like emotionally because it brought me back to a lot of the things that I was talking about in the song, and those specific events."
The visual takes on the same journey that the song does in a way. In which we see Aryeh lonesome at all times, seemingly in his thoughts and reflecting his state of mind during that time of his life. Other than the guitar player that cameos with Aryeh on the field - it's his interactions with the coach that are an important highlight. When Aryeh lays down on the football field looking up , with "Jet" and "Fuel" under each eye - it's reflecting that 'moving on' notion and coming to peace with his truth.
Additionally, Aryeh dropped a 9-track-EP last month. An EP with no features and pure honesty and storytelling. He expresses everything in the music, from family, to anxiety, to every emotion and relationship. It was a beautiful and honest introduction to who Jelani Aryeh is as an artist. The EP has us journeying with Aryeh's voice and stories, no features. Having a feature could've probably taken away from the content due to how personal it was. When it came to making the project Aryeh says "it was more like a spontaneous burst of creativity and I had to act on it in those moments, or I feel like I would lose it." 
Aryeh's voice is so soothing and special - it's difficult to compare it to anyone else's, and that distinction is both strong and rare. There's a such a breadth of breath to his melodies and voice, that adds to his mystique as he lets the song breathe and take its course. There's a uniqueness to Aryeh that cannot be taught or replicated. From his vocals to his honest identity - It's that sense of distinct boldness and yearn to create without limits. Aryeh is the kind of artist that whatever his truth is and wherever his feelings take him, is what the music will sound like.