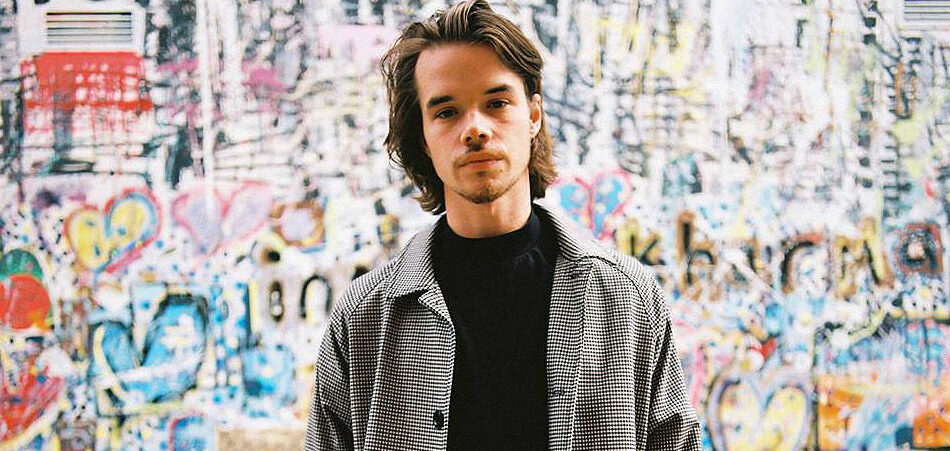 Oscar Jerome continues his ascent in the music world with a Fall tour of Europe and Australia as well as the release of a new single and video entitled "Lizard Street." The South-London guitarist, vocalist, and member of the afrobeat group KOKOROKO has been prolific in recent years in recordings and performances as he has honed his unique soulful sound. "Lizard Street" is the latest incarnation of his compelling artistic evolution and showcases his tasteful musicality with a stylish black and white video directed by Denisha Anderson.
In proper Oscar Jerome fashion, "Lizard Street" delivers nimble musicianship and emotionally resonant lyrics while never sacrificing the groove. Over a guitar-centered arrangement with pulsing drums, Jerome sings about his resentment toward the cutthroat and competitive mentality in society that can make someone lose track of their true identity. The track culminates in the anthemic refrain where he writes, "I've been dragging my heels down Lizard Street… as I've been waitin' around for an epiphany / since day one." The song provides another example of Jerome's abundant talent and expanding sound that should not be missed on tour.
Follow Oscar Jerome on tour this autumn:
Oct 17 - Paris, FR @ MAMA Festival
Oct 22 - Milan, IT @ Santeria Club
Oct 24 - Madrid, ES - Sala Clamores
Oct 26 - Norwich, UK @ Bermuda Bobs
Oct 27 - Birmingham, UK @ Hare and Hounds
Oct 28 - Brighton, UK @ The Haunt
Oct 31 - Dublin, IE @ Sound House
Nov 1 - Glasgow, UK @ The Blue Arrow
Nov 2 - Manchester, UK @ Deaf Institute
Nov 3 - Bristol, UK @ Thekla
Nov 6 - Cologne, DE @ Artheater
Nov 7 - Berlin, DE @ Maschinenhaus
Nov 9 - Munich, DE @ Folks! Club
Nov 10 - Zurich, CH @ Papiersaal
Nov 12 - Paris, FR @ Badaboum
Nov 13 - Brussels, BE @ Ab Club
Nov 15 - Nijmegen, NL @ Brebl
Nov 16 - Rotterdam, NL @ Birdfest
Nov 19 - London, UK @ Heaven
Nov 28 – Melbourne, AUS @ The Night Cat, Melbourne
Nov 29 – Sydney, AUS @ The Lansdowne
Nov 30 – Tocumwal, AUS @ Strawberry Fields Festival
"Lizard Street" is available to stream or download here.
Connect with Oscar Jerome: Instagram | Twitter | Facebook | Soundcloud | Spotify