It's been several years since French producer Zimmer first appeared on the scene with his tropical-infused grooves, which he affectionately dubbed "horizontal disco." His early signature sound led to many favorite singles, remixes, and EP's on essential nu-disco labels like Discotexas and Kitsuné. Fast-forward to present day, Zimmer is now a part of the Roche Musique family and has developed his sound to what we now hear on his chilled out self-titled full-length album.
Zimmer shared the first taste of his new album over a year ago with the track "Landing." The cerebral, slow-burner draws influence from his father's research of gravitational waves. Paired with a cinematic video that has nods to the science world, "Landing" set the bar high for his new album. After departing from his normal DJ sets to complete his first live tour, the producer released more pulsating synth-heavy tunes leading up to the album's release. "Mayans," "Rey," and his newest single from the album "Make It Happen" all build upon Zimmer's shift from his summery sound to what he describes as cosmic techno disco.
With this shift in sound also came more of an effort to incorporate art and visuals into the Zimmer experience. Last year we were lucky enough to chat with Zimmer right before his first live tour. In addition to probing about the album, he touched on bringing in stage elements to complete the music and art experience he aimed to create. Just before the release date, we were able to catch up with him a second time. We got to reflect on the last tour, learn about his upcoming tour, and delve deeper into Zimmer and its total art.
EARMILK: Hi, how are you?
Zimmer: I'm good. Yeah, release is soon. So the album is finally coming. It's pretty exciting. We just got off, we were prepping the live show for two weeks. We kind of reworked the entire live set and we had the pre-release party, in Paris last Thursday. But it's a big, big marathon to get everything ready in time.
EM: Last time we spoke you were getting ready and finishing off the lights for your live tour, which was a departure from your DJ sets. How did you feel about that tour?
Z: That was really something special. It was the first time touring live. It's crazy the difference between touring live and a DJ set and it's just so nice. Kind of everything I expected from it happened. Like, really controlling—think we talked about that—controlling the whole environment in terms of the lights, what happens on stage, etc. I felt like it connected like never before with the people. Especially those cities I've played in so many times. Like, there were familiar faces and I kind of got that vibe from the people that came up to me and talked to me after the show. They felt like it was very different from the DJ sets. It's always super exciting when you're preparing something and you're hoping for a certain outcome and that becomes a reality. So it was very nice to get that feeling. So yeah, I'm getting ready to do it once again. We basically outlined the things we wanted to make different, and it's super exciting to try make this a reality on this new tour. 
EM: Yeah I'm excited to catch you again in New York. I'm excited to see the changes that you have.
Z: There were many challenges. Like the first one is, I was already playing a lot of tracks from the album back then. So obviously I can't just come back and play the same set. That would be boring for everyone. There's been a lot of—I made a ton of special versions of the older tracks, like completely self-remixed them. And, playing new tracks that I didn't play last time. We're actually building like solar panels on stage, so we're going to have a lot more on stage as well, like a lot more production. And yeah, kind of fake solar panels are going to be in rhythm with the music with a ton of LED's inside. It should be exciting.
EM: You were also excited to be traveling across the United States by car last tour, how did you feel about that experience?
Z: [Laughs.] We're flying this time. [Both laugh.] Honestly it was amazing to do it once, but yeah it's too much. And I mean, the main thing is it forces you to a certain routing. Like, you can't play Denver the day after playing Washington, D.C. if you're driving. It's just not an option. So we decided we can fly with all this stuff. We have over like 230 pounds of stuff and there are just two of us, but we managed to find a way that everything fits nicely in cases and we can fly with it. So we choose to fly this time. It gives us more flexibility in routing. And we're doing Mexico and stuff like that, and there's definitely no way you can drive to Mexico from like New York. But it was nice. It had that kind of band vibe. It was me, my tour manager/sound/light guy, a friend driving, and Haulm a.k.a. JT, our opening act. So it was like a nice bonding experience and I loved it, but it's just not sustainable I think in the long run.
EM: Was there a city you felt most connected to, or that you were really happy to see?
Z: I was really happy to drive through Vermont—love the beautiful trees. When you fly so much, you kind of forget how things are actually connected in the real world. That was really nice to see. All these cities you can drive through and there's something between them. It makes touring less virtual which is something I really appreciate. All in all, I think it's kind of always the same. San Francisco, New York, and LA were like the three cities where the shows connected the most, I feel. It's like three cities where I kind of lived at some point in my life. It was kind of crazy, especially New York. My parents made the trip, a lot of friends from France were traveling to NY that weekend, and I kind of lived in NY, so I had also a lot of local friends. And it was sold out—lots of smiling faces. So NY was super special. San Francisco like same thing, sold out show, 400 people in a city where I kind of started my life. I was in Palo Alto when I was a baby. That was pretty surreal. 
EM: Your new album is coming out on September 27th, is there anything you're most excited about in sharing it with everybody?
Z: I feel like we've teased a lot of little bits and bops of it. There are obviously quite a few songs that are already out, but I'm very excited for people to see the whole thing and to listen to it as one piece of music because that's kind of how I intended it. It's like, I see the album as this ultimate mixtape. I was always into making mixtapes, and this is like the mothership, where everything that makes me an artist is in there. I'm really excited for people to listen to it as a whole and try to get onto that journey I tried to create. That's the one thing I'm the most excited about.
EM: How would you describe that journey, if you could sum it up?
Z: I'm both fascinated by kind of two polar opposites, which is music that's very calm and suited to self-listening where it's really about introspection and that's very kind of slow. And, I love music that connects people. That's like much faster and just more techno, for lack of a better word. And the whole challenge of direction was to bridge those two and make it sound coherent. I kind of found this formula to describe it which would be cosmic, techno disco. My stuff used to be "horizontal disco" and I think like cosmic techno disco is a good way to illustrate what's in the record music-wise.
EM: Do you have a favorite track on the album?
Z: It kind of changes. To be honest, after prepping for the live show it's kind of weird, but I think I still really love "Thunder" which is one of the more techno tracks. It's one of the rare tracks where I feel like both worlds, like this techno disco thing, is inside this one track. It's super uplifting and at the same time kind of mellow. And, the latest one "Make It Happen" that just came out. Just because it's the last track I made for the record and it's kind of the track I've always wanted to make. It's extremely mellow, it's like super slow, it's 88 BPM, but at the same time it's very intense. It's very minimalist also. Like, this is something I tried to explore on the album. I like to produce an effect on the listener without using too many things and there's not a ton of white noise. It's just very minimal, but it builds in a pretty, I tried, beautiful and epic way without being too much. That's something I tried to achieve in my music. Something that's very powerful but not using too much—no crazy buildups, no white noise, none of that. The chords I choose, the production—I'm pretty happy about that track.
EM: You also got to work with Panama. What was that like?
Z: It's still weird because we still actually have never met, which is kind of crazy. We've worked on two songs on the record, we tried to work on a third one, we have another one for the future, and it's weird because it feels like it's very easy. It feels very familiar, and yet we've still never met. And actually the music video we're releasing this Friday for "Make It Happen" is kind of a continuation of "Mayans" so everything is in 3-D, but it's me and Panama in the music video. It's kind of weird that we were meeting as like 3-D avatars in a digital world, but yet we've never met in person.
EM: That is interesting.
Z: Yeah, it's a nice metaphor also. This album is really about traveling, because I traveled so much as a DJ and I've traveled all my life. I think a lot of the inspiration I have in me comes from that and it's interesting to see that even in collaborations. It's something that goes a big a distance.
EM: You talked about the art within the video for "Make It Happen," the artistic vision seems important overall with the whole album. Can you talk about that at all?
Z: Yeah, definitely. That's one of the reasons I wanted to make a full album. I'm obsessed with total art, where the music goes hand in hand with what you see, the cover art, the videos, and the whole vision. That's what I tried to achieve. There are a bunch of elements you can see in the artwork, whether it's the video for "Mayans," "Landing," or for "Make It Happen." There's this notion of being alone versus being in a group of people, and music that unifies people. At the same time, you think that's very personal and it's kind of, I think, a parallel with my life as a DJ where I've been touring for the past 6 years. You're in this club and there's this incredible energy and you reach that magical moment where everything comes together. And like two hours later, you're alone in your hotel room or walking back in a foreign city. And that's always, like this duality is super important in the record and we tried to illustrate that visually. Then there are obviously themes that have always been in my music like space, the desert, like places that shape the way I react to music. And it's been very interesting also to use CGI. Everything, all the artwork in the album except "Landing," but that was like a previous project. Everything is computer generated. So for me, my music is computer generated and I think it's just more genuine to make the artwork with a computer because you can kind of create this world that seems familiar, but at the same time not existent in the real world. That's what I've tried to do with my music and doing the artwork this way felt very honest, I think. And also, it allows us to do things that we couldn't do otherwise, which is more interesting I think. It's all about surrealism. It feels like reality, but it's actually not. That's something really interesting to me.
EM: Is there a story behind the cover at all?
Z: Yeah it's this idea of being alone and being many at the same time. It's kind of a metaphor for that, because it's actually me scanned in 3-D. It looks like a crowd of people, but it's just myself in a way. It's kind of a play around that. And I think was interesting also that all my artwork before that were just me alone on the record cover, and now it's just like an infinite ocean of people. At the same time, I love the minimalism of it, where there's just one element, this one character, but by duplicating it, you create kind of a landscape and you see those different vibrations of the lines before. It's also a strong idea behind the artwork.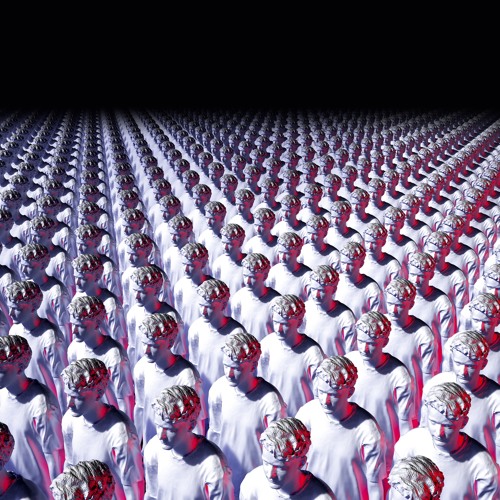 EM: Last time we spoke you were also talking about pursuing more artistic ways to showcase your music, like with art installations. Have you looked into that at all? 
Z: Yeah, the new light show is another step in that direction. Last time we just brought lights, this time we're actually bringing those cinegraphic elements that are going to be the solar panels, and ultimately we're trying to work on something even on a bigger scale. Like where the whole concert environment would be inside a big art installation. We're starting to work on that project and hopefully we can do that in the spring. But the new light show is ultimately a strong step in that direction.
EM: Cool, I can't wait to see it. What else does the future hold for you?
Z: It's always kind of weird to think about. For me this album has been a reality for a long time, but for people it's brand new. But definitely I know there's going to be more music. Like I've already made probably like half an album, but at least a full EP ready for after the album. So that's going to come out at one point. But I think it's really going to be about trying to push what we've developed on the album even further. And the big thing is this art installation/concert experiment. I kind of really want to go get away from what we know as a concert today where it's the band playing on a stage, and go into something much more immersive where people can get lost in the music. Ultimately the goal is to be in the middle of a room and have people all the way around, and have them in the light installation. That's basically what I'm going to try to do. I think the album is like a nice introduction into that world. It's a great excuse to try to make that a very special experience for the listeners.
EM: You mentioned you have a new EP coming, and with the album there was sort of this conscious shift in like the sound of your music. Are you going to stay where you are, or do you see maybe another conscious shift coming?
Z: I think it's progressive. The new tracks keep pursuing some of the ideas I have on the album. I'm not even sure it's going to come out as an EP to be honest, all the focus is on the album. 
EM: Of course.
Z: I feel like I found myself musically like never before. So it's not going to be that much different from the album—just building upon it. I think as an artist it took me a long time to find what I wanted to be and how I wanted to sound, just because I started so young with barely any knowledge when I started. You know like most people when they start, they've already made a ton of tracks, and they're like experienced producers, and one day they get their big break and they're ready. That didn't happen like that for me. Like, my second track got signed and then I had to put music out. I was basically learning at the same time. So now I'm in this place where I feel like I've found my voice musically and in the way I perform my music, so I'm going to keep pursuing that.
EM: That's really beautiful. Is there anything else you'd want to add about the new album?
Z: I just hope people enjoy it and people get into it like they used to get into my mixtapes or my other music. Yeah, I'm just really curious to see what people think and how they relate to it.
Zimmer's self-titled album is out now via Roche Musique. It's available both on vinyl and digitally. Catch Zimmer's new live tour which kicks off next month, dates below.
Tour Dates:
11.16 Carpe Noctem Festival - Nantes
11.29 Bang Bang - San Diego
11.30 The Independent - San Francisco
12.02 The Echo - Los Angeles
12.05 Bismarck - Guadalajara
12.07 Tropico Festival - Acapulco
12.11 Sleeping Village - Chicago
12.12 U Street Music Hall - Washington, D.C.
12.13 Bowery Ballroom - New York
12.14 Newspeak - Montreal
01.15 Paris - La Maroquinerie
Connect with Zimmer: Spotify | SoundCloud | Facebook | Twitter | Instagram