Guatemalan-American producer Diamanté Anthony Blackmon who goes by stage name Carnage has been riding his own wave in the music industry today. Flawlessly transitioning from trap, hip-hop and even some techno music during those surprise Burning Man sets with his friend Diplo, this producer does not give a sh*t about what other people think and that is one of the greatest lessons one can learn from him. Whether he is preparing for his very own RARE festival's around the world or building his Heavyweight Records imprint to gather young artists under his wing, it was questionable about how this hard-hitting producer never failed to unleash a contagious amount of energy into the crowd no matter what time of the day it is. With his fist pumping high into the sky as he released his legendary festival trap remix of Hardwell's "Spaceman" in 2013, Carnage proves that he not only satisfies his old school fan base with his recent releases such as "Blitzkrieg" feat. Nazaar and "Holy Moly," but he has the drive to build several different fan bases by taking an experimental approach to his sound. 
Launching beachside at this year's Music Circus Osaka, if there was one show in Japan where mosh pits were the norm, it was this one. Undeniably, "A State of Carnage" will always live on for those fast tempo and bass lovers, but another side of Carnage has opened up as EARMILK had the pleasure to get a little personal with him in Osaka, Japan.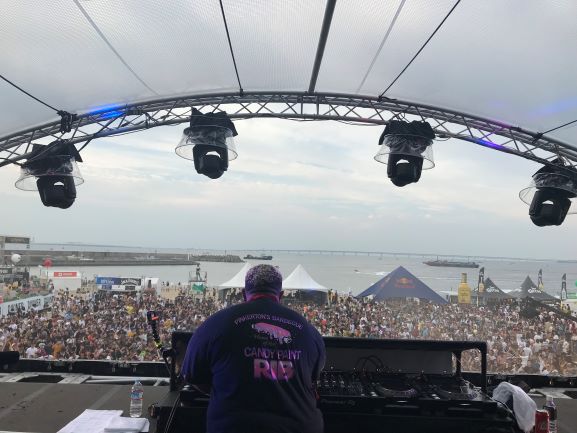 EARMILK: Thanks for taking the time to meet us at Music Circus Osaka today. To start off, you have an inspiring story growing up in Guatemala and coming to America at 10 years old knowing very little English which many of your listeners relate to. What would you say was your hardest challenge growing up as a first-generation immigrant?
Carnage: I think getting used to American Pop Culture. I also stayed back a year because I had to go to speech class and that was one of the hardest challenges growing up.
EM: There's been a lot of discussion regarding how you differentiate yourself in the industry by being fully transparent to your fan base which is a quality I really respect about you. After taking a break last year to focus on your mental health, what would you say to producers who are going through a "burnout" today.
Carnage: Take a break and don't listen to anybody. Spend some time with your family and when you are ready don't be too overdramatic about it. There are so many people being burnt out right now that people use it as clout and ways to get attention in the industry today. That's the only wack part I don't like because I know people out there that are not fully burnt out but want to act like they are. Some people are afraid to talk about it and open up yet there are fake people out there who are using that for fame.
EM: From throwing it back to old school trap bangers like "Spaceman" which is definitely one of my favorite tracks to sharing your personal story with uplifting single "Letting People Go," can you describe a typical day in the studio for Carnage?
Carnage: Well I wake up and my studio is like 10 feet from my room. I say hi to my dog Lola and walk over to my studio and sit there for about 16 hours searching YouTube (Laughing), on SoundCloud and trying to make a beat in between. I just try and make as much music as possible in the studio, but never try and force anything out. That is why I am a quality over quantity guy because you don't want to be that guy who releases 50 songs in a year.
EM: You have been on fire with releases which include "Blitzkrieg," "Slot Machine" feat. Prinze George and my personal favorite "Holy Moly." Can you share the initial idea and takeaway behind "Holy Moly?"
Carnage: I had "Holy Moly" for so long… All those songs I had for super long actually. I had a lot of them done before I took my break, but I had so much music that I wanted to let them out. I actually had the video for the track done last year. Honestly, I have so many videos and projects ready to release, but it's all about timing. It was a good time coming back and people wanted some more bangers from me so I gave them the bangers!
EM: Throwing down your own festivals such as RARE El Paso and RARE Orlando have proven that you have what it takes to follow your dreams and pull off an insane show with some of your best friends. With RARE Bangkok just recently being announced in September, what can your fans expect for this show in Asia?
Carnage: First RARE in Asia. It's going to be incredible and sold out. It's a blessing that I get to have this opportunity and I am trying to expand and make it a thing that people want to go to. There is a bunch of people traveling from the states going to Bangkok and that is all I want. I don't want to play all of them because I want it to be its own thing…. I am not going to DJ the rest of my life. I will produce the rest of my life, but not DJ. There are so many hot kids coming out every day and I don't want to play a cat and mouse chase everywhere. I know a lot of guys who burned themselves out because they tried to stay on the next level, but at the end of the day I have a good ear for music and I would like to be able to keep the party going no matter what.
EM: After building a platform to support producers on Heavyweight records such as GRAVEDGR. Are you able to share how you first discovered this heavy-hitting and masked producer?
Carnage: I have known him for a bit and he has always had fire music. I think nowadays because there is so much music and artists coming out, people take music too lightly and people are just like "oh let me release music," but at the end of the day it is a business. If you have a gift, you have to get it gift wrapped. That's what I always say when I try to explain Heavyweight records because artist development died a few years ago when the internet came in it became so easy for everybody. To be honest I had so much time when I was on my break and before that I was winding down from not playing so many shows. I was just doing RARE fest and I thought it was the perfect time to help these kids by gift-wrapping them right and presenting them to the community.
EM: That's amazing! I mean you built a whole platform for producers such as Gommi and Sludge to share their music to the world.
Carnage: Yeah and it's not just EDM either. You know the song "Bitchuary," that is actually Heavyweight as well. There is a bunch of stuff I am staying low-key about and not everything is Heavyweight records because I am actually trying to develop artists. With GRAVEDGR and guys like that it does help if I put my name to it, but a lot of the time I am staying under the radar.
EM: Giving back to your community in Nicaragua is something instilled in your roots, from building two schools and an orphanage to now being the ambassador of RAICES Foundation. Are there any key moments or inspiring stories which really put a smile on your face and acted as a reminder to keep striving to make this world a better place.
Carnage: I was playing a show in New York and this guy came up to me and thanked me for the "Letting People Go" video.  I did not know his situation or whether he was an immigrant still, but I was like damn that was crazy. It's insane that someone can relate to something so close to them and something they are dealing with because they are in America and are afraid of getting kicked out. I think it's super cool that they are getting inspired and motivated by the music and videos I am making.
EM: After tweeting out that you loved Chipotle on twitter the iconic #ChipotleGang originated. Can you share with us the classic Carnage order?
Carnage: I actually have not eaten Chipotle in a while, but I am going to give you a Classic Carnage bowl order. I like starting with a little lettuce at the bottom, white rice, pinto and black beans half mixed, steak and chicken, sour cream, pico de gallo, cheese, corn and chips and salsa with guacamole on the side. I am not really down for the queso (Laughing). When I was starting off and super strong with Chipotle I would always tell them to make queso, but they were too late in the game.
Rest assured Carnage made his mark in Japan as he hit the infamous WARP Shinjuku to tear up the club until 4:30AM before continuing his tour in Texas.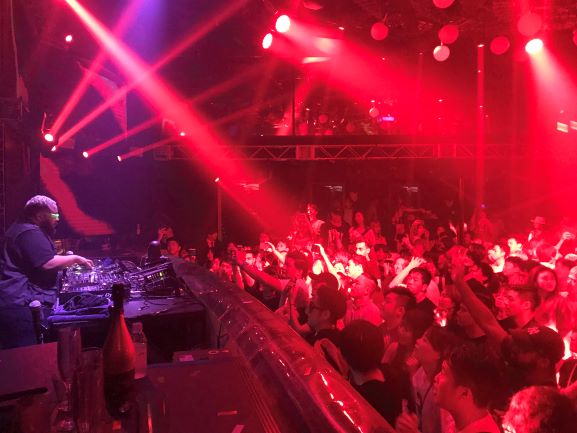 Connect with Carnage: Facebook | Instagram | Twitter | SoundCloud