It's ten PM on a cold Friday night in Toronto. I'm wearing a black mini-dress with bell sleeves, massive crescent moon hoops, and knee-high boots with embroidered roses. My hair has finally been freed from the tight braids that kept it for over 24 hours (in lieu of a crimping iron). I have glitter all over my face, and I'm going to a Fleetmac Wood party. Yes, you read that right. Ahead of me is a night of dancing and debauchery entirely soundtracked by Fleetwood Mac. Under the DJ monikers Roxanne Roll and Smooth Sailing, Lisa Jelliffe and Alex Oxley remix an unadulterated, hours-long set of the iconic band's catalogue.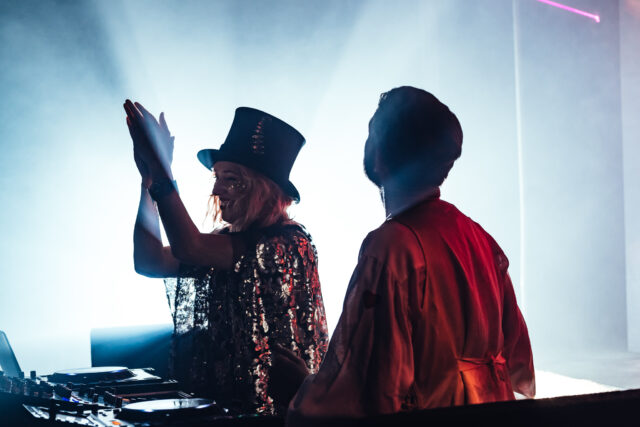 I discovered Fleetmac Wood through a close friend who, much like the two DJs themselves, is equally obsessed with dance music and Fleetwood. At this point, their club night had reached a cultish status, and after spending hours pouring over their deft edits, we set off in the direction of the venue. I should preface this next sentence with a disclaimer: I'm not a fan of clubbing. Yet Fleetmac Wood remains one of the best nights I've ever spent at any venue, no molly required. My friends and I were high on the hedonistic energy of the night.
Jelliffe and Oxley met at a since-disbanded festival called The Secret Garden Party. "We were lucky enough to be dancing next to each other, listening to some strange Swedish techno band," Jelliffe tells me over the phone. They are in their home in Los Angeles, although Jelliffe is an Australian import and Oxley grew up in the Lake District, UK. The couple fell in love in the throes of a dance party, and it seems dancing is the way they've been conducting their lives ever since. They formed the creative partnership that is Fleetmac Wood in 2012. "When you both DJ it's not really fun to do it separately," she says. Oxley chimes in, regarding the friendly competition the two have developed over the years: "when we play we try to surprise each other. We DJ other music outside Fleetmac Wood, so we try to push each other musically." 
So, who had the slightly mad but brilliant idea to throw a Fleetwood Mac-themed club night? "That was definitely my fault," Jelliffe admits. "Actually, some friends reminded me that I was banging on about this idea back in 2008. And I'd been throwing Fleetwood Mac into my DJ set for years and always noticed the response from people was quite unique…I didn't want to play all Fleetwood Mac, we needed another layer of creativity. Both of us love the vintage remix phenomenon. We're always collecting those. So we were like, 'let's make it a project.'" There is a nostalgic element to Fleetmac Wood, despite the production on the re-works. "We try to play what suits the original track," Jelliffe tells me. The two never seems to go overboard with their edits. The integrity of Fleetwood Mac is preserved, and that is exactly why the parties work so well.
In some ways, the limitation of playing only Fleetwood Mac forced some creativity. Because we have to play different tempos and styles. There are so many different genres in Fleetwood Mac, and artists that have been a part of that band. It's surprising how the limitations can change the way you DJ. Our set is a bit more of a journey because we kind of have to sonically wrangle. It keeps people present in the room. And we do it in a way that flows.

— Lisa Jelliffe
Weaving through every electronic genre between deep house and disco, Fleetmac Wood club nights typically last for four or five hours. Occasionally during edits, there are soundbites of interviews of Fleetwood band members. Mostly, they're talking about cocaine, but there's an occasional track-by-track of the Fleetwood Mac catalogue. "It was like hardcore rehab" Stevie says as the familiar "Tusk" vamp loops in the background. Particularly the soundbites regarding Fleetwood Mac's hard-partying days, whether intentional or not, serve to almost bring the band to the rave. For Jelliffe, Fleetwood Mac's story is "this ongoing drama." We both remark that the story seems to be getting even more dramatic, considering Buckingham's unceremonious firing from the band's last tour. "It's fascinating: not only did they have good music, the music is really authentic and meaningful for people because it was often written about real relationships. The music is very much entwined with the story of their lives…I think that's why it speaks to people so much. You can't fake that, and I think people can tell when you're faking it." 
At Fleetmac Wood parties, Jelliffe and Oxley encourage their fans to dress in whatever costumes they feel appropriate. "There was a really good lady dressed as Lindsey Buckingham," Oxley recalls. "It was uncanny how much she looked like him from the 70's." "Of course we get a lot of Stevies," Jelliffe tells me. Once, Jelliffe (who often appears at the club nights clad in glitter and a Nicks-esque top hat) pointed out that Stevie was less a gender than a state of mind. "I think what's fun is not dressing up as characters from the band, but dressing for how they make you feel," she says. "There's a lot of people who create a wonderful costume that will be an element to the song or the music. Creating something new that's part themselves and part Fleetwood Mac. There's an ethereal magic to their music and their content. There's a bit more of a dreamy feminine vibe…you can be Rhiannon. That's not something you can do in most nightclubs. I think a lot of club atmospheres can be quite masculine." All three of us agree that much of what turns people off of clubs and the dance music community is the misogynistic nature of the scene. From almost all-male festival lineups to getting groped without permission, it's understandable that women and the queer community feel excluded from electronic music at times. "You can't control your crowds, but in general we feel like we have a very respectful audience."
Fleetmac Wood's next North American tour is called Sea of Love Disco, taken from one of Mac's celestial odes to femininity "Sara," will see the duo ban single-use plastics from their shows. A dollar from every ticket will go to Sea Shepherd, a conservation charity. "There's so much waste in the event industry, we're just trying to raise awareness any way we can."  
Feature image by Kaitlyn Summer
Tour Dates:
Sept 7th: Kudeta, Bali – http://bit.ly/2Z6h7I2
Sept 20th: Holocene, Portland – http://bit.ly/fmwsolportratix 
Sept 21st: Celebrities Underground, Vancouver – http://bit.ly/fmwsolvanratix 
Sept 27th: Tracks, Denver – bit.ly/fmwgdddentix
Sept 28th: Kremwerk, Seattle – bit.ly/fmwgddrnsetix
Oct 4th: The Midway, San Francisco – bit.ly/fmwsolsftix
Oct 12th: Galatos, Auckland – http://bit.ly/fmwsolautix
Oct 18th: Xe54, Melbourne – http://bit.ly/fmwsolmelebtix
Oct 24th: High Watt, Nashville – http://bit.ly/fmwgddnashebtix
Oct 25th: Warehouse on Watts, Philly – http://bit.ly/fmwsolpebtix
Oct 31st: Le Poisson Rouge, NYC – http://bit.ly/fmwsolnyratix
Nov 2nd: Catch One, Los Angeles – http://bit.ly/fmwsollaebtix
Nov 15th: The Parish, Austin – http://bit.ly/fmwsolaustix
Nov 16th: District, Atlanta – http://bit.ly/fmwgddatebtix
Nov 22nd: Clockenflap, Hong Kong – http://bit.ly/2YPBisO
Nov 30th: Coracle Music Festival, Saigon – http://bit.ly/2YsSTYb
Dec 7th: La Belle, Edinburgh – http://bit.ly/fmwsoledsktix
Dec 13th: La Discothèque at Printworks, London – http://bit.ly/2z53cCm
Dec 14th: Yes, Manchester – http://bit.ly/fmwsolmansktix
Dec 15th: Berkeley Suite, Glasgow – http://bit.ly/fmwsolglasktix
Dec 31st: Rhythm & Alps, New Zealand – http://bit.ly/2M5lhJj
Connect with Fleetmac Wood: Soundcloud | Twitter | Instagram | Website