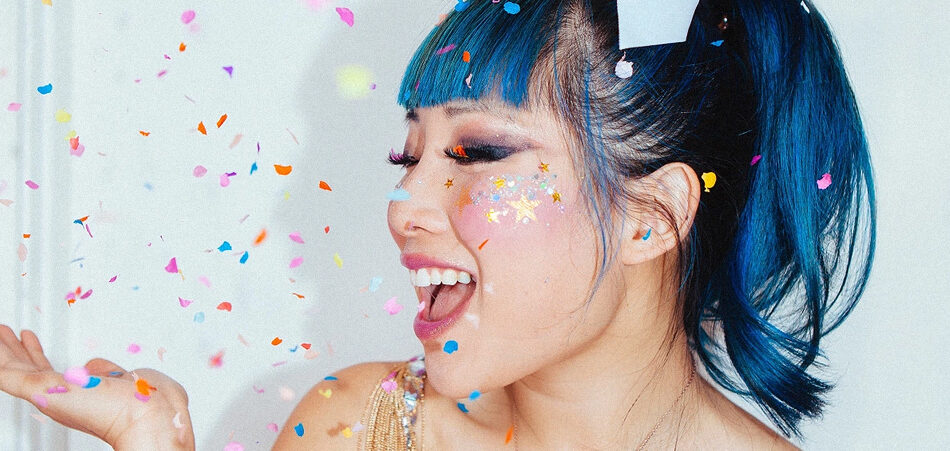 If you couldn't tell by the lavish costumes, bright emojis that follow, or beaming electro-pop, Ihui Cherise Wu of Polartropica is simply magical, armed with a sharp wit to boot which seems to surprise people. "Like look what I make the boys wear, it's funny," she says with a laugh. I caught the artist during soundcheck on one of her many other endeavors where Wu lends her signature keyboarding skills to other bands. Luckily, between the heat in Los Angeles and packed schedules, we found time to chat on a Friday afternoon.
Fresh off the heels of the Love is Gay tour alongside L.A. artists, WASI and Lucy & La Mer, recently becoming an Aunt (which saw Wu as a boastful Aunt dance around the thought of the baby's cuteness), and now immersing into a Monday night residency at The Bootleg Theater, Wu's contagious momentum translated into the conversation, dishing out eventful tour stories from what was a mostly comfortable trek, staying at the homes of their friends' moms. Of course, minus one night in Chico that left them in a 24 hour lot between gigs only to be woken up by someone attempting to break into the van. "The one night we weren't totally pampered by parents, or friends, or people that we know," she says, recollecting the scene.
Continuing to tell stories from the tour, Wu brought to mind viewing a recorded performance, noting the bodysuits being worn. "'Why didn't anyone tell me I have cameltoe?, like this whole time," says Wu, laughing between questioning her tourmates. "Then WASI's guitarist was like 'what's cameltoe?' and it was just like, 'what do you think it is?'...it was just so funny. We'd get into these really hilarious discussions. And then there's the mooseknuckles for the boys," she says, effortlessly answering anyone's questions of why the entire band isn't sporting the bodysuits, simultaneously brushing the two terms into a natural aspect of life. "What's so bad about cameltoe? Maybe it's just a normal thing we can make hip again."
Our last conversation saw a focus on visibility that surrounded her performance and presentation at moonroom's APAHM (Asian Pacific American Heritage Month) showcase where Wu graciously discussed heavy topics. A conversation about identity that I thought maybe I shouldn't have pushed on Wu. As we came back around a year later though, Wu's natural glow brightened the lightest to serious of topics. Comfortably diving into the possibility of bedazzling cameltoes (which I encouraged), to forcing her tourmates on stage to sing their new song, "Today is Better Than Yesterday" (which they wrote together in their tour van named Dottie), to of course her love for Hot Cheetos and gay ghosts, Wu's colorful pallet kept the conversation at a high.
Sweetly, the positive reminder of the new track geared Wu to speak fondly of the tour in general, it being "super special" for it not acting as usual tours where a band or artist goes out simply to promote themselves. "Each city that we stopped at we paired with the local LGBT center or youth center as a benefit show to bring awareness. So yeah, it was just so much community and so many inspiring stories and moments," says Wu.
Wu carried on about fan art they received from a young individual out of the country who mentioned how he loved "seeing the show" via Instagram Stories. The sentiment of him unable to come out struck a chord with Wu, mentioning how she wishes she came out earlier. "It's our responsibility to make sure we're creating spaces for people to be their authentic selves and feel supported, feel loved, and yeah, it just makes such a difference."
The artist would later mention the importance of visibility, a factor sometimes overlooked until she came out in February as pansexual. "I thought it wasn't a big deal, like it doesn't matter, it doesn't change my life, I have the same friends and go to all these events, but I got like over 12 messages that day from close friends who were like 'oh my gosh, that inspired me to come out to my close friends and family so I can live a more authentic life.' You know?," says Wu.
Transitioning towards her July Dreams Come True Residency at The Bootleg Theater, named after Wu's forthcoming album due late summer, we were already down the rabbit hole of thought provoking topics. Initially, the obvious to ask was how Wu wasn't completely tired, which was good-naturedly answered with an "I'm exhausted." Though, Wu always made it a point to let it be known that she was not doing it by herself, and how ultimately "blessed" she feels by the community.
On the other side, stemming from all the things that people told her what she "couldn't do or weren't possible," the residency and album was a needed reminder that everything that she set out and wanted to do, has happened. "I was starting out just playing keyboards in these bands that some of them I really enjoyed, but some of them I was just totally, they [just] weren't great experiences. I learned a lot, but it just sometimes seemed like a pipe dream, like 'oh my gosh, could I do this and have my own project some day? Could Polartropica go on tour? Could I make a music video? Could I build this world that I've dreamed about for years?'" A slight pause brought Wu to answer the rhetorical questions with a confident "yes."
Backing into the philosophy that hard work is needed though, Wu continued to mention the set-backs, especially as a creative. "It's hard being an artist in, anywhere, and our community, it's such a struggle, it's so expensive just to live." Making pennies on streaming platforms to maxing out credit cards for music videos in an attempt to "pay people what I think they're worth," Wu listed various obstacles, but not from a place of anger. The realization of the problems alerted to find solutions, an attempt to answer her own question: "How can we make art sustainable for artists?" Hopeful, Wu recognized that the conversation has already begun and amped for very "basic things," such as if signing with a label, health insurance should be provided. "The well-being of their artists are everything. If you're going to take a cut of their sales you should make sure they can go to the doctor if they need to while they're on tour making money."
Momentarily pausing, Wu laughed at our natural way towards weighty topics. "Oh we're serious again," she tells me, with a light humor in her tone. Sadly agreeing in the best of ways, mentioning her many sides, the dynamics of Wu were inescapable in conversation. It was also apparent that this was the reasoning behind Polartropica's playful and imaginative construction. "This is the other side, right? I'm eating Cheetos and trying to save up for my music video, but then I can have this really cool other world where I'm creating and things are different; things are special."
They really are, especially in the world Polartropica creates. Straying away from her self-dubbed title as a "Cheeto monster" while of course mentioning the importance of health, Wu excitedly mentioned her sponsors from the tour that ranged from the tea, Yerba Mate, and the dating app, HER, which she stated was perfect since she's newly single: "I have that app. I use that app! Dreams come true!"
One of the more unique features to Polartropica's residency, aside from the thematic names, are secret guests and screenings. Holding onto the majority of details regarding the trilogy, where part one, "Another Life," will be screened Monday, July 22nd, Wu casually expressed she's making a "mini-like Beyoncé Lemonade," that received my eagerly gasp. Wu carried on that her "dream idea" is just too big and too long, but breaking it into the three segments unfolds the story into "their own little worlds." Backed by an artful, "femme focus group," Wu excitedly mentioned that they are simply trying to break down barriers between gender roles. "There's roles that we play, like when we watch the ballet you know, or dance performances, dancers that are gay or male dancers even if they are, if they identify as female, they always play the role as the male characters. You know what I mean? Like there's just not much, there's not that much is outside of that box."
Ultimately, this sentiment led to Polartropica's "Another Life" to be simply described as gay Grease. "We were joking about [it] and I was watching Grease and I was like why? The music is so good but why, why is the dialogue so not cool. This is so sexist. It's like fun and also super cringy and so last summer we were just sitting on the couch and joking [that] someone should remake this and make it gay grease and we just did it," says Wu, partially laughing.
Centered around cultivating comfortable spaces for everyone to be seen is easily one of the magical traits of Wu. Acknowledging my praise with thanks, Wu went on to feel lucky of the timing where "people are paying attention," especially to festival line-ups and speaking up about the lack of representation they hold.  "I just played a show in Chinatown for Summer Nights and they added me last minute and because they're was a protest, and I'm like 'wow they gave me a really great time slot' like I was like this is cool. And later I realized later in the entire line-up there wasn't a single person of color, and this is historic Chinatown, there's a lot of history in Los Angeles," says Wu.
"And it's not like people are being malicious, but they're not aware...when I realized why [they] asked me I was like, oh okay, I see. But I am so happy anytime all the time to represent the Asian-American community, I'm so happy to represent womxn and [the] LGBT community, like I'll do it all; all the time whatever I can do because we didn't really have that growing up. This whole movement is bigger than each one of us, it's more than me, it's a whole shift and we're just a part of it... And that's the thing, people don't have to be so scared of diversity. What if the only food we could eat there was only one kind of cuisine? You know, people have to realize that about art - it's like the more different voices and things you haven't heard before, the more you have, the better it's going to be eventually."
One way or the other we ended up back to cameltoes, and potential songs and merch that could be exploited by this very talk. Bookending our conversation and letting it run naturally, I eased into an image of me walking out with my dress tucked into my underwear, similarly asking why no one said anything. Between laughs, Wu smoothly assured we all have the same bits and pieces that we need to embrace.
"I guess on that vein, if you want to come to any of our shows you wanna come with cameltoe or accidentally your underwear is sticking out, on purpose or on accident, like go for it. No judgement. we are there to embrace all of our fashion choices on purpose or by accident."
Polartropica will continue her July residency at the Bootleg Theater every Monday, each beginning at 8:30 p.m. and is free to attend.
Connect with Polartropica: Facebook | Twitter | Instagram | Spotify