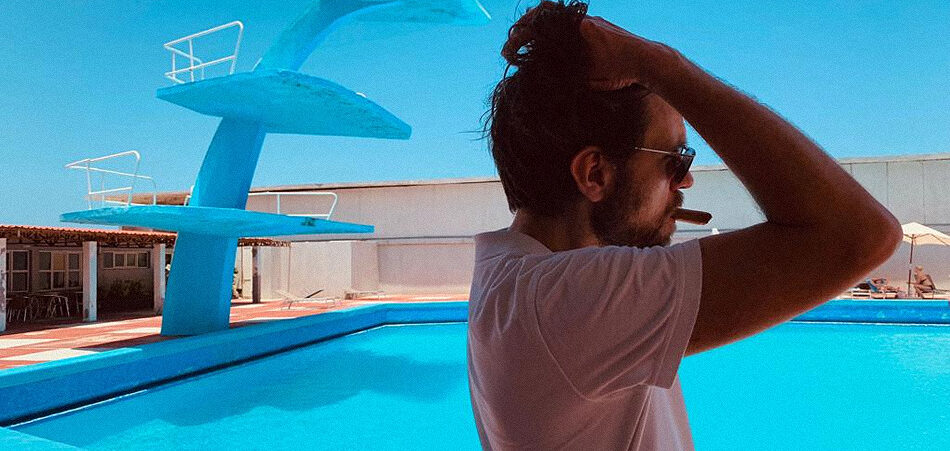 A perfect summer's day: it's of a sandy beach finely grained and lined with unblemished shells, of opaque waves crashing below the screeching of seagulls soaring above, and the smell of sea salt. Warm breeze which blows by and finally, it's the scorching sun that envelops us, that encapsulates our ideal summer scenario. To capture the essence of summer is no small feat but with Rodriguez Jr., it's a wall that's been climbed with the release of Malecón Azul. Making a welcome return to Mobilee, the French producer offers a poignant two-tracker that not only showcases his incredible talent, but also paints a vivid picture of the season through vivacious sonic experiences.
"Normally it begins in the studio but these tracks come straight from the road, from the heat of the audience and the fluidity of the live performance. They're filled with the energy they collected on tour," the producer shares. "Malecón Azul captures the intense and unique experience of being under the sun, in front of the sea, in a faraway place that feels like home." The intensity is what connects listeners to his individualized sound, further transporting us into the world he constructs with ease.
Brimming with emotional kinetics of nature, Rodriguez Jr. dives into waves of soft pads and modulation with title track "Malecón Azul". A narrative that ebbs and flows, the producer blends and molds—a progressive tidal of emotions pouring through the soothing chimes for a listening experience that engulfs and warms the soul. While not melting under the sun that is "Malecón Azul", "Cluster#1" follows with an added layer of potency, effectively delivering an intensified dance, commensurate with the warmth that follows the season. With "Cluster#1", Rodriguez Jr. completes Malecón Azul with subtle bloops and echoed pulses, converging on shimmering hats for a satisfying reverberation of synths and charged bass lines.
Rodriguez Jr. is the alias of Olivier Mateu, a French producer who has remained as one of the scene's most respected musicians for years. As Rodriguez Jr., Mateu championed techno in its melodious form, one that changes and blends depending on his and the audience's mood. While his talents for producing knows no bounds, Mateu is also known for remixing and creating renditions for the likes of Eli and Fur, Jan Blomqvist and Monolink, all the while as his live sets continue to strike an emotional chord with fans around the globe. 
Connect with Rodriguez Jr.: SoundCloud | Twitter | Facebook | Instagram