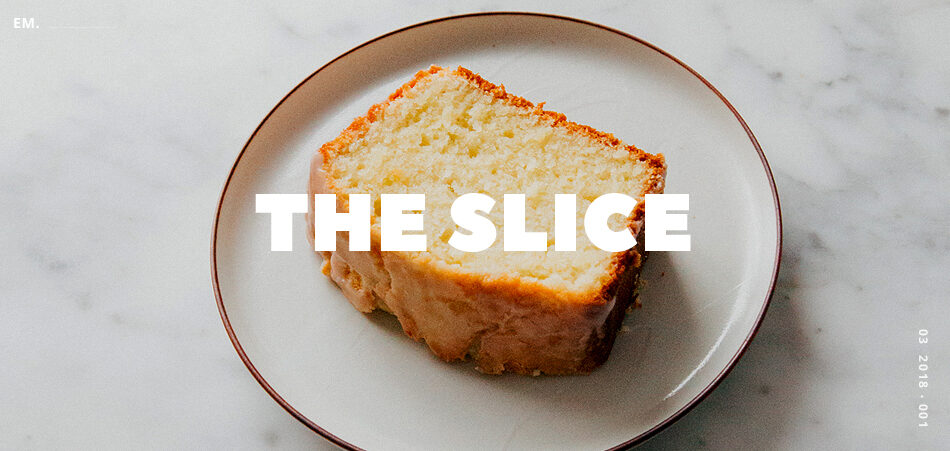 There are some of us dedicated to rummaging the inner regions of the web in search of that good alternative urban music and serving it directly to music lovers.
This initiative is what we call "The Slice" at EARMILK. Every fortnight we share with you 10 or more ear-grabbing songs from genres ranging from hip-hop, grime, soul, afrobeat/pop and dancehall. So let us do the digging for you while you sit back, relax to some brilliantly crafted music from around the globe.
If you dug what you hear, you can revisit our previous episodes of "The Slice" here.
The Hashassins - "Love Yourself"

Massachusetts based hip-hop The Hashassins return with a poignant record titled "Love Yourself". A record that dwells on loving oneself as we go on soul searching. Using a solemn piano driven backdrop, the duo share their thoughts on the matter with personal anecdotes peppered by a soothing hook to match. "Love Yourself" is the single off of their debut album - 'not sure'.
Get it on Spotify
Tanika Charles - "Love Overdue"
Toronto-based singer Tanika Charles delivers her first single "Love Overdue" (produced by DJ Kemo) from her upcoming album 'The Gumption'. The record has a very vintage vibe and showcases Charles' vocal prowess that taps into the style of the great soul singers from yesteryears.  The visual is pretty engaging too as it features Tanika Charles in recreations of iconic album covers and images of these stars of years gone by, women who continue to inspire generations of new artists with the path they paved and the magic they made, which we still marvel at.
Yakul - "DayDreaming"

Yakul returns to the forefront with another soul gripping gem titled "DayDreaming". The record is a display of musical virtuoso and rich writing skills of the trio.They also brought in instrumentalist Charlie Stacey(Yussef Dayes, Moyses Dos Santos) who steps in with a smooth synth solo to match the alluring melodies. "DayDreaming" is the sound of the Brighton group hitting their stride, and it's a heady indicator of where they're headed this year.
You can catch Yakul live at the following dates UK dates:
6 April - Moves Festival - Brighton
11 April - Jazz Re:freshed - Mau Mau Bar, London
19 May - Funk & Soul Weekender - Brighton
24 May - Mildlife support - Xoyo, London
5 July - Love Supreme - East Sussex
Suave-Ski - "Kill It All"

New London, Connecticut based emcee Suave-Ski aims for the jugular on his new single "Kill It All" as he details his thoughts on the current state of hip-hop. He also doesn't hold back the punches he throws at everything that comes off as wack to him.
"Kill It All" is the lead single for the upcoming joint album 'SpeakEazy' from Suave-Ski and producer Alcapella
Get it on Spotify, Apple Music and cop his merch here.
Vector Tha Viper - "Vector Sef"
Straight out of the west coast of Africa, Nigeria to be precise comes the man who goes by the moniker Vector Tha Viper. As a lyricist, he has been putting it quite some time on the mic and now he is primed to take it to the next level with his new release titled "Vector Sef". The track has a cinematic feel and sees Vector throwing bot so subtle jabs at wack emcees and naysayers alike. The visual directed by Dami Cool Visuals is pretty colorful too and shows the gritty parts of Lagos and then some.
"Vector Sef" is the first single from his upcoming EP - 'Vibes Before Teslim' dropping this summer.
Stream & Buy "This Vector Sef" here.
TWENTYFOUR - "Fast Food"

Budding emcee TWENTYFOUR showcases his smooth style on his new single/video titled "Fast Food". The single focus on the want to not be "just another" rapper that's here today and gone tomorrow. He shares his feelings on how he wants to leave an indelible mark and impact with his music while circumventing through the unpredictable music business cesspool.
Get it on Soundcloud.
FloFilz - "Transit(ions)"
Genre-bending producer FloFilz help switch things up on the list with his newest release titled "Transit(ions)". The song has a solemn, reflective vibe with its smooth keys and neck-snapping drums to match. The video was shot in London, UK where FloFilz spends a lot of time in the last 18 months.
"Transit(ions)" is the first teaser from FloFilz' next project that will be released this summer on 12" and digital via Melting Pot Music.
Shilpa - "Selfish"
LA Based singer Shilpa pops up on our radar with this superb love-laden record titled "Selfish". Blending classic RnB vibes and new age elements, she displays a gripping performannce with her commanding soul-filled vocals over a mellow, downtempo backdrop.
Jidé - "Vibe"
Rising Houston, TX-based artist who goes by the name Jidé shares the visual for his previously released single "Vibe". Just like the title suggests, the song is all about being in the moment and catching the wave.  Over a smooth, laid back backdrop 281Neek kicks game to a lady who caught his eye while Jidé provides the appropriate chorus to wrap things up. The visual is pretty vibrant and colorful too as we get to see the duo hanging out with a bevy of beauties during a photoshoot.
Kenya Vaun - "Voicemails"

Rising singer Kenya Vaun's song "Voicemails" is pretty alluring and solid from the jump. Over anthemic horns and thick hip-hop styled drums, the singer delivers a soulful performance that will surely grip the listener. At 17 years of age, I must say she is streets ahead of her peers. She sounds like a seasoned artist and exploring a topic such as heartbreak and unworthiness even makes it more glaring that she is poised for something great. Check it out.