If you could bottle the feeling of youthful love and reckless abandon, would you? That expansive fluttering in your chest, driving fast with the windows down. Here in reality, the closest we can get to touching that adolescent hormonal high is through music. And no band encapsulates the stirring of first loves lost and found quite like Taking Back Sunday.
The seminal Long Island emo group is coming back to their roots in celebration of their 20th anniversary with Twenty. The triumphant retrospective of the hits that made Taking Back Sunday a key fiber in the teen angst patchwork was released January 11 on Craft Recordings. Returning to their older music, now well over a decade after discovering it in my most tender teen years, feels unabashedly like coming home. When Adam Lazzara wails,"Well I don't know where you're going / But I know where you've been / I've been tracing all your footsteps / I've been counting up your sins," it's like the speaker's been a portal between us this whole time, the experience shared. The words to "Call Me In The Morning," my personal favorite track off Twenty, rang in my ears as I prepared for my teen dream come true phone chat with Taking Back Sunday bassist and original member Shaun Cooper.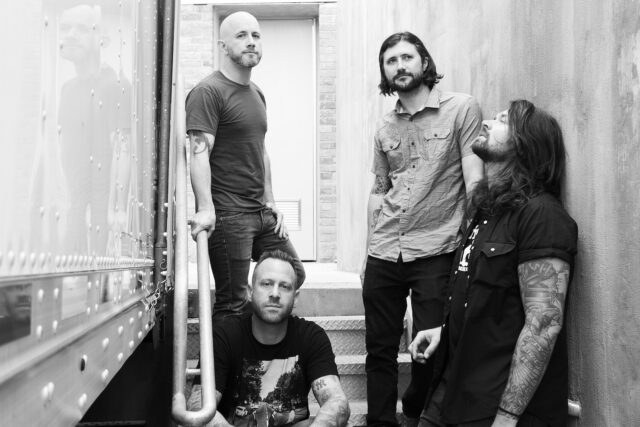 "When we play the songs live, yeah, my mind wanders, and you get back to that place. You think about how the songs were written." I had to know if revisiting this magnificent catalogue of music made the band feel nostalgic and teenage again, as it did for me. "Then you see people responding in the crowd, and like, 'Hey, I remember when this song was written in this tiny little practice space where we never thought it would go anywhere.' Right? We thought we'd play a couple of shows around Long Island and that would be it. It really switches. Everything really comes together for me personally live." I caught up with Shaun over the phone from Phoenix, a couple dates into the first leg of the band's extensive North American anniversary tour. Shaun joins vocalist Adam Lazzara, guitarist John Nolan, and drummer Mark O'Connell on the road bringing Twenty to 39 cities across the U.S. and Canada through November.
Twenty opens with the emblematic "Cute Without The 'E' (Cut From The Team)." Cue the collective wistful longing for crushes of yesteryear – "how 'bout I'm outside of your window?" Further emo canon favorites such as "You're So Last Summer," "MakeDamnSure," and of course "A Decade Under The Influence" comprise most of the album's first half. The back end brings a more wistful mood with "Blue Heaven"'s kindling strings – "It's you I can't deny," "Call Me in The Morning," and a beautiful new piano ballad "A Song For Dan."
Dan was a close friend of Shaun and Mark O'Connell and a major source of creative inspiration for the group. "He was a phenomenal musician. He could play anything, do anything… [We] would just sit in awe. He was a spectacular musician, spectacular song writer. He taught Mark and I so much. He formed all these different crazy chords by stretching out his fingers across the guitar fret where it did things that we'd never heard before. We carried those lessons over to a lot of the songs that we have and continue to write," explained Shaun fondly. "Mark was really inspired by his guitar playing, the guitar part that starts off 'Cute Without The E,' Mark wrote that, and it was definitely inspired by Dan. We were continually inspired by him, and he was just such a creative force, and such a sweet person." His life tragically ended several years ago, and the band wished to commemorate his spirit and express their love for Dan with the inclusion of this tribute on the compilation. "He was essential to the band I think," shared Shaun.
At twenty years and counting, Taking Back Sunday has outlived most of their contemporaries from the early aughts. To what do they credit the longevity? "Every night we are up on stage we're having the time of our lives, " Shaun expressed. "All four of us know we are very lucky in this. When the band started and had some success, we were always afraid that it would go away. There's been good times and bad times. For a while when John and I came back to the band, 2010-2011, our music was seen as not very cool, something that you wouldn't want to admit you liked. We rode that out. We believed in what we were doing. We were writing songs we really believed in. We believed in each other. I think we continue to have that."
The members of Taking Back Sunday are of an age where tour is a day job, but raising a family is the full-time gig. They support one another as friends first, and this mutual respect is readily apparent through the band's ability to steadily release albums (one every two years on average – putting some of the young guns to shame!) throughout their two "Decades Under The Influence." Shaun remarks, "Our relationships have grown stronger as the years have gone on. We're all family guys. We're all married with kids and stuff. We're really, really tight friends at this point. We trust each other creatively. We really enjoy working together, so it's all those things. It's playing the shows together. It's the writing songs together. We enjoy every moment of it. I don't know that every band has been fortunate enough to have that kind of bond."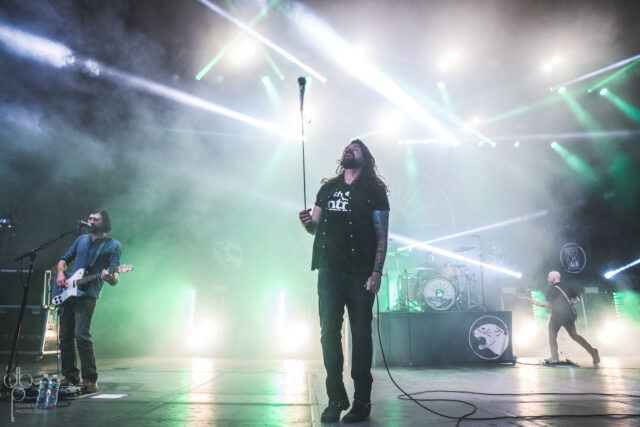 I was curious what it's like being a rockstar dad, showing up to PTA meetings between tour gigs. "I got pumped!" he exclaimed. "We just had parent-teacher conferences and stuff. Because of this job that I have, I was able to be home and go in the middle of the day and talk to my son's teacher, and see how he is doing. He's only in kindergarten, but you want an update. You want to make sure he's keeping up with the other kids. I love it. It's the best and worst. When I'm on tour unfortunately I'm away from home. I'm not going to see my family for the next five weeks or so. However, when I'm home, that's all I have to do. I can be super Dad." And does his son want to follow in his musical footsteps? "He is really finding his way with music and stuff, and what he likes. He has a little Taking Back Sunday playlist that my wife puts on the TV for him on Spotify. He'll play along to all the songs. He says, 'Oh Dad, I played 'Tidal Wave' today. It was so much fun.' He says that makes him feel a little bit closer to me when I'm away."
Devotee fans of emo and punk bands of yesteryear and today have recently begun assembling en masse at events billed as Emo Nites. With sing-a-longs and frequent live performances from favorite acts, Emo Nite is commemorating the culture bands like Taking Back Sunday trailblazed. These nostalgic events are a chance for die hards to reconnect with the tunes of their youth, and oftentimes an olive branch for fans of a younger age bracket to interact with the music for the first time. "I think it definitely has exposed people to our older catalog. I think that's a really good thing," explained Shaun. "We've seen our audiences grow. I think it's a lot of things, whether it's Emo Nites or Spotify. I think it's also whatever is happening to shift the culture, or maybe it's the chaos that everyone sees going on in the world constantly on their Twitter feeds." We could all use some wholesome escapism these days.
The love of emo, or rather, vocally driven post-hardcore or pop-punk with a markedly emotional tone, never died for some of us, but that wasn't the case for mainstream rock as a whole. "As I was saying earlier, the band wasn't seen as cool for a while. Now it's become okay. We're not a guilty pleasure anymore, but I think we continue to grow our sound in a very natural way with the Tidal Wave record and everything, the new sounds we are playing. We have one toe in nostalgia and then one toe in the future. I'm happy to be part of both."
Tickets and VIP packages are available for the 20th Anniversary Tour at TakingBackSunday.com/tour.      
Connect with Taking Back Sunday: Facebook | Twitter | Instagram | YouTube | Spotify