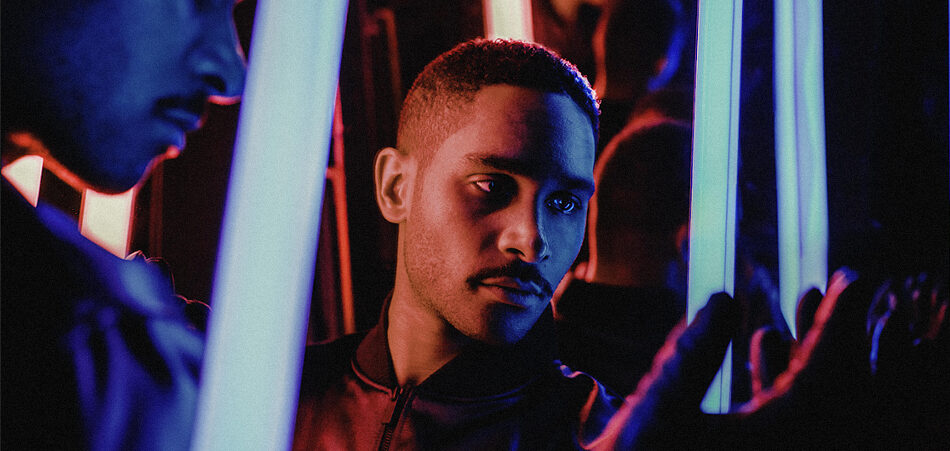 Dutch DJ, producer, dancer and designer William Djoko is more than a triple threat—his charisma and undeniable talent are raising him up and making him one of the artists to keep firmly on your radar. Based in Amsterdam for 15 years, Djoko is known for his groovy house tracks and high-energy performances, his residency with LWE in London and playing some of the world's best clubs in the form of DC-10, Printworks, Fabric and Shelter. We caught up with Djoko while he was on a flight to Melbourne for his second Australian tour to talk about his new label, EP and ventures in the coming months.

There comes a time in many artists careers where the talent and experience reaches a certain level, and it becomes about developing their own styles, concepts, and visions. When it comes to something as profound and vulnerable as producing music, an artist would certainly want the final product to be just how they envisioned it. That's why so many producers start their own labels, and this was the case for William Djoko. "DJOKO Records will be my outlet for musical experiences, ideas and my personal energy," he said. "[It will be an] output to let loose all these jams that have been sitting on my computer all this time, some of them for years."
The first release on Djoko Records came in the form of the multi-talent's very own Whiplash EP. "The title track was made after the first time I got to close the Main Room at DC-10 for Circoloco" Djoko shares, reflecting on time spent in Ibiza, "The energy of arriving to the island not knowing your set time and then when they announce the lineup on the day of the event, that engulfing feeling of 'what the actual fuck' is something I unknowingly took back to my studio I think". Produced in a frenzy, "Whiplash" is a bold and daring groover laden with intense builds and perfect percussion. "Panic is a Pheeling", produced after playing the DC10 Terrace, was made with that same WTAF sentiment, which is alluded to in the title. Followed by the funky disco-heavy "Bernice", which Djoko shares as being a favorite production of his, EP closer "Strangest Thing" is exactly what it says on the tin: the strangest thing. It's beautiful, freaky and intense, confirming that the producer has all kinds of tricks up his sleeve.
For wax fans, the Whiplash EP is also available on vinyl. There's something to be said about records and what makes them so special, "Perhaps it's the simple fact that it's a tangible product, something you can actually grab and hold" explains Djoko, confirming the sentiment, "or maybe I'm just a sucker for these things". When we explore the creative process behind the visual aspect of Whiplash, Djoko discusses working with Sean Bell for the EP artwork, "In my eyes he went the extra mile - perfectly feeling my vibe after he spoke on the phone in depth" he shares, adding cheekily that "there's a magazine sized poster of the artwork in the cover that you can give to a loved one or hang above your bed.. just kidding."
Although Djoko remained tight lipped yet charming when we quizzed him on upcoming label guests and potential collaborations ("There are some truly exciting things going on which for now I'll keep to myself, but will gladly present to you once finished"), he did reflect on his experiences of meeting and working with other artists. "Over the course of my career, I've been incredibly lucky to come across such heart-warming and overwhelming personalities in different projects - be it making music videos, shooting short films or creating clothing. Of course playing surprise b2bs in the club or festivals which lead to studio sessions are also simply fantastic." A skilled collaborator, Djoko has a knack for sharing his vision with others and creating something wonderful.
Likely due to his background as dancer, Djoko brings a certain flamboyance and infectious energy to his performances - he understands the importance of presence, spirit, and connecting with others. Always keeping an open mind, he shared that "it's always a true joy to encounter artists that follow their own heart" and that if you don't love something right away, perhaps you just "haven't seen the 'bigger picture' yet". His flexible, think-outside-the-box mindset will surely help him reach new heights as an artist, label owner, and event curator.
Finally offloading some of the mystery surrounding upcoming projects and sharing plans for the year ahead, Djoko is working on his William's Wonderful Weekend concept. The concept came from his residency with London Powerhouse LWE, who he admits deserve full credit along with his manager Sophie who came up with the idea of doing events around William's energy. "I often refer to things as wonderful, and I like to look at life and events with a childlike sense of bewilderment and wonder. Also I just really love performing and interacting with people, so why not take over a city like London and do four sets in one day?" he reflects, alluding to a huge day last October in the capital. William's Wonderful Weekend saw the light of day with a radio show on Rinse FM, two Tobacco Dock sets and ending the day with an intimate b2b with Loco Dice at the 250-cap Shoreditch Platform. Again, stressing the importance of open-mindedness and new approaches, Djoko explains how he's continually inspired by parties and those present - and how he wants to get everyone involved. "William's Wonderful Weeekend allowed me to truly connect with all the people present, getting to know a different side of the artists and crowd in that moment, it's been a leading factor with everything I do and always will be. I definitely encourage people to enrol in the mailing list and I'm even open to wonderful suggestions if they add to creating a experience we all can share in as we are planning the next one".
It's always interesting to hear what artists like to do outside of music that contributes to their musicality, "The human experience honestly truly baffles me time to time and I'm trying to take in as much as I can only to add to it in my own way" Djoko explains, speaking about life outside the rave. Insightful and inspiring as ever, he elaborates on his human experience "My favourite thing in the world is to have thought provoking conversations with people that I can trust. It's important to me to have the mental capacity to stay open to ideas, even if these ideas challenge my current beliefs. I'm quite headstrong in these things and it's sometimes only when I speak my mind I figure out how I feel on a certain subject or even form an opinion. When it finally comes at peace, and we restore harmony, the best ideas come to float in my head - music, collaborations or other relationships just appear like they were seemingly always already present".
Like many other touring DJs, Djoko is always flowing between extremes, striving to find balance. We spoke about his 2013 Boiler Room Performance, which isn't necessarily an all-positive memory and something with which he holds "mixed feelings". "I think the energy I was carrying with me during that ADE and the venue, beautiful as it was, did not translate well. I dance, that is a given, but it would have served myself better if there was more of an interactive crowd. It was a learning curve I think". As someone who basks in and emits positivity, we ended our conversation by discussing wisdom gained from that learning curve amongst others - wisdom that he'd pass on to his 2013 Boiler Room self. "Have faith in the path you're choosing, listen to your surroundings and the ones close to you—[but] stay loyal to yourself. People will always talk and have an opinion on what you do. Listen to your own energy, share it, but make sure you're on the receiving end of it as well. And lastly, look to be more silent within as the exterior will be hectic enough as it is. Ever-evolving, it's what makes me happy."
Over the coming months, Djoko will be serving up a remix on Monki's label &Friends for Big Miz, as well as compiling DJOKO 002 & 003 and curating his residency night at Shelter Amsterdam. As a sign off, in true William Djoko style, he leaves us beaming with the knowledge that he's "listening to 2 become 1 from Spice Girls for the fourth time in a row right now as it came up on a best of UK No 1 hits of 1996. What a melancholic track that is. I know it has nothing to do with your last question, but context matters"
Buy the Whiplash EP here.
Connect with William Djoko: Spotify | SoundCloud | Facebook | Instagram | Twitter