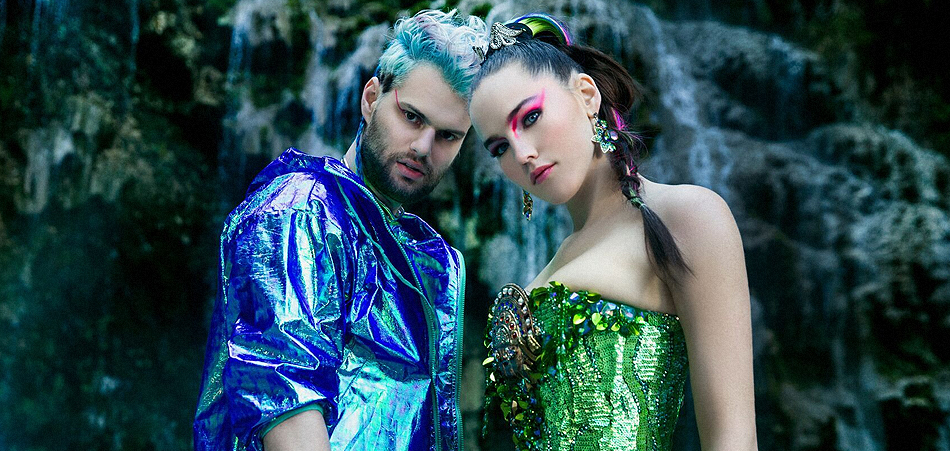 SOFI TUKKER have quickly become an unstoppable force over the last few years. The duo are coming off the heels of a second GRAMMY nomination, a performance at the GRAMMY Awards Premiere Ceremony, a gold certification for their single "Best Friend," and various performances on The Tonight Show Starring Jimmy Fallon, CONAN, MTV's TRL, and Last Call with Carson Daly. Now, the group embarks on an exciting new adventure with the release of the first new single since their debut album, Treehouse. Check out the official video for the dazzling new dance gem "Fantasy" below:
"Once you have built up a whole imagination about somebody (or something), you may think you have to risk your life and put all your energy into achieving it. But then when you get there, it's not what you thought it was at all. In the end, it's all about the journey. That's what the video is about: we are on a journey to realize our fantasies, and we have to overcome obstacles to get there, but when we finally reach the goal, we instantly get transported to another world. " says SOFI TUKKER.
Released via Ultra Music, "Fantasy" is a really exciting new sound coming from the ever-evolving SOFI TUKKER. When we were first introduced to the duo, we saw this raw blend of Brazilian jazz melodies laced with house beats from a young group still honing their craft. Having now toured and performed in sold-out shows around the world, we are witnessing the culmination of a group that has allowed themselves to be exposed to and passionately learn from a diverse range of different dance cultures. 
There are two key points that "Fantasy" highlights. One, lead singer Sophie Hawley-Weld really opens up the pipes and lets out a range of passionate vocals. The enrapturing delivery could carry the song even if done A capella. The second, Tucker Halpern is proudly flexing his dance skills here and reminding everyone why he's a multi-Grammy-nominated producer. "Fantasy" has a lush rainforest of various electronic and club elements featuring various forms of sounds, styles, samples, beats, and melodies. There's a classic snare EDM style build but rather than an overpowering drop, it projects this steady high-energy classic club momentum through the chorus but still sprinkled with a few native drum sounds. "Fantasy" also sees the duo dipping their toes a bit further in the pop realm (Watch out Ariana). 
Ultimately, "Fantasy" is a product of a duo who valiantly continue to explore new styles of music and refuse to go stagnant. That kind of seasoned mentality really only exists when it's carried out by those who fiercely love what they do. It's clear these two share a love for their craft wholeheartedly and it's what makes their future so bright and exciting to watch.
SOFI TUKKER is set to return to Coachella this year on Sunday, April 14th and Sunday, April 21st.
Connect with SOFI TUKKER: Facebook | Twitter | Soundcloud | Spotify | Instagram