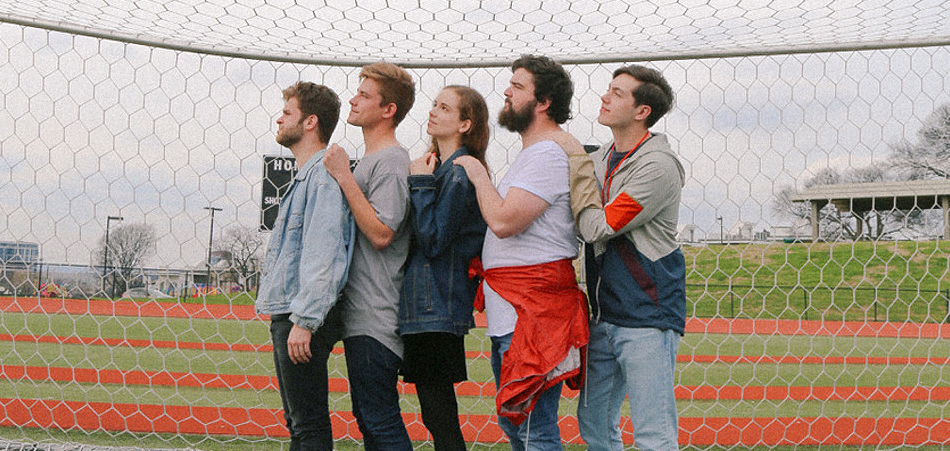 Meet your new favorite indie rock band with a country twang, The Pressure Kids. Formed 6 years ago after meeting as college freshmen, this Nashville-based quintet has taken its time checking off life milestones, and banking them for their self-titled debut EP, which you can stream here exclusively today. 
This 6-track EP takes a definitive stance on where the band has been, where it is now, and where it would like to be next. Starting with the infectiously melodic "Team", the band quickly asserts their love for each other, reaffirming to us all that a solid support system can never be undermined. When describing their sound, the band members are firm believers in creating "melodies that score the moment you fall apart at the party, then piece yourself together on the drive home." 
"And Another One" takes a slight turn with a more downtempo guitar melody that is backed by a full instrumental and vocal presence, reminiscent of Death Cab For Cutie's Kintsugi album. It's a carefully restrained track outlining multiple stories of disappointment and regret, all strung together by a soothing chorus of "But it's all right now/Baby, it's all right now". It's the type of song that reminds you of first loves and lessons learned, heartwarming and somber at the same time. 
Perhaps the best example of the band's storytelling prowess is the third single "Fever". Fitting an entire relationship cycle into a 3-minute track, we are subdued by the melodious guitars, harmonized choruses, and the array of emotions that is bleeding through every chord. It is a turning point in the EP, signifying an acceptance of relationships lost, and conversations cut short. Most importantly, it is a sentiment that exemplifies the band's maturity, despite their young age.
Closing out this ambitious debut is the stirring track "Mint"- a beautiful composition of lullaby melodies accompanied by a meticulous production that serves as the backdrop to a new set of vocals: Katy's. The last to be recorded, it's a stamp on where the band has been, and where it is going. When speaking about the EP's closer, they share that "the EP was intended to highlight these different shades of what we do, and 'Mint' showcases our more atmospherically expansive, tender impulses." Katy's vocals are consistent, tinged with a contained source of power and determination that you know is simply waiting to be unleashed. Drawing us a picture of the journey here, wailing that "it's been a long time coming", we immediately sense that this band has put in their dues- and that they are here to stay. 
The Pressure Kids' self-titled debut EP drops on Friday, March 22nd, and you can catch them on these upcoming shows: 
March 30th- Nashville, TN- Huru Fest
April 6th- Nashville, TN- Boulevard Records Bloc Party
June 26th- Cincinnati, OH- The Woodward Theater
Connect with The Pressure Kids: Website| Twitter| Facebook|Spotify