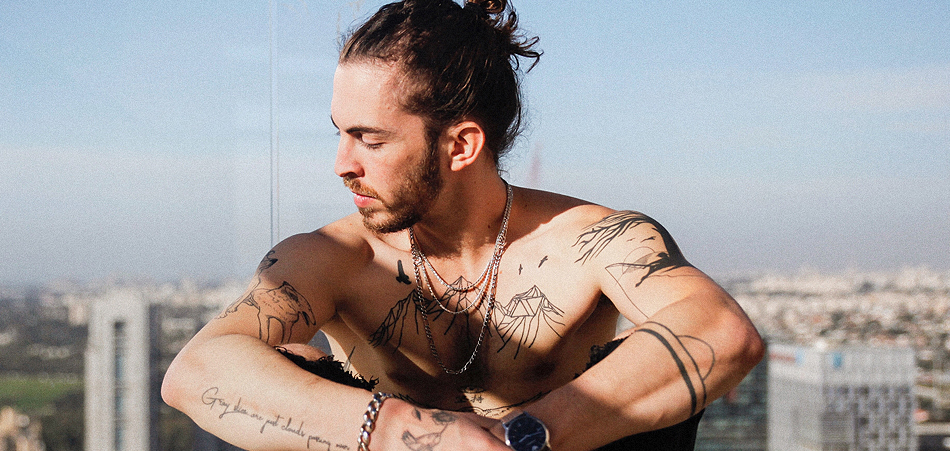 Dennis Lloyd, the Israeli singer-songwriter, producer, and multi-instrumentalist behind the sleeper hit "Nevermind," released the follow-up single, "Never Go Back" to much acclaim. Now, Lloyd is back with the vertical video for the pop-rock and reggae crossover. It's a heart-wrenching tale of a fractured relationship, shown through the lens of many relationships' biggest witness — a phone.
"Nevermind" was inspired by Lloyd's love for a Colombian woman he met while in Bangkok, Thailand. "Never Go Back," however, follows Lloyd's inner turmoil during their breakup back in Israel. The vertical video is set from the perspective of the singer's girlfriend, as we follow her sadness and frustration as the two decide to part ways. The narrative illustrates the song cleverly, as some of the lyrics even pop up during their text messages to each other: "You're not the girl I knew then/ Not the girl I know now," he writes to her. 
Left without a solution to salvage the relationship, we see her book a flight back to Colombia and see her brokenhearted, going to the airport and getting on a plane. She scrolls through their photos together, many of them full of love and embraces. She deletes most of them, not wanting to be reminded of what she lost. But she keeps only one: a photo of the two together in bed, staring at the camera, as we understand that while she is leaving everything behind, she still can't help but keep one precious memory with her.
While most songs about breakups tend to come from the perspective of the singer, Lloyd bravely and thoughtfully decides in "Never Go Back" to turn the tables. "The vertical video is directly connected to the music video. Once you see both, you'll understand exactly how," said Lloyd in a press release. "When writing my music, I share my experiences but recognize there are two sides to every relationship and break up..this one is from the perspective of my girlfriend."
After enlisting in the Israeli army for three years, Lloyd moved to Bangkok and spent a year creating 40 songs, including "Nevermind." Lloyd will release his debut EP this spring, and also launch a North American headline tour, complete with stops at Coachella and Governors Ball. 
Connect with Dennis Lloyd: Instagram | Facebook | Twitter